Charlotte Lewis Wiki Bio, ethnicity, measurements, net worth, husband
• Charlotte Lewis is an actress who reached prominence with the part of Kee Nang in 1986's "The Golden Child"
• She was born in Kensington, London in 1967 of Chilean-Iraqi and Irish-English descent
• Charlotte made her acting debut in 1978 with the TV series "Grange Hill" and returned to acting in 1986
• She has featured in over 30 film and TV titles, and has an estimated net worth of $2 million
• Charlotte has had a history of romantic affairs and has a son born in 2004, however, she hasn't shared the name of the father
Who is Charlotte Lewis?
Have you seen the film "The Golden Child", a mystery drama film with Eddie Murphy in the lead role, released in 1986? If you have, then you know that Charlotte was next to Eddie in this film. She is an actress, who reached prominence with the part of Kee Nang in the aforementioned film, and from there on continued with starring roles in such projects as the film "Storyville" in 1992, and "Men of War" in 1994.
So, do you want to find out more about this prominent actress, from her childhood years to most recent career endeavors, including her personal life? If yes, then stay with us for the length of the article, as we introduce you to Charlotte Lewis.
Charlotte Lewis Wiki: Age, Childhood, Ethnicity, Parents, and Education
Charlotte Lewis was born on the 7th August 1967, in Kensington, London England, of Chilean-Iraqi ent descfrom her father's side, and Irish-English through her mother – she never actually met her biological father, and was raised by her mother. She went to Bishop Douglass School, located in Finchley, North London.
Career Beginnings and Rise to Prominence
Having become interested in the performing arts at an early age, Charlotte made her acting debut in 1978 at just 11 years of age, cast as Samantha in the TV series "Grange Hill". However, she then became focused on her education, before returning to acting in 1986. This was her breakthrough year, as Charlotte first appeared in Polanski's Academy Award-nominated adventure comedy film "Pirates", as María-Dolores de la Jenya de la Calde, and then starred in Michael Ritchie's "The Golden Child", next to Eddie Murphy and Charles Dance. The role of Kee Nang made her quite popular within Hollywood, which resulted in new roles, including the lead in the horror film "Dial: Help" in 1988, and then in 1990 started portraying Priscilla Mather in the TV miniseries "Broken Badges" (1990-1991).
Continual Success and Retirement
In 1992 Charlotte returned to the big screen in the thriller drama "Storyville", starring James Spader, Joanne Whalley and Jason Robards, then made a number of successful appearances in the '90s, in such films as "Men of War" (1994) alongside Dolph Lundgren, and then the horror thriller "Embrace of the Vampire" in 1995, while in 1996 she starred in the thriller "The Glass Cage", and finished the decade with the role of Jill in the comedy-drama "Every Dog Has Its Day" in 1999.
During the '90s, she didn't just rely on her acting skills, but on her looks as well, as she was named one of the '9 Best Bodies For the 1990s' by SHAPE magazine.
Her last on-screen appearance was in the comedy-drama film "Hey DJ" in 2003, while she is now working on the film "Lost Angelas", which is in post-production, but its release date hasn't yet been set.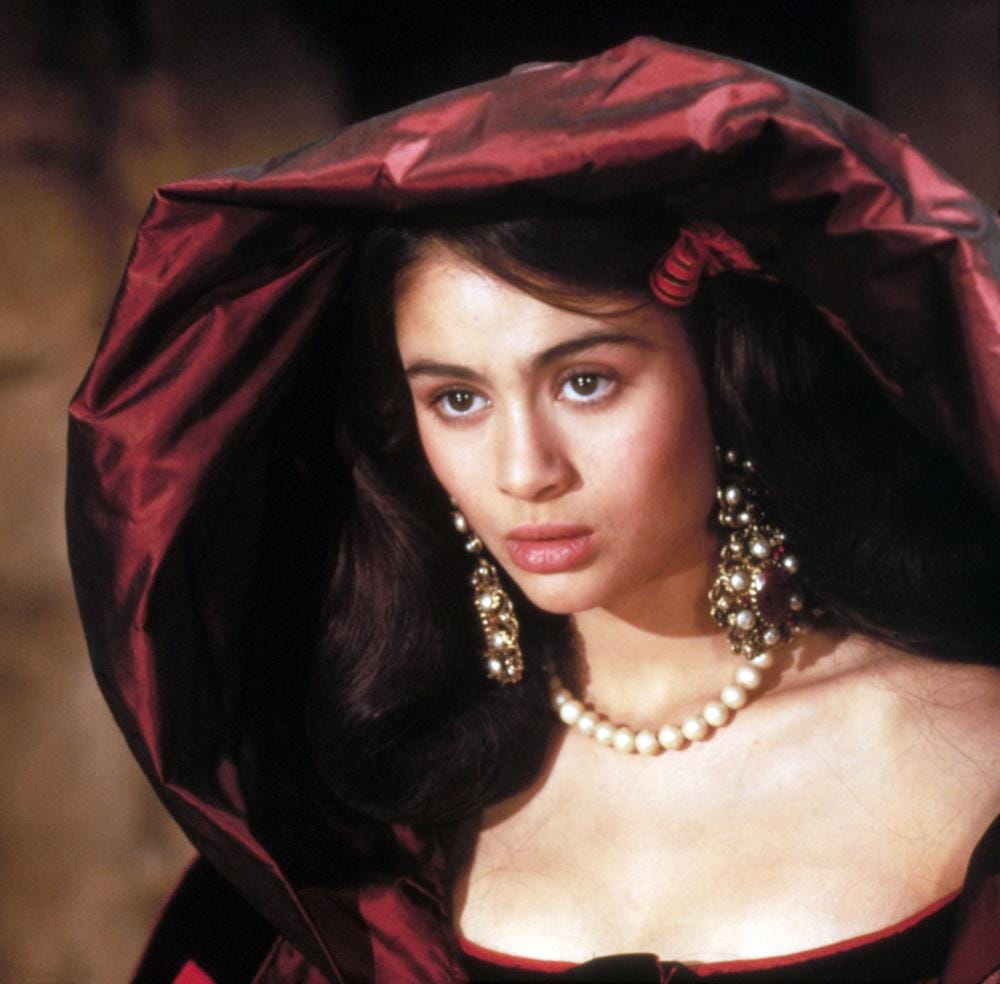 Charlotte Lewis Net Worth
Since launching her career, Charlotte has become a rather successful actress, especially in the '80s and '90s, not only with her talents but her looks as well. She has featured in over 30 film and TV titles, all of which have contributed to her wealth, with the most successful being the film "The Golden Child", which grossed over $80 million at the box office. So, have you ever wondered how rich Charlotte Lewis is, as of early 2019? According to authoritative sources, it has been estimated that Lewis' net worth is as high as $2 million, which is quite impressive, don't you think, considering the fact that she hasn't been active for over 15 years.
Charlotte Lewis Affairs, Relationships, Controversies
What do you know about Charlotte's personal life? Well, she has had a history of romantic affairs, some of which even led to sexual abuse lawsuits. During the shooting of "The Golden Child", Charlotte and Eddie entered a romantic affair which didn't last long, since they broke up and continued their separate lives soon after the film was completed. Since then, she has been connected with such celebrities as Jim Carey, Eric Clapton, Charlie Sheen, Mikhail Baryshnikov, and others.
One of her affairs had led to court; in 2010 she filed a lawsuit against the Academy Award-winning director Roman Polanski, alleging that when she was 16 years old and working on the film "Pirates" with the director, he sexually abused her. He invited her to his apartment in Paris and said that he made a move on her. However, in a completely different interview, she claimed that the two were in an affair which was over when Polanski introduced her to Warren Beaty. Nevertheless, the final result of these accusations was Charlotte's confession that Polanski wasn't even into her, but that she fell in love with him and wanted to be with him.
Personal Life
Since retiring from acting, Charlotte has returned to England and now lives in London. She has a son, who was born in 2004, however, she hasn't shared the name of her son's father. Hopefully, she changes her mind and starts sharing such information with her fans. To speak further of her secretive nature, Charlotte isn't active on social media platforms.