Chris Cornell Death: Wife, Net Worth, Height, Kids, Family, Wiki Bio
• Chris Cornell was a songwriter, singer, and guitarist involved in a number of bands, including Temple of the Dog, Audioslave, and Soundgarden, and also released music as a solo artist.
• He began singing as a child, but fell into depression and drug abuse as a teen.
• He was a part of the band Soundgarden, which achieved great success during the '90s.
• He formed Audioslave with Rage Against the Machine members and had a successful solo career.
• He died in 2017, ruled as a suicide by hanging, and was cremated in a funeral attended by fellow musicians.
Who was Chris Cornell?
Grunge music was one of the major genres of the '90s, and Christopher Cornell was, if not one of the creators, one of those who popularized the genre. He left his mark on the music industry with his four-octave vocal range, and powerful vocal belting technique. He was a songwriter, singer, and guitarist, involved in a number of bands, including Temple of the Dog, Audioslave, and Soundgarden, and has also released music as a solo artist, making it so hard to just choose top 10 songs that he has written and sung. He took his own life in 2017.
So, do you want to find out more about the life and work of Chris Cornell, from his early childhood until his death, including his personal life? If yes, then stay with us for the length of the article as we bring you closer to the future Rock and Roll Hall of Fame member.
Chris Cornell Wiki: Early Life, Parents, and Education
Born Christopher John Boyle on the 20th July 1964 in Seattle, Washington State USA, the third child born to Edward F. Boyle and his then-wife Karen Cornell. Chris had two older brothers, and three sisters younger than him. His father Edward was Irish-Catholic, while his mother was an accountant and psychic, of Jewish ancestry. His parents divorced in his teen years, and he adopted the maiden name of her mother, alongside his siblings. It was during his earliest educational years that Chris started singing, and already in elementary school he performed in front of a crow, singing "One Tin Soldier", an anti-war song. He would take piano and guitar lessons during this time, but once he turned 12, problems started brewing.
Drug Abuse, Depression During Teenage Years
At just 12 years of age, Chris' life was marred by drugs, alcohol, and depression; he used marijuana and prescription drugs, alongside alcohol, stopped for a year when he was 13, but it all began again when he turned 15. During this time he fell into depression, quit school, and rarely left his room. His mother saved him by buying him a snare drum, which got him out of depression and onto the road of becoming a rock musician. However, before he formed his first band, Chris was a busboy, fishmonger and a sous-chef at Ray's Boathouse in his native Seattle.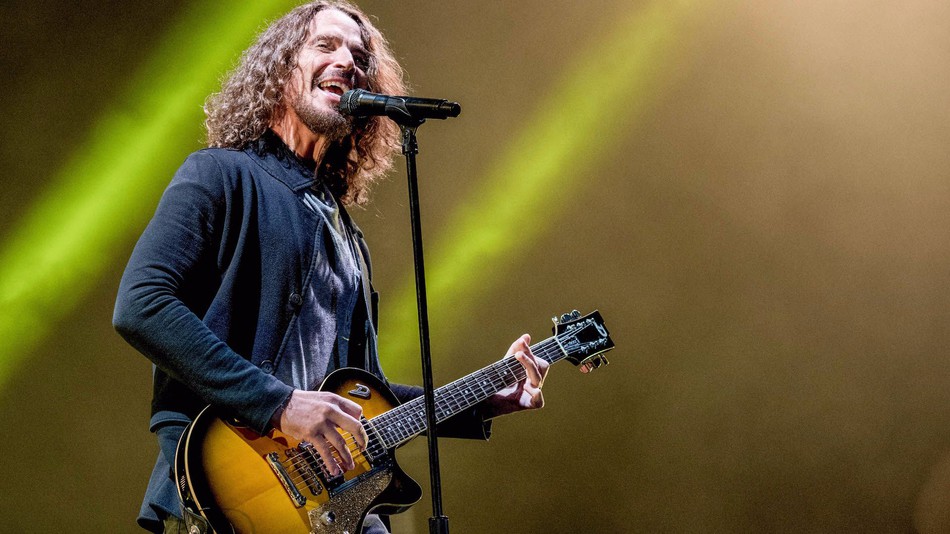 Career Beginnings and Soundgarden
Before the band became Soundgarden, it was called The Shemps, and was a cover band with gigs in the Seattle area. Hiro Yamamoto and Chris were the original members, however, Yamamoto left and Chris brought in Kim Thayil. Chris and Yamamoto were in touch despite not playing together, but once The Shemps ceased to exist, Yamamoto and Cornell renewed interest in playing together. So now, Thayil, Yamamoto and Cornell became a trio named Soundgarden, with Chris playing drums and singing. They soon added Scott Sundquist on drums, as Chris was feeling more comfortable as a vocalist. However, Sundquist left the band just a year later, and Matt Cameron became their full-time drummer. Their first record label was Sub Pop. and first release was the EP "Screaming Life" in 1987, followed by another EP – "Fopp" – in 1988. The same year they signed with another record label, SST Records, and released their debut album "Ultramega OK", which received positive critiques, and the first grunge act to sign to a major label since they just couldn't turn down the contract offer from A&M Records.
Major Label Debut Critical Acclaim
Soundgarden existed until 1997 – their debut album for a major label was "Louder Than Love", which reached No. 108 on the US Billboard 200 chart. After the release, Yamamoto left the band and was replaced by Jason Everman who only stayed for a year, before Ben Shepherd joined as a full-time member on bass. This line-up enjoyed success throughout the '90s, with albums "Badmotorfinger" (1991) which achieved double platinum in the US, then "Superunknown" (1994), which became their only No. 1 album, also achieving five times platinum status in the US, and triple platinum in Australia, and which made Chris and the rest of the band extremely popular. However, problems within the band arose which eventually resulted in their break-up in 1997, but not before they released a fifth album – "Down on the Upside" – in 1996.
After years of hiatus, the band reunited in 2010 with Thayil, Cameron, Shepherd and Cornell and released "King Animal" in 2012. Soundgarden was only one of Chris' masterpiece's, but it was after the concert at the Fox Theater that Chris took his own life.
Audioslave, Other Projects, and Collaborations
Audioslave was a project created by Rage Against the Machine members, all but singer Zach De la Rocha, as Cornell was on vocals. They formed in 2001 and existed until 2007, during which time they released three albums "Audioslave" (2002), "Out of Exile" (2005) – which topped the US Billboard 200 chart – and "Revelations" (2006). Some of the most notable songs of the gtoup include "Show Me How To Live", "Be Yourself", "Doesn't Remind Me", and "Like a Stone", among others.
Chris was one of the instrumental parts in popularizing grunge music, along with such musicians as Eddie Vedder, Layne Staley, Mark Arm and Kurt Cobain, with whom he collaborated throughout their active years. He was a part of the band Temple of the Dog, which later became Pearl Jam, and also the band Alice Mudgarden, comprised of Layne Staley, Jerry Cantrell of Alice in Chains, and Mark Arm of Mudhoney. In addition, he collaborated with rock legends such as Alice Cooper, Slash and others, while he was the one who inducted the band Heart into the Rock 'n' Roll Hall of Fame.
Solo Career
Once the Soundgarden disbanded in 1997, Chris started working on solo material; his first effort came out in September 1999, entitled "Euphoria Morning", after which he went on tour in support of the album, performing in 61 concerts. The next album, "Carry On", waited until 2007 to be released, as he was singing in Audioslave. Before his death, Chris released three more albums "Scream" (2009), "Songbook" (2011), and "Higher Truth" (2015); some of his most successful songs include "Can't Change Me", "You Know My Name", "Part of Me", and "Nearly Forgot My Broken Heart".
Chris Cornell Net Worth
Chris' albums sold over 40 million worldwide, with 8.8 million digital songs, and 300 million on-demand audio streams in the US alone. He received two Grammy Awards, being nominated for 16 throughout his career. His career in music has earned him quite an notable net worth, so, let's see how rich Chris Cornell was at the time of his death. According to authoritative sources, Cornell's net worth was as high as $60 million, which is rather impressive.
Chris Cornell Personal Life, Relationships, Children
Chris Cornell had a failed marriage behind him; in 1985 he started a romantic relationship with his manager Susan Silver, and the two held a wedding ceremony in 1990, and remained married until 2004, during which they welcomed a daughter, Lillian Jean.
The same year he divorced Silver, Chris married publicist Vicky Karayiannis, and the two remained together until his death, and had a son, Christopher Nicholas, and daughter Toni together. It was Vicky who was worried about Chris just before his death, though she wasn't there with him, and he was found dead the morning after.
Nothing Compares 2 U. https://t.co/bm88Y8A6pf pic.twitter.com/vowccHZq4L

— Chris Cornell (@chriscornell) June 28, 2018
Chris Cornell Alcohol Abuse, Drugs, and Depression
For the major part of his life, Cornell struggled with depression, alcohol and drug abuse; it felt like depression was following him wherever he would go and there was no escape. From 1997 to 2002 there wasn't a day when he wasn't drunk or high on something; in 2002 he checked into rehab, and until 2005 he stopped drinking and smoking as well. Unfortunately, anxiety, depression and other symptoms returned in 2016 when he was prescribed several medications, including Ativan, butalbital and others. However, the autopsy showed no signs of drug overdose.
Chris Cornell Death, Funeral, Tribute
Chris was found dead in his hotel around 12:15 a.m. on the 18th May 2017; his bodyguard found him in his room after Cornell's wife spoke to the bodyguard, saying that she felt that there was something wrong with him. She spoke with Chris half an hour before, who constantly repeated "I'm just tired". His death was ruled as a suicide by hanging. His body was cremated on the 23rd May in a funeral held on the 26th May 2017 at the Hollywood Forever Cemetery in Los Angeles. His friends and fellow musicians attended his funeral, and Chester Bennington performed Leonard Cohen's "Hallelujah". Following his death, numerous musicians paid tribute to Chris, singing his songs during their concerts, while on the 16th January 2019 a five-hour tribute concert to Cornell was held at The Forum in Los Angeles. Some of the musicians included Foo Fighters, Jerry Cantrell, Soundgarden members, Adam Levine, Eddie Vedder, Metallica, Juliette Lewis, Fiona Apple, and others performed some of Cornell's most renowned songs.