Claudia Sampedro (WAGS Miami) Age, Engaged, Husband, Wiki Bio
• Claudia Sampedro is a model and reality TV personality born in Havana, Cuba of Moroccan and Spanish descent.
• She is best known for being a cast member of the reality show "WAGS Miami".
• She has a net worth of over $1 million, earned through modelling and television work.
• She is married to NFL defensive end Julius Peppers and has a daughter from a previous relationship.
• She is active on social media, particularly Instagram, where she has over a million followers.
Who is Claudia Sampedro?
Claudia Sampedro was born on 27 October 1989, in Havana, Cuba, of Moroccan and Spanish descent, and is a model as well as a reality television personality, best known for being a cast member of the reality show entitled "WAGS Miami". She has appeared on various magazine covers, including featured on "Mixed Magazine", and "Face 2 Face Magazine".
The Riches of Claudia Sampedro
How rich is Claudia Sampedro? As of early-2019, sources inform us of a net worth that is over $1 million, earned largely through a successful career in modelling, with a significant amount from her reality television work. As she continues her career, it is expected that her wealth will also continue to increase.
Early Life and Career Beginnings
At the age of six, her parents decided to move the family to the US and they settled in Miami, Florida; very little other information is known about her childhood and her parents, and details of her education are also scarce, though it is known that she took up cosmetology during her time in a university.
However, her modelling career began before she got into college, as she started gaining opportunities to model at 16 years of age. She gained an agent, talent scout John Casablancas, who would introduce her into several modelling shows, which increased her popularity as well as her wealth. Eventually she landed a few advertising projects and print media modelling opportunities, then appeared on the cover of "Face 2 Face Magazine" leading her to work with "Mixed Magazine" as well – both publications are focused on glamour models. In 2011, she signed a sponsorship deal with Nutri Sups which sells various fitness supplement products, a partnership which allowed her to gain a significant amount of wealth.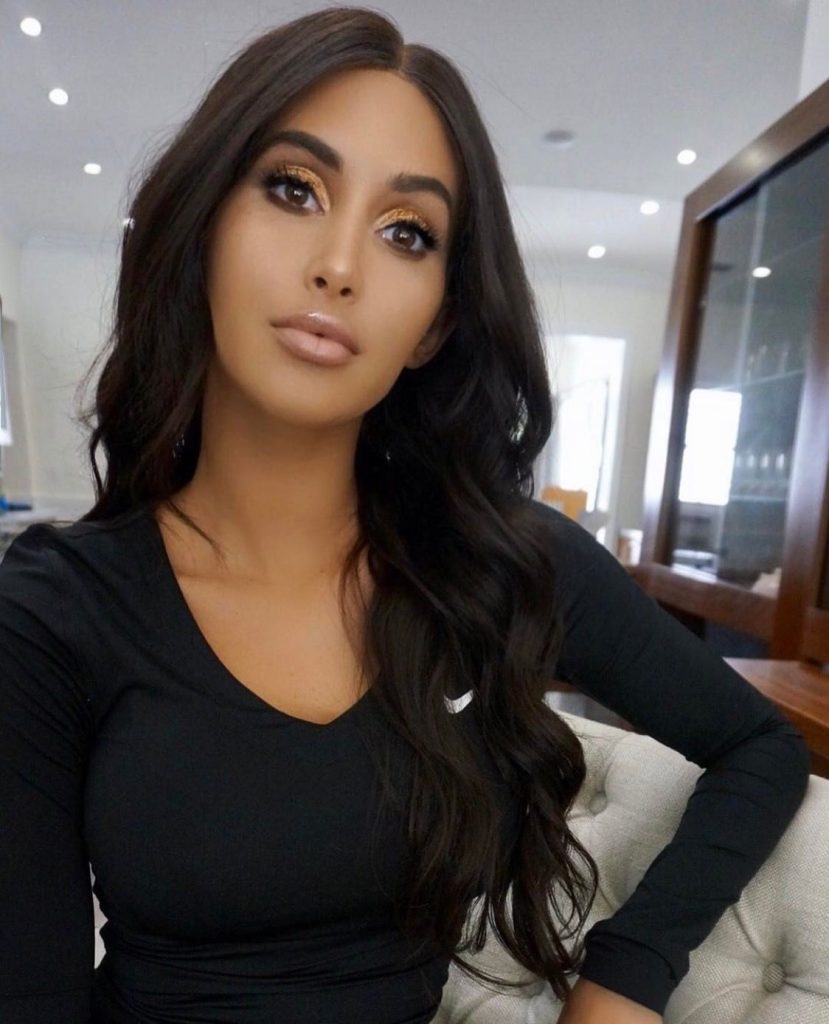 WAGS Miami
Sampedro's next opportunity would come in 2016, when she was offered the chance to become a cast member of the reality documentary television series entitled "WAGS Miami". The acronym stands for Wives and Girlfriends of Sportspersons, and this show is the first spin-off from "WAGS", and produced by Lori Gordon and Amber Mazzola, follows the personal as well as the professional lives of several WAGs. The series was distributed by Machete Productions and follows the same format to that of the original show, with only the setting being different as it is shot in Miami.
The first season featured seven women including Sampedro, who was then the fiancé of National Football League (NFL) defensive end Julius Peppers. Other cast members included Astrid Bavaresco, Vanessa Cole who is the girlfriend of Mike Wallace, Darnell Nicole who is the ex-fiancé of Reshad Jones, Metisha Schaefer who is the ex-girlfriend of Larry English, Ashley Nicole Roberts who is the fiancé of Philip Wheeler, and Hencha Voigt. The show aired for two seasons of eight episodes each, but was cancelled in 2018 due to low ratings.
Husband – Julius Peppers
Julius Frazier Peppers is known to play in the NFL for the Carolina Panthers as a defensive end. He began his journey to professional football while enrolled at North Carolina University, where he played college football, and was picked unanimously as an All-American, leading him to be selected in the 2002 NFL Draft as the second overall pick. He stayed with the Panthers until the 2009 season, and then played four years with the Chicago Bears. He also played two season with the Green Bay Packers before returning to the Panthers.
He is a nine time Pro Bowl selection, and a first All-Pro team three times during his career; he has also reached the second All-Pro team three times as well. He was the NFL Defensive Rookie of the Year during 2002, in a season which had him record an interception, 12 sacks, and five forced fumbles in 12 games; he was also named to the NFL 2000s All-Decade Team. In 2018, it was reported that he signed a one year contract extension with the Panthers, and recorded his 50th career forced fumble during that season, making him the second player in NFL history to achieve the feat, besides Robert Mathis.
Personal Life and Social Media
For her personal life, it is known that Claudia is married to Julius Peppers, though details about their marriage have not been shared publicly. The two started their relationship in 2014 and have been together since. She also has a daughter from a previous relationship. Similar to numerous models, she is highly active online through accounts on social media, particularly the photo-sharing website Instagram, on which she has over a million followers. Her account gives fans an insight to her current endeavors.
She continues to stay active when it comes to fitness, regularly going to the gym to maintain peak physical condition needed for her modelling endeavors, and posts videos of her working out.  She also does sponsored posts, but her account contains mostly personal pictures though she does share one with her husband from time to time. She has admitted to having plastic surgery, and mentioned that she previously worked with one of the top plastic surgeons in Miami to help enhance some of her physical attributes. She also travels around the country with her family during her free time.