Cress Williams from 'Prison Break' Bio, Wife, Height, Single, Net Worth, Kids, Family, Wiki
Who is Cress Williams?
In the last few years, Cress has risen to prominence with roles in such TV series as "Hart of Dixie" and now "Black Lightning", though we certainly remember him from the action-crime drama series "Prison Break", but who is he really, when and where he was born, does he have a wife and children? Find out this and much more in the article, as we uncover the whole story of one of the most promising actors.
Cress Williams was born on the 26th July 1970, in Heidelberg, Baden-Württemberg, Germany, to American parents working with the US military, and he is an actor who since launching his career has already collected 60 film and TV appearances, many contributing to his popularity.
Cress Williams Wiki: Early Life, Parents, and Education
Although born in Germany, he and his parents moved back to the US shortly after his birth. Even at an early age, Cress knew he wanted to become an actor, as while his friends played various sports, he would take up acting and singing lessons. This followed into high school, and later at Fullerton College, where he majored in Theatre. After that, he continued his education at UCLA.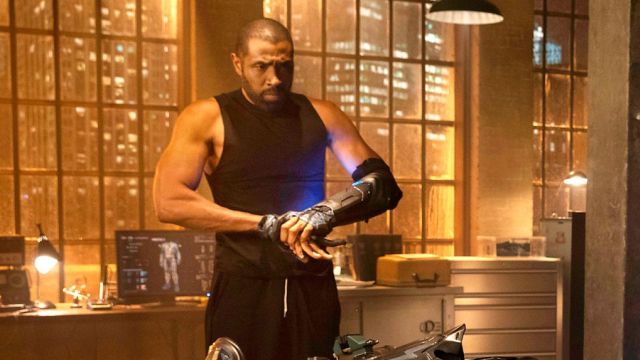 Career Beginnings
Still an amateur actor, one of his first appearances was in the play "Othello", in a Fullerton College production directed by Tom Blank, then he appeared in several other plays at Fullerton, such as "Red Noses" produced by Peter Barnes, and directed by Michael Fields.
It was in 1993 that Cress' career really started, when he was chosen for the part of D'Shawn Hardell in the TV romantic drama series "Beverly Hills, 90210".The same year he was also cast for the recurring role of Terrence 'Scooter' Williams in the TV series "Living Single", and the following year he had a guest role in "Star Trek: Deep Space Nine", while in 1995 he made his film debut as Peanut in the action comedy film "The Doom Generation", written and directed by Gregg Araki. In the next few years, Cress built a name for himself by appearing in several films and TV series, such as the romantic comedy film "Never Been Kissed" with Drew Barrymore, then as Insp. Antwon Babcock, in the cult TV series "Nash Bridges" (2000-2001), and in the romantic comedy film "Pursuit of Happiness" in 2001.
Rise to Prominence
With the start of the 2000s, Cress' name became more popular, which resulted in more prominent roles, such as that of Dr. Sam Magala in the TV series "Providence", then Ed Williams in "Close to Home" (2006-2007), and Tucker Jones in "Grey's Anatomy" (2006-2008), before he was chosen for the part of Wyatt in the award-winning TV series "Prison Break" in 2008. The show was immensely popular, and once Cress was brought in to the cast, he immediately became a star, which certainly furthered his career. His next role was even more successful, as he portrayed Ornette Howard in the TV series "Friday Night Lights" from 2010 to 2011, and the same year Cress became more noted in Hollywood, as he was selected for the role of Lavon Hayes in the TV romantic drama series "Hart of Dixie", in which he starred in all 76 episodes through 2015. During that period he didn't actively pursue many other roles, and only appeared in the film "In Your Eyes" in 2014.
"Black Lightning"
When the "Hart of Dixie" ended, Cress was chosen for the part of Cole Guthrie in the TV series "Code Black", while in 2016 he played Detective Williams in the crime-drama film "Lowriders". However, it was in 2017 that he had another big role, as he was chosen for the part of Jefferson Pierce – aka Black Lightning – in CW's superheroes TV series "Black Lightning".
Cress Williams Net Worth
Since launching his career, Cress has become quite a successful actor, with a number of roles that have increased his wealth and popularity. So, have you ever wondered how rich Cress Williams is, as of late 2018? According to authoritative sources, it has been estimated that Cress' net worth is as high as $1 million, which would seem likely to increase in the upcoming years, assuming that he successfully continues his net worth.
Cress Williams Personal life, Marriage, Wife, Children
What do you know about Cress in his personal life? Well, he hasn't been very open about private details, though we have discovered some interesting facts – Cress was married to actress Simbi Kali from 2000 to 2011, and had two children with her before they divorced. Two years later, Cress married Kristen Torrianni in an intimate ceremony on the island of Kauai. Later, the couple held a formal reception for about 150 guests in Los Angeles.
Cress Williams Internet Popularity
Over the years, Cress has become quite popular on social media platforms, especially Instagram and Twitter, though he is also no stranger on Facebook. His official Instagram page has almost 90,000 followers, with whom he has shared his most recent career endeavors, such as pictures from "Black Lightning" sets, among other posts. You can find Cress on Twitter, on which he has close to 20,000 followers, using this social network to promoting his career and share his opinions and interests, such as the fact that he is a Los Angeles Lakers basketball fan. Cress is also active on Facebook, though he is yet to build up a fan base on this social network, as he only has around 3,000 followers.
Come check us in the Big Easy. pic.twitter.com/84IOaYGTG7

— Cress Williams (@CressWilliams) August 10, 2017
So, if you aren't already a fan of this prominent actor, then this is a perfect opportunity for you to become one, just skip over to his official pages, and see what he is up to next, both, professionally and personally.