Esther Baxter's Wiki Bio, Dating, Relationship with Petey Pablo, Baby Father
• Esther Baxter is a model, actress and entrepreneur from Miami, Florida
• She became a famous model in the early 2000s working on music videos for artists such as Nelly, Ludacris, Kanye West, and Ja Rule
• She has also acted in movies such as "Meet the Browns" and "Video Girl" and has her own lingerie line and food blog
• Esther has been linked to Shad Moss (Bow Wow), Pablo Petey and Joe Budden
• She has a son, Cayden, but has not revealed the identity of the father
It's not easy to be a single mom, especially when you are in the world of business show business. Esther Baxter knows that best, but it seems she learned how to deal with it. This exotic beauty has managed to co-ordinate motherhood and career, but also to remain a mystery for many rumors about her baby daddy.
Esther Baxter's Early Life
Who would say that this now sexy African-American woman of mixed origin was a real little tomboy as a kid? According to her own confession, Esther Baxter, who was born in Miami, Florida, USA, on 24 September 24, 1984, always liked to spend time with the boys, since she grew up with the brothers. It seems that this ex-model had a happy childhood since her parents celebrated 40 years of harmonious marriage last year.
While she was still not aware of her hourglass body shape and how she affected the men around her, Esther was very shy and recluse. After finishing high school, this Afro-American found her first job as a kindergarten teacher, not even dreaming that one day she would become a famous model.
Before her graduation, at the age of 18 Esther married her high school sweetheart, but his identity remained mystery, and their marriage didn't last, and after three years they divorced.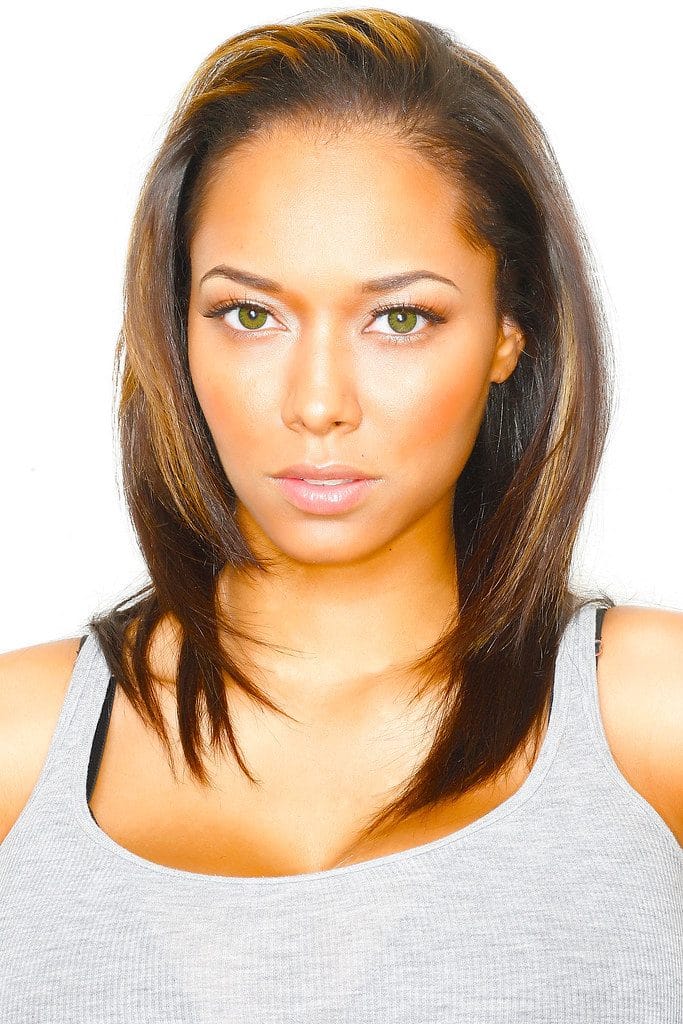 How Did Esther Baxter Become Famous?
Esther Baxter never wanted to be a model. It can be said that her brother is the main culprit for her entry into the jet set since he insisted on her meeting with a modeling agent. It was a twist of fate for Esther since she soon became one of the most sought-after video vixens.
Esther Baxter's modeling career started at the beginning of the 20000s, and she soon became very popular in the music world. Her first appearance was in the music video for Nelly's "Shake Ya Tailfeather," but she became a star after appearing in "Freek-A-Leak" by Pablo Petey. Soon many other performers such as Kanye West, Nelly, Ludacris, and others noticed Esther.
Esther's career of video girl lasted for the next three years, and she recorded over 25 videos. Some of the most notable are Kanye's "Workout Plan," "Number One Spot" by Ludacris, and Ja Rule's "Caught Up." For her appearance in Ludacris' video, Esther even won a prize from VIBE magazine. She also was on the covers of many prestigious magazines like VIBE, XXL, and made photo shoots for Ethnicity and The Unforgettable calendars.
Esther's Career Upgrade
Esther Baxter didn't want the audience to only remember her for her body, and she focused her ambitions on acting. Since 2007, Esther is no longer seen in music videos, but she did appear on the cover of King magazine, in honor of her old fame.
That same year Esther moved to New York, where she joined the acting classes in Black Nexxus Acting Studios. That brought her a first role in 2009, when she appeared in the comedy "Meet the Browns," and then in "Speed-Dating."
In order to further improve her acting skills, she moved to Los Angeles in 2011, and enrolled in Acting Workshop by Tasha Smith. Her next appearances were in "Because I Love You," and "Video Girl."
Now Esther also proved herself as an entrepreneur – launching her own lingerie line called "Bel Ange," and has a food blog, as she also studied Culinary Arts.
Esther Baxter's Love Life
Although Esther has a versatile personality, her love life seems to be the most interesting to the media, partly because her relationships are often the subject of scandals. Before she became famous, her teenage love was Shad Moss – a.k.a. Bow Wow – in the early 2000s. He claimed that Esther was the first girl he made love with which Esther was quite sharp to deny.
Although there were rumors about Esther having an affair with Pablo Petey during the shooting of his video, she never admitted it. Her first public relationship was with the rapper Joe Budden in 2010 and 2011, however, it didn't end well because Esther accused him of violence. After one beating, the ex-model alleged that she had a miscarriage. Joe soon released the song he dedicated to his ex, "No Ordinary Love Shit Part 3."
Esther is currently seeing basketball player Alan Anderson. After the media linked her to many famous men, like Desean Jackson and Quentin Richardson, Esther is apparently happy.
All good hun ?? RT @Maserati_HEC @Esther_Baxter sorry for steal'n ur #snap but I had too ??? pic.twitter.com/NMSSm9g0hO

— Esther Baxter (@Esther_Baxter) July 1, 2015
Who's Esther's Baby Daddy?
Esther has a son, Cayden, whose images she often posts on social networks. According to her Instagram, he is 11, born on 18 August 2007. It is assumed that pregnancy is one of the reasons why Esther stopped appearing in music videos. She has been discreet over all these years, not giving up the name of the man who is the father of her kid. Internet users and Esther's fans discussed her reconciliation with her ex-husband and that her child is his, but there is no solid evidence for that claim.