"Gilmore Girls" star Milo Ventimiglia Wiki: Wife, Girlfriend, Dating, Net Worth, Family
• Milo Ventimiglia is an American actor of Italian descent, born on 8th July 1977 in Anaheim, California USA.
• He had a passion for acting from an early age and was actively involved in school plays and wrestling.
• He made his acting debut in 1995 and his role in the series "Gilmore Girls" helped him gain recognition.
• He has also appeared in other TV series, movies and music videos, as well as some digital projects.
• Milo is currently single, but was previously in relationships with actresses Alexis Bledel and Hayden Panettiere.
Milo Ventimiglia Biography
Born on 8th July 1977, Anaheim, California USA, Milo Anthony Ventimiglia is a well-known American actor with Italian origins, due to the fact that his father, Peter has Sicilian ancestry. Milo's mother is called Carol, and he also has two older sisters – Leslie and Laurel. Milo has appeared in numerous TV series and that is why people across North America are familiar with his name. In case you want to learn more about this actor, stay with us and discover everything there is to know about his career, dating, net worth, etc.
Childhood and school years
Milo was raised in California, and went to El Modena High School in Orange. It seems that even in the early years of his life, Milo aspired towards being an actor, participating in school plays, but he was also a member of the school government at one point. Milo was actively practicing wrestling too, and his physical resiliency helped him later during his career. After matriculating from high school in 1995, Milo enrolled into the University of California, Los Angeles, graduating in 1998 with his major being the theatre.
How did Milo start his acting career?
Back in 1995, Milo made his acting debut by appearing as a guest in an episode of "The Fresh Prince of Bel-Air", alongside Will Smith and other celebrities. Since the debut went well, new opportunities came knocking, and Milo tried to make the best of his chances, appearing in NBC's series "American Dreams" and WB's"Bedford Diaries". However, his talent and abilities finally came into the spotlight when he landed the role of Jess Mariano in"Gilmore Girls". At that time, this TV series was at the peak of its popularity, and Milo made a great impression by portraying the occasional boyfriend of Alexis Bledel, who played one of the main characters on the show.
Other acting roles
Milo also appeared in other popular TV series during the 1990s, such as "Saved by the Bell", "Sabrina, the Teenage Witch", and so on. Later on, he managed to get the role of Peter Petrelli in "Heroes", a highly popular series produced by NBC, and for which role he had two Emmy nominations. Currently, Milo is playing the role of Jack Pearson in the series called "This is Us".
When it comes to the big screen, Milo has appeared in several independent movies, however, he has also taken part in a couple of blockbusters, including "Rocky Balboa" (2006), playing Rocky's son. Similarly, Milo appeared alongside John Travolta and Roberto DeNiro in "Killing Season", and with Nicole Kidman in "Grace of Monaco". His other movies titles include such as "Pathology", "The Divide", "Cursed" and "Wild Card" among others.
Milo's other projects and interests
Besides being in front of the camera, Milo has taken an interest behind the scene too, and is nowadays a producer as well, even founding his own company, Divide Pictures, which recently produced a web-series called "Chosen". Their other digital projects include high-profile commercials for famous brands such as GQ, Liberty Mutual, Cadillac, and so on. Allegedly directing is Milo's passion, but he has some other passions as well, predominantly comic books. As a matter of fact, his company published a comic called "Berserker".
When it comes to his other noteworthy acting projects, Milo appeared in Fergie's 2007 music video for "Big Girls Don't Cry". Also, his face could be seen in advertising campaigns for T-Mobile, Apple and Mountain Dew.
Is Milo married?
Despite his successful acting career, privately Milo remains single, however, he has had his share of success with the ladies over the years. For example, he was involved a relationship with his colleague on the set of "Gilmore Girls", dating Alexis Bledel from 2002 up to 2006, and then in a romantic relationship with Hayden Panettiere, who he met on the set, the couple dating from 2007 until February 2009.
Over the years, several rumors appeared in the media about Milo's girlfriends. Allegedly, he was dating Emmy Rossum, as well as Isabella Brewster. The latest of those rumors mentioned Jaimie Alexander as his romantic partner. However, Milo has been dating Kelly Egarian since 2016, and it seems that this 31-year old marketing co-ordinator may have captured his heart.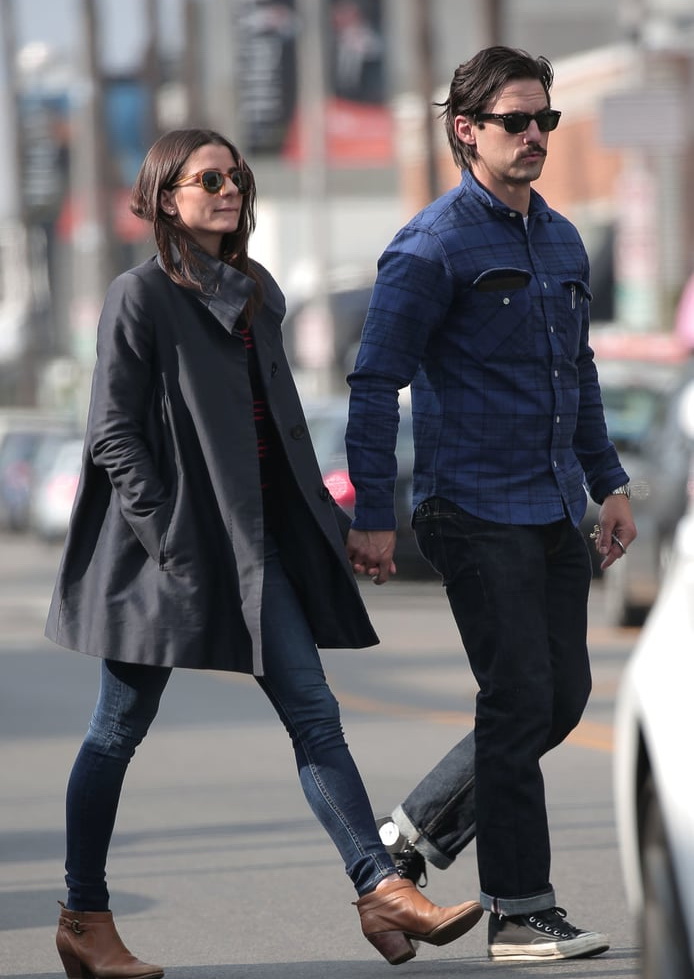 What is Milo doing these days?
From childhood, Milo and his sisters were been brought up as vegetarians. He also does not smoke, and never consumes alcoho,.hHowever, he loves to cook. From time to time, he posts on his social media profiles, i.e. Twitter and Instagram. His Twitter account is followed by almost 600,000 people, and around 1.5 million fans follow Milo on Instagram.
Cars play an important role in our lives and it's equally important to have a trustworthy source to lean on. It's why I've teamed up with @KelleyBlueBook & spent the day talking about their 2019 Best Buy Awards. Be sure to check em out! #KBBBestBuy #ad pic.twitter.com/sOsKjZuaSX

— Milo Ventimiglia (@MiloVentimiglia) December 4, 2018