Heidi Klum Gets Engaged To 16 Years Younger Boyfriend Tom Kaulitz. Who is fiance "Tokio Hotel" guitarist?
• Heidi Klum is engaged to musician Tom Kaulitz from the band Tokio Hotel
• Tom is 16 years younger than Heidi, and designed her engagement ring with a unique stone
• Tom and his twin brother Bill had a shared love of music from a young age, and formed the band Devilish
• Tom was married to a model before, but Heidi has been married twice before
• Tom is a successful musician, actor and producer with a net worth estimated at over $25 million
Big news! Heidi Klum gets engaged!
On Christmas Eve, Heidi Klum, famous supermodel, actress, fashion designer, TV personality and producer, announced her engagement to Tom Kaulitz, musician and member of the band, Tokio Hotel. Heidi shared a post on Instagram showing off her engagement ring and stated 'I SAID YES.'
The couple have apparently been together about a year, but only disclosed that they were in a relationship in March last year at the amfAR Gala in Cannes. Although Tom is 16 years younger than her, Heidi (born 1 June, 1973 and currently 45) claims that she hardly notices, and barely thinks about it, much.
Tom went out of his way to create a special ring, by first designing it and then searching for a stone in Heidi's favorite colour, green. He chose an alexandrite, which is a unique stone that shines green in daylight and has a red hue in dim light. It is set within a border of glittering diamonds.
Around Thanksgiving Tom, Heidi and four of her children were together in Mexico, and Tom secretly prepared the children regarding his plans to marry their mother. It is believed that Leni (14), Henry (13), Jonah (12) and Lou (9) were excited about it, so he got their blessing before proposing to Heidi, which is an unusually thoughtful act. The day before their engagement they all had had fun in Disneyland, and the next morning Tom and the kids presented Heidi with breakfast in bed. Heidi got a huge surprise when Tom took a box off the breakfast tray, presented the ring to Heidi and popped the question. He got an immediate, positive answer.
Who is Heidi Klum's fiancé, Tom Kaulitz?
Tom Kaulitz, was born on 1st September 1989 (so is now 29 years old) in Leipzig, then East Germany; he is older than his identical twin brother, Bill, by 10 minutes. Music is a shared love which was inspired when their mother, Simone, after her divorce from their father Jörg, as she dated Gordon Trümper, the guitarist from the German rock band Fatun for 12 years before marrying him.
Tom started playing the guitar when he was very young, while his brother Bill enjoyed singing. Gordon Trümper recognized their potential talent, and helped the boys to start their own band. Apparently the twins also started writing music when they were seven. Gordon, who owns a music school called "Rock's Cool", gave Tom a guitar when he was nine. At the age of 10, the twins performed live in Magdeburg, close to their hometown, Loitsche, with just a keyboard for backing instrumentals. When they were 12, Georg Listing and Gustav Schäfer, who were 14 and 13 year-old friends respectively at the time, were in the audience at one of their gigs and offered to join their band. The group called themselves "Devilish", after an article which coined their sound as 'devilishly great'.
It was only in 2003 when Bill (13 at the time) got through to the quarter finals in a children's Star Search that music producer Peter Hoffmann recognized his talent. The band then took on the name "Tokio Hotel" – "Tokio", the German spelling of the city that they love, Tokyo in Japan, and "Hotel" because of the lifestyle of these young teenagers who were continuously staying in hotels whilst touring.
In late 2008 the band was harassed by several female stalkers, who followed Tom to his parent's home and attacked the twins' mother. Tom was purported to have hit one of the stalkers at a gas station in April 2009, which seemed to put an end to the trouble, but then it appeared that the stalkers were to press an assault charge against him. The charges were dropped by the end of that year, but Tom in turn pressed charges against the stalkers. Shortly thereafter the brothers moved to Los Angeles
Tom appeared in the 1994 TV movie "Verruckt nach dir", and also featured in an advertisement for Reebok shoes in 2010. He enjoys playing video games, and is a fan of graffiti art and (particularly German) hip-hop.
Tom's and Heidi's prior marriages
Tom and German model, Ria Sommerfield dated from 2011 until they tied the knot in June 2016, but their marriage didn't last long, as Tom instituted divorce proceedings in September the same year. In early interviews he had said that he didn't believe in true love, but in the recent past he has confessed that he may one day find his true love, and it certainly appears that he's found her now. In a previous interview on how he expected his perfect girl should be, his answer was, 'She should be extremely spontaneous and fun. I should be able to have an exciting time with her, and well, she should have a nice outfit, nice clothes. One should simply be on the same wavelength, and of course, I should like her outer appearance.' What do you think? Does Heidi fit the bill?
Heidi has been married twice before, firstly to Ric Pipino, hairstylist and actor (best known for his role in "Zoolander") from 1997 to 2002; they didn't have any children together. Heidi was already pregnant with her first child fathered by her ex-boyfriend, Flavio Briatore, when she started dating Seal, the well-known singer/songwriter; they married in 2005, with Seal adopting the child, and they subsequently had 3 children together before divorcing in 2014, although they apparently remain good friends.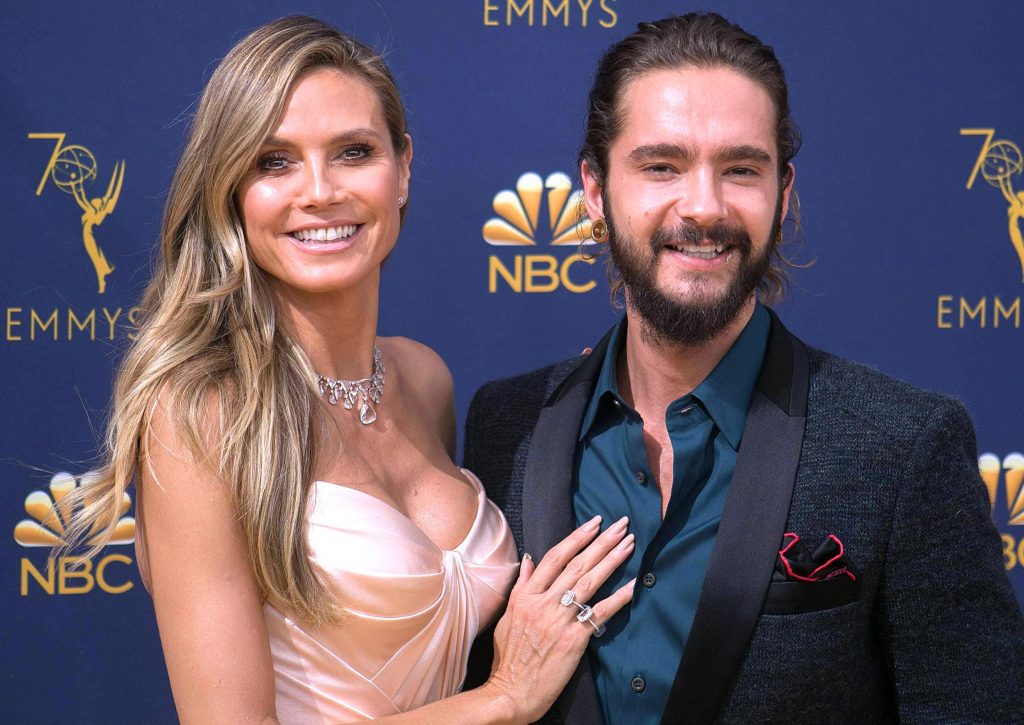 About Tokio Hotel
The band's musicality crosses various genres from pop to alternative rock and electro-pop. Tokio Hotel's first German album, "Schrei" was released in 2005, and sold in excess of half a million copies globally, and with four singles scored in the top five on the German and Austrian charts.  Their second German album – "Zimmer 483" – was launched in 2007, followed by their first English album, "Scream" which together sold over 2,5 million copies, and propelled the band to win their first MTV Europe Music Award for Best InterAct.
They went on to win further MTV awards, and embarked on their "1000 Hotels" European Tour on 3rd March 2008, in Brussels, which was due to finish in April, but during the concert in Marseille, France on 14 March, Tom's brother, Bill, started experiencing vocal problems, which resulted in their cancelling their Lisbon, Portugal concert shortly before they were due to go on stage, and then cancelling the remainder of that tour, as well as an upcoming North American tour. It had been discovered that Bill had a cyst on his vocal chords due to straining his voice after playing 43 concerts on the "1000 Hotels" tour, which led to a throat infection that went untreated. He had an operation to remove the cyst and avoided permanent vocal damage, so after his recovery, the band recommenced performing in May 2008 to complete the tour, and actually performing several more concerts.
Bill is the singer/songwriter for the band, as well as a voice artist and designer. He designs his own performance costumes, and his flamboyant style has created the band's unique flavor. Tom is the guitarist, Georg Listing the bassist, and Gustav Schäfer the drummer. The band is still going strong; Tokio Hotel have won over 100 awards and sold more than 10 million CDs globally. Some of their most popular songs are "Monsoon", "Don't Jump" and "Love is Dead"  off the album "Scream", as well as "World Behind My Wall" and "Automatic" from "Humanoid".
On World Aids Day, 1 December 2009, Tokio Hotel started a fundraising campaign for Designers Against AIDS and still support their work.
Tokio Hotel are currently getting ready to set off on their  "Melancholic Paradise Tour", in Manchester UK in April 2019, which is planned to take them motoring on through 33 European cities' stages, with the finale of the tour planned for Moscow, Russia on 20 June.
Tom is active on social media, and has a huge following on his main Facebook page with over 33,000 'likes'. He has several other Facebook pages and a few Instagram profiles, with the leading one, "tomkaulitzworld" attracting over 26,000 followers. There are several Twitter pages which appear to have been set up by his various fan clubs, with some even posting from Brazil.
Tokio Hotel has a well-supported YouTube channel too, with almost 700,000 subscribers, and a Facebook fan page with over 33 million 'likes' and followers.
It is reported by sources that this successful young musician, actor and producer in his almost 20 years of live performances, has amassed a net worth estimated at over $25 million. This figure would seem very likely to increase, assuming that Tom successfully continues his musical career.