Lisa Kerney (ESPN) Wiki Bio, husband Patrick Kerney, height, net worth
• Lisa Diane Gangel Kerney was born on 8th July 1981 in Kansas City, Missouri.
• She was a 37 year-old reporter and sportscaster for ESPN from 2014-2018.
• She attended St. Thomas Aquinas High School in Overland Park, Kansas, and played basketball for her high school team.
• She is married to former National Football League (NFL) star Patrick Kerney, and has four children.
• Her net worth is estimated at $14 million.
Who is Lisa Kerney from ESPN?
Lisa Diane Gangel Kerney was born on the 8th July 1981, in Kansas City, Missouri USA, and is a 37 year-old reporter and sportscaster, who became famous for her work on the ESPN channel from 2014 until 2018, as one of the anchors of the show "SportsCenter".  Her career has been active since 2004.
Lisa Kerney Bio: Early Life, Family and Education
Lisa Kerney was raised by her parents Lou and Barbara Gangel, with three sisters and a brother. When she was young the family moved to Leawood, Kansas where Lisa and her siblings spent the rest of their childhood years. According to Lisa, it wasn't hard to guess what her future profession would be – as a child she would often pretend to be interviewing her family, friends and relatives doing sports activities that they would come up with. Regarding her education, Lisa attended St. Thomas Aquinas High School in Overland Park, Kansas, and played basketball for her high school team, discovering that she was pretty good at it. Having matriculated from high school, she applied for Lynn University in Boca Raton, Florida, and was granted a basketball scholarship. Lisa began studying broadcast communications, while simultaneously leading the Fighting Knights women's basketball team. She was the point guard as well as captain of the team which competed in the NCAA Division II. During her final year at the University, she was named Female Scholar-Athlete of the Year, and was also the editor of the university newspaper. In addition, in 2003 she applied for an internship with Metro Sports Television in her hometown of Kansas City.
Career Beginnings
Lisa's dream was to unite two of her favorite passions – sports and journalism. With her Bachelor's degree in broadcast communications and her experience as a university newspaper editor and Metro Sports Television intern, it did not take her long to be noticed and offered a job as a sportscaster. Her first gig was at KXLF-TV in Butte, Montana – Lisa covered a wide range of roles at the KXLF station, as producer, anchor and reporter for various sports and sports-related topics. Her passion and dedication did not go unnoticed, and during her second year at KXLF-TV she was rewarded with "The Montana Standard" People's Choice Awards for "Best TV Personality" and "Best Sports Reporter" – it seems as if Lisa had the perfect blend of charisma, professionalism and enthusiasm. In October 2005 she left KXLF-TV and relocated to Seattle, where she spent five years working as weekend sports anchor at KING-TV station, and hosting the show "Northwest Sports Tonight". After that, she worked for a year at the MLB Network as a sports contributor and reporter, and her final gig before joining ESPN was in New York at WCBS-TV, as an anchor for the "CBS 2 News This Morning" from January 2012 until February 2014.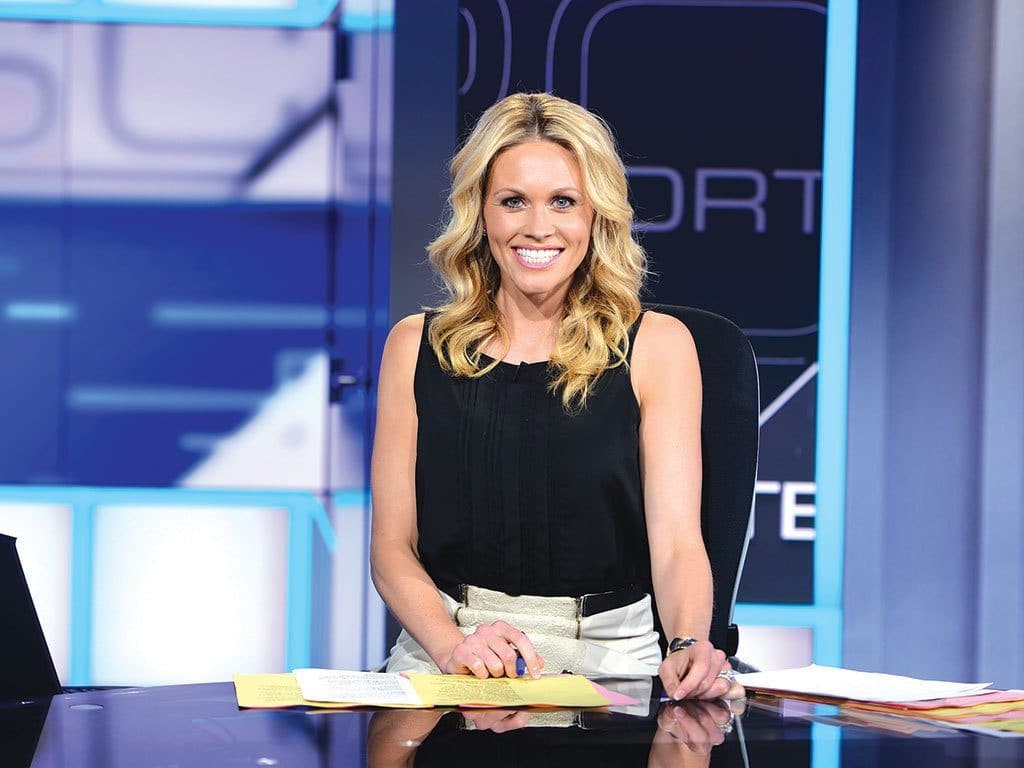 Work at and Departure from ESPN
Lisa Kerney officially started working on ESPN channel in February 2014; for her, working on one of the biggest sports channels in the world was a dream come true. Lisa is primarily recognized for her work at "SportsCenter", a daily sports program that serves as the flagship program of ESPN. During her time on the show, the program aired up to twelve times a day and featured various updates, highlight reels, reviews and scores of almost every major sporting event. Lisa was the co-anchor of the program's 11 p.m. edition, and included offering commentary, covering news stories from around the sports world, and predictions of upcoming major games and events. She also hosted other studio shows such as "Fantasy Football Now"., and was rewarded with the Gordon and Mary Henke Award for Excellence in Communication, as well as Trustees Medal of Honor. However, after four years on the network, Lisa decided to leave ESPN, announcing her decision via Twitter. In the announcement she wrote that she is 'incredibly proud of the work we accomplished together & grateful for the amazing friends I've made along the way'. She did not disclose the reasons behind her departure, having written only that she and ESPN had 'agreed to part ways'. Not long after her departure Lisa announced that she would be hosting the new TVG/FanDuel gambling show called "More Ways to Win".
Personal Life
Regarding her personal life, Lisa Kerney is married to former National Football League (NFL) star Patrick Kerney, who was a defensive end for the Atlanta Falcons and Seattle Seahawks. The two met when Lisa was covering a Seattle Seahawks game in 2007, during which Patrick was announced as their new player. The couple has been married since 2010, and have four children. After his football career ended, Patrick enrolled at a business school to acquire a financial planning degree. The family currently reside in New York.
Driveways hoops w/the kids. Basics…spider dribble, figure 8s, mikan drill. 5 man weave needs work. 3 yo's struggled w/ focus &finish. They'll get there. Not tonight. So we'll just cheer on the guys doing their thing instead. Tell me…who are YOUR upsets? #Sweet16 #MarchMadness pic.twitter.com/jCpGjM6sx0

— Lisa Kerney (@LisaKerney) March 28, 2019
Net Worth
In case you wondered just how rich former ESPN sportscaster Lisa Kerney is, authoritative sources have estimated her net worth at $14 million, acquired through her long-running career in sports journalism.
Social Media and Appearance
Lisa Kerney has an official Instagram account with nearly 32,000 followers, and a Twitter page with nearly 40,000 subscribers. Speaking about her appearance, Lisa has a slim figure and is 6ft (1.82m) tall. She has long blonde hair and brown eyes.