Shantel VanSanten's from "The Flash" Wiki: Husband, Married, Net Worth, Parents, Sister, Relationship
• Started career as a model at 15
• Found passion for acting after appearing on reality show
• Appeared in "The Flash" in 2015, boosting her career as an actress
• Had relationships with Michael Johnson, James Lafferty, and Jon Fletcher
• Has a net worth of over $5 million and is an ambassador for the American Lung Association
Who is Shantel VanSanten?
Shantal VanSanten started her career as a model, being just 15 when she signed her first modeling contract with Page Parkes Management. After she had appeared on-screen in the NBC reality series "Sports Illustrated Swimsuit Model Search" as a contestant, she discovered her passion for acting. Her first major acting projects were "The Final Destination" and "One Tree Hill" both in 2009, and "You and I" (2011). She then starred in "Something Wicked" (2014), although professing to be afraid of scary movies. In 2015 she appeared as Patty Spivot in the second season of The CW TV series "The Flash", which boosted her career as an actress so much so that modeling fell to second place in her life. Her latest project as an actress is in the TV series "Shooter" (2016-2018) – a conspiracy thriller from the novels of Stephen Hunter – which follows the journey of Bob Lee Swagger, and in which Shantel has the main feminine role of Julie Swagger, Bob Lee's wife.
VanStanten's Bio: Early Life, Parents, Siblings, and Education
VanStanten is born on 25 July 1985, in Luverne, Minnesota, but grew up in Spring, Texas with her mother and grandmother named Doris. Her mother's and father's names aren't revealed, however, it is known that she is 75% Dutch & 25% Norwegian by descent. She comes from a simple family of farmers, as her grandparents practiced agriculture in Minnesota. She also has a brother and a sister, both younger than her.
Has Shantel found the love of her life?
So far, she has not experienced married life, but has definitely met some interesting guys with whom she has apparently fallen in love, including Michael Johnson. Reports say VanSanten's relationship with Michael Johnson lasted only from 2008 to 2009, but they did not show their personal life, so the media found about it just months before they chose to separate in mid-2009. Another handsome hunk from her romantic life was James Lafferty, with whom she was seen shortly after the split with Johnson, but neither could Lafferty could keep her interested for a longer period of time, so they broke up after a few months.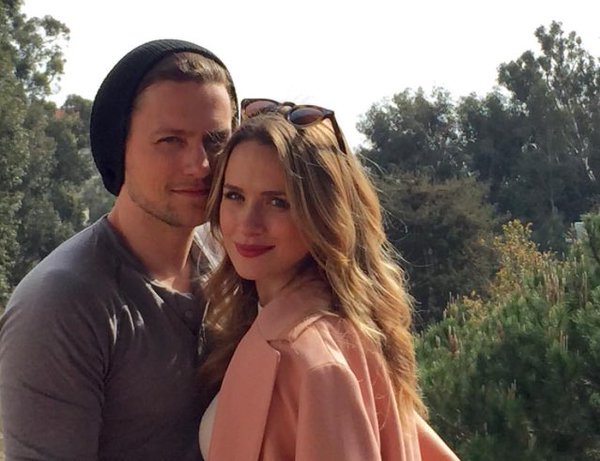 Shantel then started dating Jon Fletcher, an actor who also played in "One Tree Hill". Previously, Shantel posted pictures on her Instagram which gave the idea of her loving relationship with Jon, however, she later deleted the photos which hinted towards the inevitable end of the affair; supposedly,
Jon's jealousy of Shantel and Robert Buckley, her best friend
, was the reason for their breakup. However, until one of them publicly discloses the cause for their split, it's not possible to assume anything with certainty. By the way, her relationship with her friend Robert Buckley is very beautiful. They built a very strong friendship between them, whether it has a romantic part or not. Shantel didn't avoid talking about this friendship. In an interview with
Fame10
on 19 April 2016, she said: "He's my best friend, no no no! I mean we sleep in the same bed and nap together and to have that friendship to me is so important
.
" Further, Shantel also revealed that she liked sabotaging her best friend's relationships. She added: "I cut them [girls] away. I'm pretty much like, 'Not good enough, that's not gonna happen, I don't like her!"
Net worth
Shantel's career started in 1999, and she has been an important member of the entertainment industry ever since. She is very active on social media too, especially Instagram and Twitter, and keeps updating them with her latest work and photos. She is followed by almost 850,000 people on Instagram, and over 225,000 on Twitter. Her success is due to her ambition, hard work and her ability to combine the two directions of her career: modeling and acting. Undoubtedly, she earned a lot from these two, and authoritative sources estimate that she has a net worth of over $5 million.
Thanks for live tweeting #SwaggerSquad… back to regularly scheduled vacationing #ShooterTV pic.twitter.com/PDyALr18m0

— Shantel VanSanten (@TheRealShantel) August 9, 2017
The fight against lung cancer
Because of lung cancer, Shantel lost her grandmother, a very important person in her life, her
hero
. In honor of her granny Doris, she became an American Lung Association Ambassador, and is a strong voice for educating people regarding lung cancer, supporting a lot of people who are dealing with this disease by answering their questions and trying to help each of them. Her activity is not only online. She also travels a lot in different parts of the world to give motivational speeches, and fundraise for lung cancer treatments. In
an Instagram story
, she said that we, as a society, are starting to make a good progress but we have a long way to go. She adds that, since 2016, 13 new treatments for lung cancer were approved. It is very important for her to make people realize the gravity and the magnitude of the phenomenon. That's why she keeps her followers aware with everything linked with her purpose: "The lung association did a national survey and found out that awareness is incredibly low for lung cancer, with only 3% of women stating lung cancer as a top-of-mind health concern. We need to change that!!!"
Shantel's lifestyle and body measurements
Shantel is extremely athletic. First of all, she is a member of fitness magazines – Women's Health Magazine frequently includes Shantel's workout samples. Her best way to promote a healthy lifestyle is by really practicing it, so she spends a lot of time doing various sports. She played in a volleyball team when she was younger, and she also likes badminton, knee-and-wakeboarding and Frisbee. Just by looking at her body we can see very well how an active life and healthy nutrition are merged by her.
So, even if she does not do modeling so much, she maintains her 'killer' and healthy body. Shantel is 5ft 8ins (1.73m) tall, and has an enviably slim body. In 2010 and 2011 she was in 24th and 21st place on BuddyTV's "TV's 100 Sexiest Women". If you want to know more about Shantel VanSanten, you should definitely visit her Instagram or her Twitter accounts She is not only beautiful and smart, she is also a kind and big-hearted person who spreads positive energy around her.