Steven Seagal's Net Worth, Age, Height, Wife, Children, Nationality, Wiki Bio
• Steven Seagal is a veteran actor, producer, screenwriter, musician and martial artist
• He is of Dutch, English, German, Jewish and Russian ancestry and is known for appearing in numerous action films
• He has released two studio albums and is a Buddhist, with a certificate from Peace Officer Standards & Training (POST)
• He has been married four times and has seven children and is currently married to Mongolian dancer Erdenetuya Batsukh
• Steven Seagal is 6ft 4ins tall and weighs 265lbs, with black hair and dark brown eyes
Who is Steven Seagal?
A veteran actor, Steven has reached prominence by appearing in numerous action films, such as "Above the Law" (1988), "Under Siege" (1992), and "Exit Wounds" (2001), among many others. In addition, Steven is a producer, screenwriter, musician and martial artist.
So, do you want to find out more about this prominent Hollywood personality, from his childhood to years spent in Japan and his aikido teachings, to his most recent career achievements and personal life? If yes, then stay with us for the length of the article, as we present to you the one and only Steven Seagal.
Steven Seagal Wiki: Age, Early Life, Parents, and Education
Born Steven Frederic Seagal on the 10th April 1952, in Lansing, Michigan USA, of Dutch, English, German, Jewish and Russian ancestry, the son of Samuel Seagal, a high school mathematics teacher, and his wife, Patricia, who was a medical technician. His father passed away in 1991, while his mother died in 2003. When he turned five, the family moved to Fullerton, California; during his early years he suffered from asthma, but after the move he was completely cured. He went to Buena Park High School, from which he matriculated in 1970 after which he enrolled at Fullerton College.
Aikido Teacher
However, he stayed at college for just a year, before he moved to Japan where he became a part of an Osaka aikido dojo. He returned to the USA in 1974, and met Miyako Fujitani, his future wife. He and Miyako developed a romantic bond and Steven went with her to Osaka, and became an aikido teacher at the school owned by Miyako's family. He was in and out of Japan for the next several years, before he permanently returned to the USA in 1983, and opened an aikido dojo with Haruto Matsuoka, one of his many students, in North Hollywood, later relocating the studio to West Hollywood. Matsuoka was the main man of the dojo until the late '90s, when the two decided to go their separate ways, and Steven took the charge.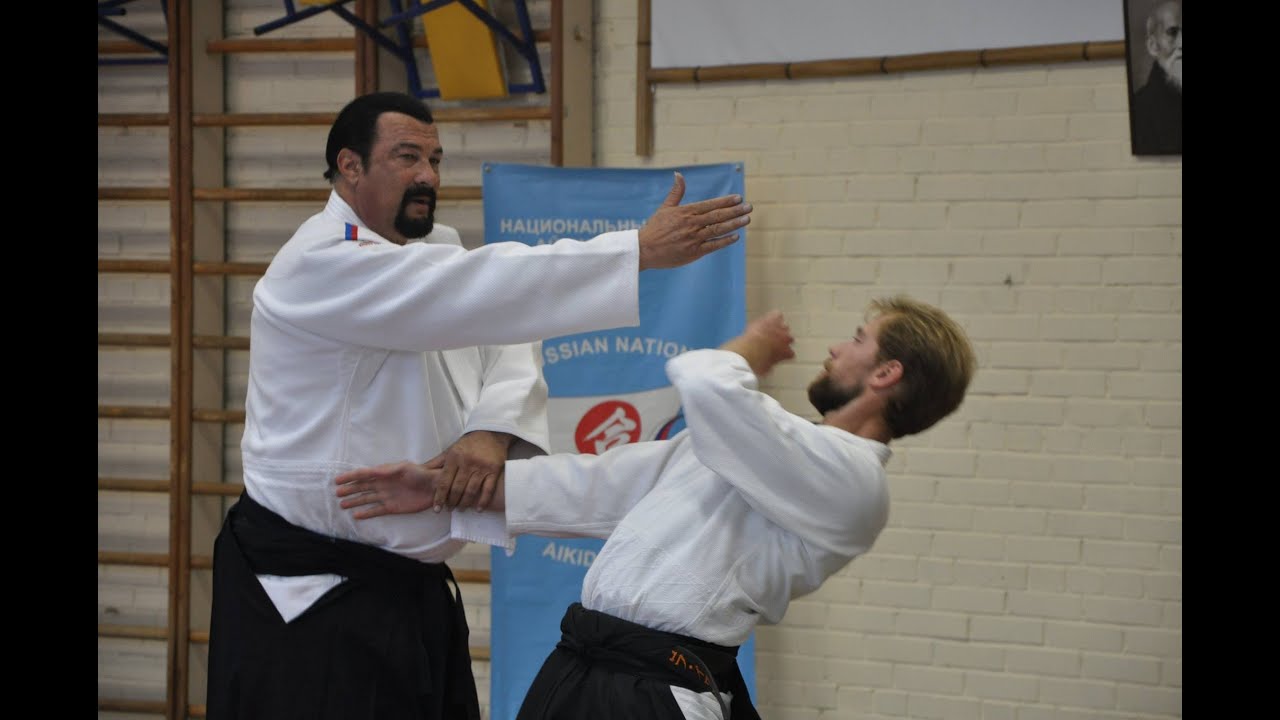 Acting Career Beginnings
It was in 1988 that Steven launched his acting career, serving as director, producer and lead star on the film "Above the Law", portraying Nico Toscani. He continued with a number of classic action films, including "Marked for Death" (1990) in which he was John Hatcher, then in 1992 he played Casey Ryback in the film "Under Siege". The films were quite successful, and he continued to make similar films throughout the '90s, including the sequel "Under Siege 2: Dark Territory" in 1995, then "Fire Down Below" and "The Patriot in 1997 and 1998 respectively. Steven was becoming more popular, and in 2001 another film came out – "Exit Wounds" – which became one of his most prominent accomplishments.
Rise to Prominence
With every new role Steven's popularity increased, with films such as "Half Past Dead" in 2002, then "Into the Sun" (2005), "Against the Dark" in 2009, while in 2010 he starred alongside Danny Trejo, Michelle Rodriguez and Robert De Niro in "Machete". Little has changed for Steven since 2010, only increasing the number of films in which he's starred. In 2013 he featured next to Dany Trejo again, this time in the action crime film "Force of Execution", while in 2015 he was the star of the film "Mercenary: Absolution". "Contract to Kill" is yet another title from the opus of this actor and martial artist, while most recently he starred in films "Attrition" and "General Commander", both released in 2018.
Music and Other Work
Steven is also a musician, with a number of songs penned under his name; his debut studio album "Songs from the Crystal Cave" came out in 2005, and his next in April 2006, entitled "Mojo Priest", upon which Steven ventured on a tour across the US and Europe with his own band named Thunderbox, to promote his studio releases.
Steven has served as a Reserve Deputy Chief in the Jefferson Parish, Louisiana Sheriff's Office. He apparently received a certificate from Peace Officer Standards & Training (POST), on graduating from a police academy in Los Angeles. However, POST officials in California and Louisiana have no record of Seagal being certified, and his certificate hasn't been made official.
Steven Seagal Net Worth
Since launching his career, Steven has become a world-renowned actor, but not just that, his versatile personality is respected by people all around the world. His success has steadily increased his wealth, so have you ever wondered how rich Steven Seagal is, as of early 2019? According to authoritative sources, it has been estimated that Seagal's net worth is as high as $16 million, which is quite impressive, don't you think?
Dear Friends

Enjoying my time in Germany and catching up with great friends like Chuck Norris.

Photo credit Anar #reiband pic.twitter.com/SJOcxkfTQp

— Steven Seagal (@sseagalofficial) December 1, 2018
Steven Seagal Personal Life, Affairs, Marriage, Wife, Children
What do you know about Steven's personal life? Well, he has led quite an interesting one, with a number of ups and downs. His first wife was Japanese aikido teacher Miyako Fujitani, who he met in California in 1974, from when the two were married until divorcing in 1984, following Steven's return to the US; the couple welcomed two children, Ayako Fujitani, a writer and actress, and a son, Kentaro Seagal, a model and actor.
When he returned to the US he became acquainted with actress Kelly LeBrock, but then started a romance with Adrienne La Russa who he married in 1984, but it was annulled later the same year. He then started dating Kelly LeBrock again, and this time they married in September 1987,  lasting until 1994 when Kelly filed for divorce, stating irreconcilable differences. The two have three children, Annaliza, Dominic, and Arissa.
Fourth Wife
Steven is now married to Mongolian dancer and model Erdenetuya Batsukh, who goes by the name of Elle. The two met back in 2001 and re-kindled their relationship later, which resulted in marriage in 2009. Since then, they have welcomed a son together, named Kunzang.
In addition to biological children, Steven is also the guardian of Yabshi Pan Rinzinwangmo, the only child of the 10th Panchen Lama of Tibet.
Steven Seagal Interests, Citizenships, and Honors
Steven is recognized for having numerous interests; he speaks Japanese fluently, he has a vast collection of guitars, and guns – he is quite fond of the Colt M1911A1 semi-automatic pistol – and also has a vast collection of samurai swords. Steven is a Buddhist, and it was in February 1997 that he was the reincarnation of Chungdrag Dorje, who was a 17th century Trenton of the Nyingma, which is the oldest sect of Tibetan Buddhism.
Thanks to his connections in Russia, Steven was given Russian citizenship on the 3rd November 2016, and was made a special envoy to the USA. In January 2016, Steven was made a Serbian citizen, and was asked to teach aikido to the Serbian Special Forces.
Sexual Allegations and Lawsuits
Steven has faced a number of sexual charges throughout the years; the first in 1991 when Raenne Malone, Christine Keeve, and Nicole Selinger, who were employed at Warner Bros., accused Steven of sexual harassment during the filming of "Out for Justice". He also faced charges from four other actresses. The next accusation came in 1995 when Cheryl Shuman filed a suit against Steven, stating that he threatened and beat her while they were working on the film "On Deadly Ground". Until 2010 he was free from charges, but then 23-year-old Kayden Nguyen stepped out and told the police that Steven engaged in sexual harassment and the illegal trafficking of females for sex, and other illegal activities; however, Kayden withdrew her claims three months after filing the suit.
Recent Charges
Most recently Steven faced three more charges, one coming from Rachel Grant and Regina Simons. Rachel stated that Seagal sexually harassed her back in 2002 when they were working on the film "Out for a Kill" (2003), while Regina claimed that he raped her when she was 18; she was working on the film "On Deadly Ground" with him and was invited to his home, and she thought it was a party for the successful completion of the aforementioned film. However, the charges have been withdrawn.
Steven Seagal Internet Popularity
Over the years, Steven has become popular on social media platforms, especially Facebook and Instagram, though he is also no stranger on Twitter. His official Facebook page has over 5.8 million fans, while on Instagram he has just over 150,000. You can find Steven on Twitter too, on which he has over 110,000 followers. He has used his immense popularity to promote his career, and has also spoken to his fans through social media platforms, as he wished them a Happy New Year through Twitter.
So, if you aren't already a fan of Steven Seagal, then this is a perfect opportunity for you to become one, just skip over to his official pages, and see what he is up to next.
Steven Seagal Height and Weight
Steven is recognized for his towering height, but do you know exactly how tall he is and how much he weighs? Well, Steven stands at 6ft 4ins, which is equal to 1.93m, while he weighs approximately 265lbs or 120kg. He has black hair and dark brown eyes, which has only frightened his "enemies".