The Life of Musician Sam Kiszka: The Career With His Brothers
Greta Van Fleet, the rock sensation known for their distinctive style and electrifying performances, brings to mind a dynamic blend of musical prowess and iconic fashion statements. From their unparalleled instrumental skills and transformative on-stage energy, to their signature looks featuring chest-baring tops and skin-tight jumpsuits, this iconic band has rightfully solidified its place in the hearts of music enthusiasts worldwide.
At the core of Greta Van Fleet's magnetic appeal lies the exceptional talent of the Kiszka brothers. Among them, Sam Kiszka, the youngest of the siblings, has played a pivotal role in shaping the band's trajectory and establishing their unique sound. As a multi-instrumentalist, Sam's contributions to the group's musical landscape have been instrumental in propelling Greta Van Fleet to the forefront of contemporary rock music.
In our quest to unravel the story behind Greta Van Fleet's meteoric rise as a beloved rock sensation, we turn our attention to the youngest Kiszka brother, Sam. Who is this musician, and what role did he play in shaping the band into the revered rock ensemble it has become today?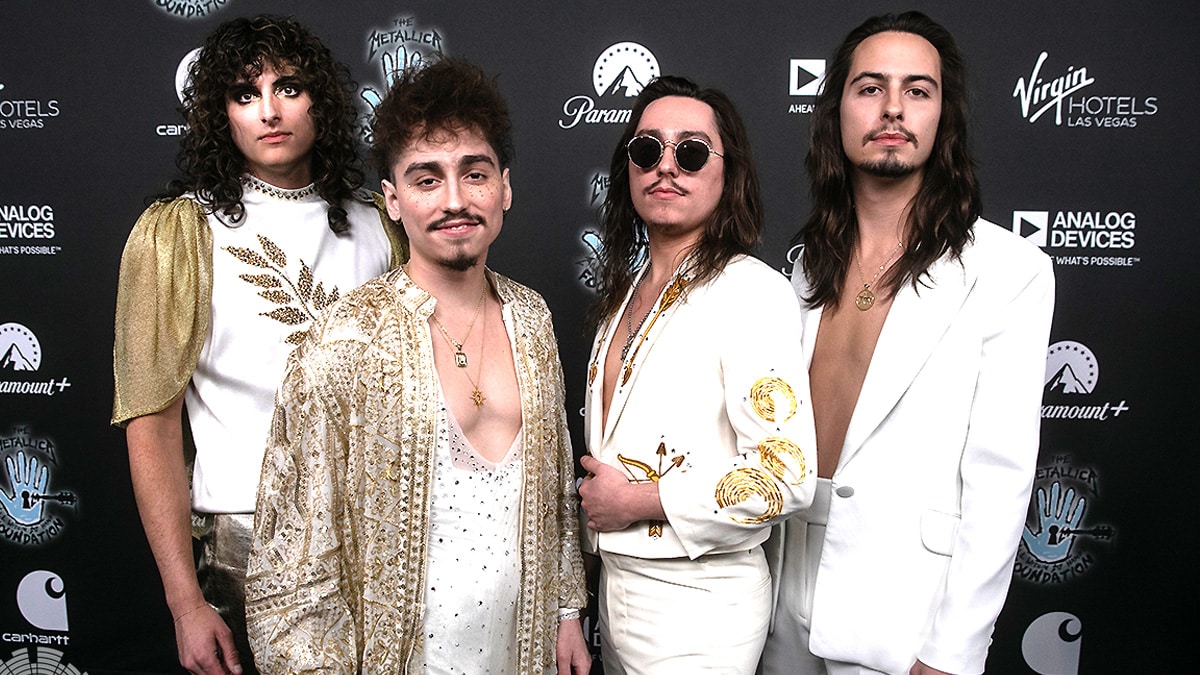 Early Personal Life
Born on 3 April 1999, in the charming town of Frankenmuth, Michigan USA, Sam Kiszka is making waves in the world of music with his incredible talent and deep-rooted passion for rock. Hailing from a family of musicians, Sam's musical journey was destined to be extraordinary from the very beginning.
Sam's father, the musician known as "Papa Kiszka," played a pivotal role in shaping his musical upbringing. His mother, Karen Kiszka, herself a talented musician, added to the family's rich musical heritage. Growing up in the Kiszka household, music was more than a pastime; it was a way of life.
Sam's childhood was marked by the presence of his two older twin brothers, Joshua and Jake, and his sister, Veronica. Together, they formed a tight-knit family unit that shared a common love for music.
At the tender age of thirteen, Sam started a musical journey that would change his life forever. He joined forces with his brothers, Joshua and Jake, to create a rock band that would soon become a sensation. Greta Van Fleet was born, marking the inception of Sam's remarkable career, with the world soon recognizing his exceptional talent.
One of the most defining moments in Sam's musical journey was the gift of a Fender P Bass with a Made in Mexico jazz neck from Marlon Young. This particular bass became Sam's go-to instrument, his trusted companion on stage and in the studio. Fans of Sam would instantly recognize the iconic mint green guitar that has become synonymous with his performances.
It was during his childhood that he was introduced to the blues and jazz legends who would influence his style. Artists such as Jack Bruce and Buddy Guy left an indelible mark on young Sam's musical sensibilities.
Surrounded by music throughout his life, Sam had little choice but to embrace the musician's lifestyle. His father's involvement in multiple bands in Michigan, his mother's musical prowess on the piano and vocals, and the constant jam sessions in the garage with his older brothers Jake and Josh, ensured that Sam was immersed in a world of creativity and self-expression.
Despite initially being pressured by his mother to join in on garage jam sessions with his brothers, Sam's passion for bass soon took hold. Under the guidance of his older brother Jake, he began learning the ropes of bass playing, starting with easy riffs that would eventually evolve into the unique and powerful style that defines his contribution to the world of rock music.
Education
During his formative years, Sam found his muse in the hallowed halls of Frankenmuth High School, where he became an active member of the school's music club. His prowess on the guitar quickly made him a standout, earning him the esteemed position of the team's guitarist. These early experiences were what laid the foundation for his future musical adventures.
Completing his schooling in his hometown was a point of pride for Sam; it was during this time that his multifaceted talents began to shine. Not only was Sam a musician of exceptional skill, but he also demonstrated a remarkable aptitude for golf.
However, it was a pivotal decision during his high school years that set him on a different path. Despite his promising future in golf, Sam made the daring choice to forgo the state finals. His reason? A deep-seated desire to pursue his passion for music, a decision that would lead him to Sweden and ultimately shape his destiny as a musician.
Career
In 2012, the musical world witnessed the birth of something truly extraordinary, when Sam, along with his talented brothers, founded the iconic rock band Greta Van Fleet. the inception of a journey that would eventually propel them to global stardom.
Their initial foray into the music scene saw them recording three songs that would become their early hits: 'Cloud Trains,' 'Highway Tune,' and 'Standing On.' These tracks served as a mesmerizing introduction to the band's signature sound, captivating audiences with their raw energy and distinctive style.
In 2014, Sam showcased his bass-playing prowess in a live EP performance, cementing his role as the band's bassist. During the same period, the band also ventured into the world of commercials by recording a song for Chevy, expanding their reach beyond the stage.
Sam's musical journey took another exciting turn in 2017, when he graced the stage of ''The Tonight Show Starring Jimmy Fallon,'' further solidifying Greta Van Fleet's position in the music industry, and leaving a lasting impression on a nationwide audience.
As true rock stars, Sam and the band embarked on a whirlwind tour that took them to various corners of the globe, including memorable stops in Sweden, Australia and Taiwan. Their electrifying live performances left audiences in awe, and further fueled their growing fan base.
In 2019, Greta Van Fleet released their third single, 'Lover, Leaver,' which received widespread acclaim, and earned a coveted spot on the iTunes playlist, and solidifying their status as a force to be reckoned with in the rock music scene.
In 2020, Sam and the band in their trademark style, unleashed "My Way Soon." Their second album, 'The Battle at Garden's Gate,' arrived in 2021, marking yet another chapter in their musical journey, brimming with powerful compositions that resonated with their loyal followers.
JUST ANNOUNCED: Greta Van Fleet will bring the Starcatcher World Tour with special guest Surf Curse to TD Garden on Sept. 15! Access presale tickets starting Apr. 20 at 10am with code GVFSTARCATCHER. 💫

Tickets go on sale to the general public Apr. 21 at 10am. pic.twitter.com/LWhhC1mpbL

— TD Garden (@tdgarden) April 18, 2023
Fast forward to July 2023, and Greta Van Fleet continued to make waves with the release of "Starcatcher." This eagerly anticipated album made an impressive debut, entering the US Billboard 200 at number 8, a testament to their enduring popularity. It sold an impressive 46,000 album-equivalent units in its first week, underlining the band's unwavering appeal in the ever-evolving world of rock music.
Interesting Facts
The multi-talented artist also boasts remarkable skills as a keyboardist, and a gifted storyteller who weaves sonic tales using the Hammond B3 and Mellotron.
One of Sam's most notable creative moments was when he crafted the now-famous riff for "Heat Above", born from a desire to manifest a sound that could mirror a vision of pure aesthetics and a glimpse of the beyond. With ethereal tones and gospel-infused sounds, the opening track of GVF's sophomore album, "The Battle At Garden's Gate," can instantly transport listeners on a transcendent journey.
While his musical talents shine brightly, Sam's high school years also revealed his proficiency in golf. Despite being a promising golfer, he made an audacious decision that set him on the path to musical greatness. He chose to skip one of his tournament finals to embark on a tour of Sweden with his musical band, a decision that would ultimately define his future.
On the road with Greta Van Fleet, Sam has some unconventional tour essentials that reflect his unique personality and tastes. Tequila tops the list, as he describes it as "The sweet nectar of the gods" and a source of good vibes. Sushi is another must-have, which he hails as "one of the most incredible inventions of humans." His current favorite fish for sushi is Walu.
Tofu and oysters are also staples for Sam while on tour, especially when he's gathered with his fellow Kiszka band members. Oysters, in particular, are synonymous with good times in their book. To protect his eyes in style while enjoying the beach, Sam insists on having a pair of "bitchin' shades," which, for some mysterious reason, tend to disappear on occasion.
Sunshine is a non-negotiable requirement for those bitchin' shades to shine, and when it comes to comfort food, Sam turns to ramen. He considers it "perhaps the most comforting comfort food" and finds it pairs perfectly with some sushi.
In 2017, Sam clinched the Loud Wire Unsung Award in the Best New Artist category, marking a significant recognition of his musical contributions. Two years later, his songwriting prowess shone brightly when one of his compositions secured the iHeartRadio Music Award in the Rock Song of the Year category. During the same year, along with his bandmates, he celebrated another triumph by winning the Polish Best Foreign Album Fyderyk Award, solidifying their status as a global musical powerhouse.
2019 brought a remarkable achievement for Sam when he received multiple Grammy Award nominations in various categories. Although the band secured the "Best Rock Album" award, Sam's individual recognition was a testament to his exceptional talent and contributions to Greta Van Fleet. Despite nominations in other categories, the band didn't secure wins in those fields, but the acknowledgment was a testament to their impact on the music industry.
Sam's height has long been a topic of discussion among fans, as he's the youngest member of the renowned rock band. Standing at 5'7″, he's just below the average height of American men, who's typically 5'9″. However, he's expressed indifference to these height comparisons, asserting that physical stature should not overshadow his accomplishments or contributions to the music world.
In a candid response to inquiries about his height, Sam emphasised that it's a factor beyond his control and should bear no significance in his journey as a musician and artist. His resolute stance is a reminder that true talent knows no height limitations.
In a less glamorous moment of his life, the muso faced legal troubles in 2017, when he was arrested for possession of an illegal substance, resulting in a sentence of up to six months in jail. Additionally, he was fined $1,000 and ordered to pay $1,500 in restitution for the damages caused during a break-in.
In his own words, Sam conveyed that he's not a criminal, murderer, or terrorist, but rather an individual striving to live his life. He underscored his commitment to not causing harm to anyone or anything, highlighting the challenges he faced during this period of his life.
Sam's love for adventure extends beyond his musical endeavors. He takes pride in being the owner of a black Tea Moped, an electric bike designed for fun and indulgence. This remarkable bike boasts a top speed of up to 80 kilometers per hour (50mph), making it a thrilling mode of transportation. Sam often embarks on new adventures by riding his black tea moped to various destinations, embodying the spirit of exploration and adventure.
Later Personal Life
Before finding the love of his life, Joey Powell, Sam's romantic journey had a few interesting chapters. In his sophomore and high school years, he dated two of his classmates. We know nothing  about these romantic affairs, though.
It was at a music festival in 2017 that he crossed paths with Joey Powell, and their love story began.
Their relationship remained shrouded in secrecy initially, away from the prying eyes of the media. Yet, as time passed, Sam and Joey grew more open about their love. Nowadays, they frequently share multiple photos of each other on their social media accounts, giving fans glimpses into their affectionate bond.
The romantic culmination of their love story happened on 19 November 2019, when Sam and Joey exchanged their vows in an intimate and private wedding ceremony. The nuptials were attended solely by invited guests and family members, adding a touch of exclusivity to the special occasion. The couple's wedding was a momentous event, marked by the heartfelt commitment they made to each other.
Joeygraciously shared a glimpse of their wedding through her Instagram account, offering fans a chance to witness the love-filled celebration. The photos from the event captured the essence of their bond, showcasing Joy in a beautiful white wedding dress and Sam in a stylish blue suit.
Physical Characteristics
Sam stands proud at 5ft 7ins (170 cm) and weighs about 132 lbs (60kg). He has blue eyes and dark brown long hair.
Net Worth
Sam's financial standing shines bright with a net worth estimated at $1 million as of late 2023. His noteworthy wealth is a testament to his integral role in the incredibly successful American music band, Greta Van Fleet, which has played a pivotal part in his financial success.