The Untold Truth of Clara Lee – Plastic Surgery, Husband, Wiki
• Clara Lee is a Swiss-born Korean model and actress with a net worth of approximately $100 million.
• She is the daughter of former Koreana band member Lee Seung-Kyu and made her debut in 2006.
• She rose to fame with her role in the 2009 film "Five Senses of Eros".
• In 2013 she was labeled as a sex symbol after delivering a ceremonial first pitch at a baseball game in tight-fitting leggings.
• She married a Korean-American businessman in 2019 and lives in a luxurious home.
Who is Clara Lee?
Lee Sung-Min was born on 15 January 1985, in Bern, Switzerland, and is a model as well as an actress, best known for performing under the stage name Clara Lee, or just Clara. She rose to fame through appearing in South Korean films and television shows, often as a sex symbol.
The Net Worth of Clara Lee
As of early-2020, Clara Lee has a net worth estimated to be close to $100 million, earned largely through a successful career in acting, but she's also done modeling work for high profile brands in South Korea.
She's been active in the entertainment industry since 2006, and was won several awards during her career.
Early Life and Career Beginnings
Clara is the daughter of singer Lee Seung-Kyu who was previously a member of the band Koreana, an English and South Korean language band which found fame during the 1980s, with such hits as "Hand In Hand" and "Living in Love". While she didn't have the same talent in music as her father, she aspired to find a career in the entertainment industry, as a model or actress.
She made her debut in 2006 using her birth name, but later started using the stage name Clara as her birth name was too masculine, and also because her English name had always been Clara. She was relatively unknown in her appearances in projects such as "High Kick" and "Creating Destiny".
In 2009 she found her breakthrough, when she was cast as Lee Yoon-Jung in the film "Five Senses of Eros", actually featuring a compilation of five short films about desire and love. Each short film featured a different set of characters and story line.
Continued Rise to Fame
More opportunities then opened up for Lee, and she started appearing in several television shows including "Creating Destiny". In 2012, she played the character Hong Mi-Joo in "Take Care of Us, Captain", the series following the story of a female pilot played by Ku Hye-Sun as she gets paired with a young pilot to fly a Boeing 747. The show ran for 20 episodes.
After a few more appearances on television, she appeared prior to a professional baseball game in 2013, delivering the ceremonial first pitch.
Her appearance there made her an overnight internet sensation, as she made the pitch in tight-fitting leggings that fit her very well, which started her being labeled as a sex symbol and up-and-coming star. She worked on the show "Goddess of Marriage", but drew a bit of ire due to her inconsistency during interviews. In one interview, she expressed her liking of beer and chicken but stated the opposite in another interview. She also contradicted herself on social media, which led to a lot of negative comment.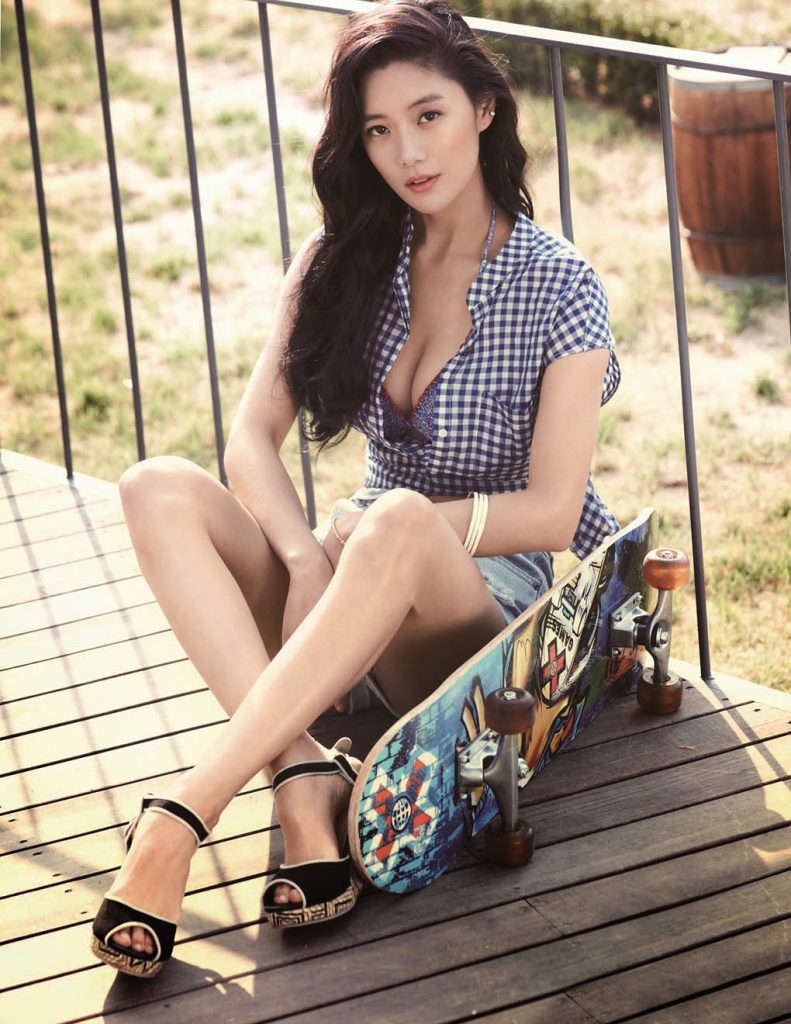 This in turn led her to close her accounts on Facebook and Twitter. In 2014, she worked on "Emergency Couple", a series that starred her alongside Song Ji_Hyo and Choi Jin-Hyuk. It follows the story of a divorced couple who rekindles their relationship after they find themselves reunited as interns of the same hospital.
Recent Projects
In 2015 Clara found film work again, when she was cast as the lead actress for the film "Casa Amor: Exclusive for Ladies", based on the 2010 Brazilian film "Upside Down". It follows the story of a marketing executive who loses her job, and then finds herself working in a sex shop.
Around this time she caught a lot of media attention, as she filed a lawsuit against her agency Polaris Entertainment, as she publicly revealed that she was being sexually harassed by the agency's president. The agency quickly denied those claims, defending itself by stating that Clara was using a sexual harassment angle to help her get out of her contract quicker. The blackmail allegations were shot down by the court, and the president Lee Kyu-Tae was indicted for making violent threats against Clara.
However, a few months later she later dropped her lawsuit against the agency.
She has continued working on television, appearing in projects such as "Entourage", "Strong Woman Do Bong-Soon", and "Meloholic". She also appeared in multiple films across 2019.
Personal Life
Clara announced that she had married in 2019 to her longtime partner, a Korean-American businessman.
She is also of mixed lineage as she has roots in Switzerland, Britain as well as South Korea. She has not revealed a lot of information about her partner, and the media has not made a lot of coverage about it due to him being a non-celebrity.
It was reported that she began living in a very luxurious home after marriage. During her free time, she invests a lot into keeping her body fit and in top shape for her acting roles, althouhgh sheloves food, particularly ice cream and desserts