The Untold Truth of Red Velvet Member – Irene
• Born in South Korea, Irene has a net worth of over $4 million
• She is the leader of the K-Pop group Red Velvet, and has done solo projects including modeling, acting, and hosting TV shows
• She was a trainee for SM Entertainment for five years before debuting in Red Velvet
• She has done commercial and modeling work for multiple brands, such as Ivy Club and Maxwell House
• Her hobbies include not eating chicken, and not expressing herself publicly
Who is Irene?
Bae Joo-Hyun was born on 29 March 1991, in Daegu, Buk-gu, South Korea. She is a singer, model, rapper, and television host, best known for being a member of the South Korean girl group Red Velvet. She is the leader of the group, but has also done a lot of solo projects, mostly modeling work.
The Net Worth of Irene
As of early-2020, Irene has a net worth estimated to be over $4 million, earned through success in her various endeavors. She is one of the most popular female Korean idols in the country, with her fame helping her get numerous opportunities apart from her work with Red Velvet.
Early Life and Career Beginnings
Irene grew up in Daegu, raised by her parents alongside a younger sister. She attended Haknam High School, a public school that has around 1,200 students in regular attendance. She aspired to a career in the entertainment industry, and in 2009 she auditioned to become a part of SM Entertainment. The company is the largest of its kind in South Korea, responsible for developing many highly popular K-pop acts since its inception.
Some of the artists they manage include Shinee, Super Junior, Exo, and NCT, also actors and solo artists.
Irene was successful, and joined the company as a trainee, which took the next five years, before becoming an idol. In 2013, she made her first public appearance as a part of the group SM Rookies alongside Jaehyun and Lami. The project was intended as a pre-debut group, featuring trainees who are yet to make their debut as a part of an idol group. It was responsible for finding trainees which went to both NCT and Red Velvet.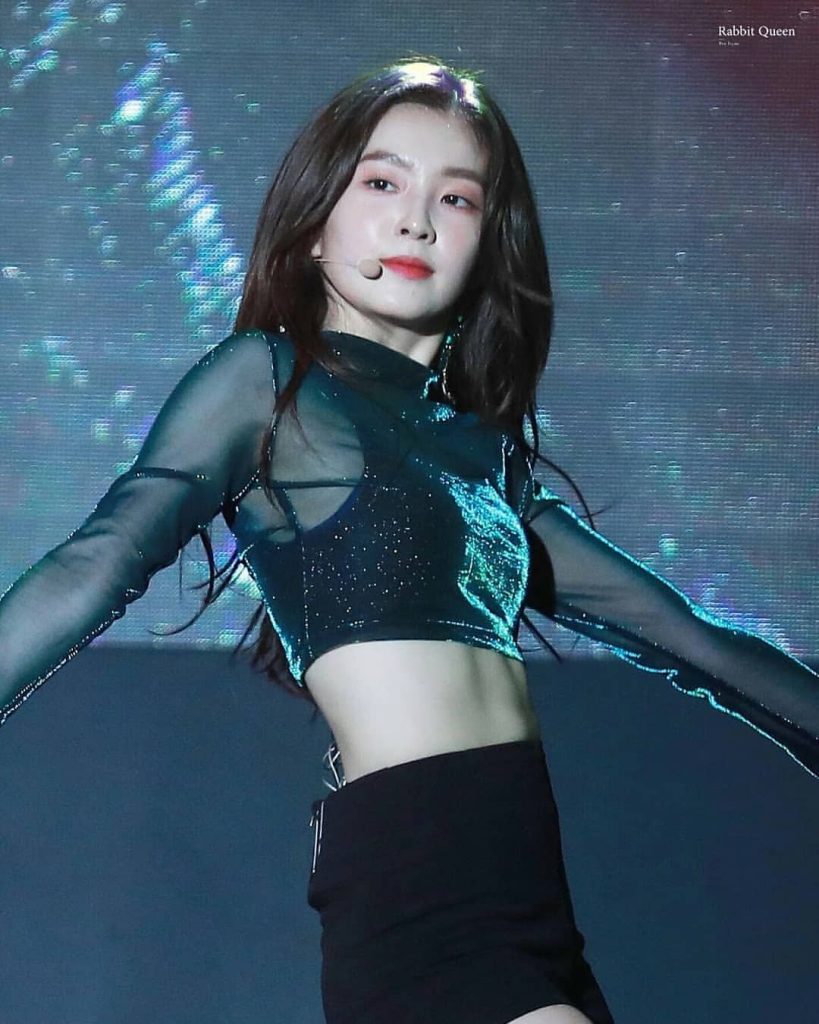 Red Velvet
One of Irene's first appearances was in the music video for the song "1-4-3" by Henry Lau. Videos of her were also released to YouTube, showcasing her dancing capabilities alongside future Red Velvet member Seulgi. In 2014, she made her official debut as a leader of the group Red Velvet, which comprised of four members initially, including Irene, Joy, Seulgi, and Wendy. They released their debut single called "Happiness", then added a fifth member Yeri.
Since their inception, they've created nine Korean extended plays (EPs), two studio albums, and two reissue albums – nine of their releases have reached the top of the Gaon Album Chart. Some of their most popular hits include "Rookie", "Bad Boy", "Ice Cream Cake", and "Russian Roulette" all of which reached the top five of the Gaon Digital Chart. They also had chart-topping releases with "Power Up" and "Red Flavor". In 2018, the group forayed into the Japanese market, releasing its first Japanese EP called "#Cookie Jar".
The past year has seen Red Velvet rise to become one of the most internationally recognized K-pop groups. They've won the Golden Disc New Artist Award and also the Mnet Asian Music Award for Best Female Group.
Solo Projects
Apart from her work with Red Velvet, Irene has forayed into other opportunities thanks to being one of the most popular members of the group, and their leader. She was the host of the television music show "Music Bank" in which she joined actor Park Bo-Gum.
She gained a lot of praise for her hosting, singing, and chemistry with the actor, with some regarding them as the best partnership the show's ever had.
She's had a bit of acting work, making her debut in the web series "Women at a Game Company", playing the lead. She also hosted the fashion show "Laundry Day", and has become a panelist in the show "Trick & True", joined by Red Velvet member Wendy.
She has also done a lot of commercial and modeling work. She worked as a model for Ivy Club alongside Exo, and was an endorser of popular coffee brand Maxwell House.
does your heart ever just:

:¨·.·¨: :¨·.·¨: :¨·.·¨: :¨·.·¨: :¨·.·¨:
`·.. S `·.. E `·.. U `·.. L `·.. GIpic.twitter.com/ytF8EdG1dn

— irene (@luvrenebaebae) February 12, 2020
In 2018, she became the endorser of Cooper Vision contact lenses, and is also the brand model for Lemona. One of her recent projects was becoming a model for the French fashion company Eider, modeling their 2018 fall/winter collection and their spring/summer collection of 2019.
Personal Life
Like many K-pop artists, Irene is single and there is very little known about any of her romantic endeavors. Idols prefer to keep any such information away from the public, but closely managed too.
She probably has very little time to engage in romance due to the nature of her work, and the busy schedule she has.
She doesn't eat chicken as she fell sick while eating it when she was younger. She also doesn't like coffee, and generally dislikes vegetables. She loves her work as she enjoys performing on stage, singing, and dancing. She also doesn't express herself publically as often, which has led to people being intimidated due to her looks and seemingly stoic demeanor.