Tim Tebow girlfriend, wife, net worth, engaged, age, dating, Wiki Bio
• Tim Tebow is a professional baseball player and a former professional American Football quarterback
• He has a net worth of $8.7 million, earned from his successful career in sports
• He was born in the Philippines to parents who were Baptist missionaries
• He won the Heisman Trophy in 2007 and was the first quarterback in NFL history to rush for a touchdown in each of his first three career starts
• He is involved in philanthropic works and is engaged to Demi-Leigh Nel-Peters, Miss Universe 2017.
Who is Tim Tebow?
Timothy Richard Tebow was born on 14 August 1987, in Makati, Philippines, and is a professional baseball player as well as a former professional American Football quarterback. He is best known for his National Football League (NFL) run with the Denver Broncos, as well as his run in college with the Florida Gators university team. After his run in the NFL, he then transitioned to Major League Baseball (MLB), with the New York Mets organization and has played in the minor leagues.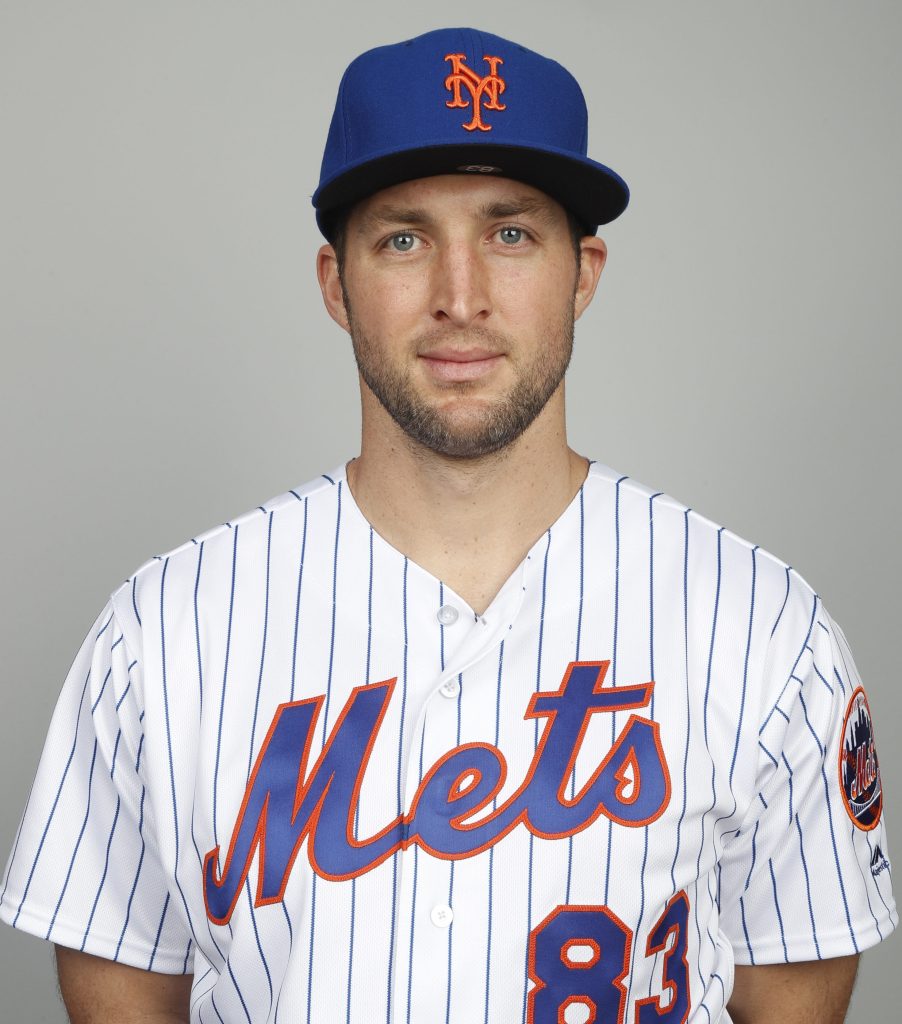 The Net Worth of Tim Tebow
How rich is Tim Tebow? As of early-2019, sources estimate a net worth that is at $8.7 million, earned through a successful career in professional sports. He is the only quarterback under 30 in NFL history to have won a play-off game and then never start another NFL game. He also held numerous college records. As he continues his career, it is expected that his wealth will also continue to increase.
Early Life and Football Beginnings
Tim's parents moved to the Philippines in 1985, serving as Baptist missionaries while building a ministry in the country. His mother contracted amoebic dysentery and became comatose before discovering that she was pregnant. Due to the medications she was taking, doctors expected a stillbirth, so recommended an abortion, but the parents decided against it, and Tim was born a healthy baby.
He grew up with four older siblings who were mainly home-schooled by their parents. He later moved to the US to continue his education and played with the Trinity Christian Academy football team. He then moved to Allen D. Nease High School so he could play as a quarterback, but was never actually enrolled at either school as his parents continued to homeschool him.
College Football Career
Tim accepted an athletic scholarship to enroll at the University of Florida, and play for the Gators football team under coach Urban Meyer. He eventually won the Heisman Trophy in 2007 and helped the team to a BCS championship in 2008. The following year, he helped the team to a 13-1 season, and was selected as the team captain for two seasons. He is the only three time recipient of the Gators' most valuable player award, having been selected by his teammates for three consecutive years.
During his time with the Gators, he came to national prominence thanks to his passing and running abilities. He became the subject of the ESPN documentary series entitled "Faces In Sports" in the episode entitled "Tim Tebow: The Chosen One", which focused on his home-schooling, his parents' missionary work, and his athletic achievements. During his free time, he went back to the Philippines to help with his father's missionary work. He was also featured prominently during the "Outside the Lines" features about home schooled athletes seeking equal access to high school athletics to the United States.
NFL Career
Tebow entered the 2010 NFL Draft, and despite his college success, there was a lot of contention towards his viability in the professional league. He was selected as the 25th overall pick by the Denver Broncos, as the team had acquired the pick in a trade with the Baltimore Ravens. He set an NFL Draft record for jersey sales, and signed a five-year contract with a base of $11.25 million, with $8.7 million guaranteed. During his rookie season, he achieved the longest touchdown run in NFL history for a quarterback in his first start, but mainly played as a back-up throughout the season, while becoming the first quarterback in NFL history to rush for a touchdown in each of his first three career starts.
He continued the 2011 season as a back-up quarterback, though he was given a few games as a starter. He contributed to various come-from-behind victories, while also having a few poor games as there was inconsistency in his play, but he helped the Broncos gain a play-off spot in the AFC West, where the team defeated the Pittsburgh Steelers before they were knocked out of the playoffs by the New England Patriots. Finishing the season with the lowest passing completion rate, many questioned his capabilities in professional football.
Final Years with the NFL and MLB
In 2012, Tebow was traded to the New York Jets and his presence with the team created controversy due to his usage. He was released the following year, having thrown only eight passes with the team. He was then signed by the New England Patriots for which he continued to perform inconsistently throughout the pre-season, and was cut from the organization. He then began a broadcasting career with the SEC Network, but he still wanted to play as a quarterback, and signed a one year contract with the Philadelphia Eagles, but was released by the team.
Around this time, he was starting to gain interest in pursuing professional baseball and attracted interest from several teams. He signed a minor league contract in 2016 with the New York Mets, and since then has only made a few appearances in the major league camp. Several journalists commended him for being a legitimate pro prospect in baseball, and attendances at the teams he played with soared. In 2018, he was promoted to the AA team, the Binghamton Rumble Ponies, but acquired a hamate bone fracture which led him to miss the remainder of the season.
Personal Life
For his personal life, it is known that Tim is engaged to Demi-Leigh Nel-Peters, who is best known for being crowned Miss Universe 2017, the second Miss Universe from South Africa after Margaret Gardiner won in 1978. Their engagement was announced in 2019. He is also known for being outspoken about his Christian faith, and spends his free time preaching as well as assisting with his parents' ministry in the Philippines.
Tim is also involved in philanthropic works throughout his career, and has raised funds for Philippine charities, such as for the Shands Hospital pediatric cancer center, and to build a children's hospital in Davao City called The Tebow CURE hospital, which specialize in orthopedics.