Valerie Jarrett daughter, Laura Jarrett's Wiki: CNN, Wedding, Age, Parents, Ethnicity, Education
• Laura Jarrett was born on October 29th, 1985 in Washington D.C.
• She is the daughter of Valerie Jarrett and William Jarrett, and the granddaughter of Vernon Jarrett.
• She has a law degree from Harvard Law School and has worked in private practice and as a news reporter for CNN.
• She is married to her college sweetheart Tony Balkissoon, a lawyer.
• In 2018, Jarrett and her mother Valerie were caught in controversy with actress Roseanne Barr.
Who is Laura Jarrett?
Laura Jett, born on the 29th of October 1985, is an American lawyer and journalist, based in Washington D.C., who became known for her work on the international news network CNN, reporting on the US Justice Department. She is the daughter of Valerie Jarrett, who made headlines in 2018 after she was called an ape by actress Roseanne Barr.
Laura Jarrett's Early Life
Jarrett came from a very prominent and political family, of European and African-American descent. Her mother Valerie Jarrett is a businesswoman and former politician, who served as a senior advisor to former US President Barack Obama. Her father is William Jarrett, who is a doctor. She is the granddaughter of Vernon Jarrett, a columnist for the Chicago Sun-Times. Unfortunately, Jarrett's parents divorced when she was just three years old, having been married only since 1983.
Jarrett attended the University of Chicago Laboratory Schools when she was in high school, and later Harvard Law School, where she was an Articles Selection co-chair, an Article Editor, and a Technical Editor for the Harvard Journal of Law and Gender. She also published her own articles on the intersection of gender, violence and the law. She graduated in 2010.
In November 1993 Jarrett's father passed away at the age of 40, when he was director of obstetrics and gynecology at Jackson Park Hospital. Her mother, on the other hand, chose to remain single and didn't marry again, dedicating her life to public service, and became known as one of the prominent persons on the team of the Obama Administration.
Laura Jarrett's Career
Jarrett's career started right after graduation, being admitted to practice law in both the state and federal court of Illinois, having served the Honorable Rebecca Pallmeyer on the Northern District of Illinois as a judicial law clerk. She also worked for the Honorable Ann C. Williams on the Seventh Circuit Court of Appeals.
"This never happens. You never see Justice Roberts speak out like this," CNN's @LauraAJarrett says. "Attacks on judges aren't new. The fact that Roberts actually hit back, I think, is the part that's fascinating." https://t.co/4oogztkg1y pic.twitter.com/0xLDeTWGkR

— The Situation Room (@CNNSitRoom) November 21, 2018
Jarrett used her law degree as a litigation attorney in Chicago, Illinois. While she was working in private practice, Jarrett used her time defending companies and individuals in government investigations brought by the Justice Department and Securities and Exchange Commission. She also used some of her time working on pro bono cases, but mostly worked on representing sex trafficking victims. Her years practicing law helped establish her career as well as her net worth.
In 2016, Jarrett decided to become a news reporter, and now works with international news network, CNN as a justice reporter for the network, covering various news and events of the US Justice Department, currently based in Washington D.C. Her service at CNN also helped in immensely increasing her wealth.
Laura Jarrett's Net Worth
As of 2018 and based on authoritative sources, Jarrett's net worth is reported to be over $1 million, acquired from her years working as a lawyer and as a journalist at CNN.
Laura Jarrett's Personal Life
In terms of her personal life, Jarrett is married to her college sweetheart, Tony Balkissoon, also a lawyer. The two tied the knot in Chicago in 2012, in a service attended by 280 people, including not only family and friends, but some of the most prominent names in politics and business including administration advisor Vernon Jordan, Ariel Investments CEO John Rogers Jr., and Attorney General Eric Holder. Their wedding caused a little bit of a scene, when former President Barack Obama along with his family, walked from their home in Kenwood straight to the venue of the wedding, causing the block to be shut down.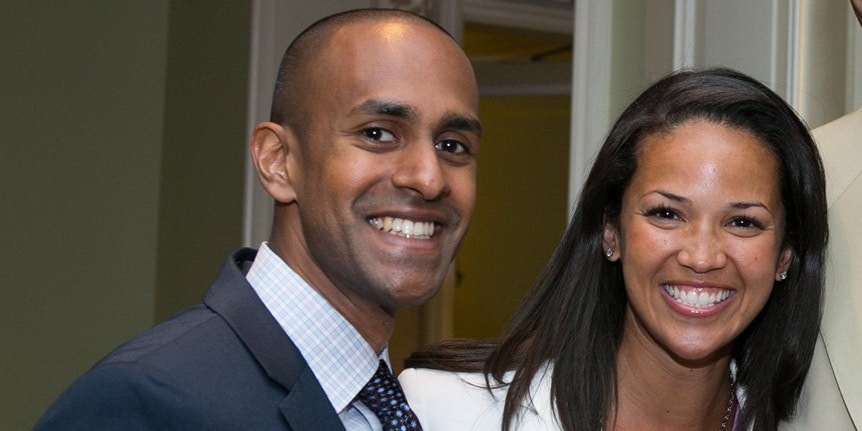 The two don't have any children, and are currently residing in Washington D.C. due to Jarrett's work for CNN.
Laura Jarrett's Husband
Jarrett's husband is Tony Balkissoon, who she met in college during her time at Harvard Law, the son of Bas Balkissoon, a former Legislative Assembly of Ontario member.
Laura Jarrett Controversy
In 2018, Jarrett with her mother Valerie, were caught in controversy. Actress and star of the sitcom "Rosanne", Roseann Bar made a tweet in May comparing Valerie Jarrett to an ape. The star has since apologized publicly, but the incident resulted in her show being cancelled.
Valerie Jarrett also responded to the controversy in the show "Everyday Racism" on MSNBC, and said that such an event should be turned into a teaching moment. On another interview in the show "The View", Valerie also shared that there are larger issues that keeps her up at night other than this one with Barr. Laura, on the other hand, chose not to respond, and kept her silence.