Who is Eva Andressa? Wiki Bio, measurements, net worth, dating, family
• Eva Andressa is a world-renowned fitness guru, bodybuilder, and model from Brazil.  
• She has garnered a large social media following with over 4.9 million followers on Instagram, 10 million on Facebook, and 37,000 subscribers on her YouTube channel.
• She started her fitness journey at age 21 and went on to compete in the National Amateur Bodybuilding Association (NABBA) and the International Federation of Bodybuilding and Fitness (IFBB).
• She is the face of Athletica Nutrition and has a TV show called "Dica Fitness".
• Her body measurements are 5'5" (165cm) tall, weighing 140lbs (63kgs) with 37-25-37 (94-64-94 cm) body measurements.
Who is Eva Andressa?
Eva Andressa hailing from Brazil is a world-renowned fitness guru, a body builder, a model gracing the covers of a number of fitness and wellness magazine, as well as a sponsored athlete of Athletica Nutrition. Over the course of her professional career as a body builder and an International Federation of Bodybuilding and Fitness (IFBB) athlete, she has also garnered a pretty large social media following, having an audience of over 4.9 million on Instagram, more than 10 million on Facebook and more than 37,000 subscribers on her You Tube channel where she gives inside scoops on the training of a professional athlete, as well as fitness tips for her viewers' workout at home.
Eva Andressa: Early Life
While there is no mention of Andressa's family, siblings or early education on-line, we do know she was born Eva Andressa Viera Nascimento on 19th December 1984, in Curitiba, Parana, Brazil.  Growing up in Brazil, a land known for its voluptuous women, must have been hard for a scrawny teenager like her, but Andressa wasn't about to sit with her arms folded. She decided to take matters into her own hands in order to gain a fuller figure, and started her fitness journey by joining the local gym. It wasn't smooth sailing at first, seeing as Eva had a tough time working out without a trainer and having no knowledge of proper workouts on her own; she reportedly even quit the gym altogether in the first month.
Career beginnings
Luckily for us, Andressa pulled through and returned to her original plan of attaining a fuller figure. What put her back on track, you ask? Reportedly, Jarden Barros, a personal trainer and Eva's future husband, was the one who gave her a nudge in the right direction and jump-started her athletic career. After a year of grueling work, Andressa had major results, achieving the curves she desperately longed for, but also discovering her passion – professional bodybuilding. In 2005 she took part in her first major competition, the National Amateur Bodybuilding Association (NABBA) Brazil Logo Bravo Cup, at which competition she won the first prize in Figure, becoming a golden champion at the age of only 21.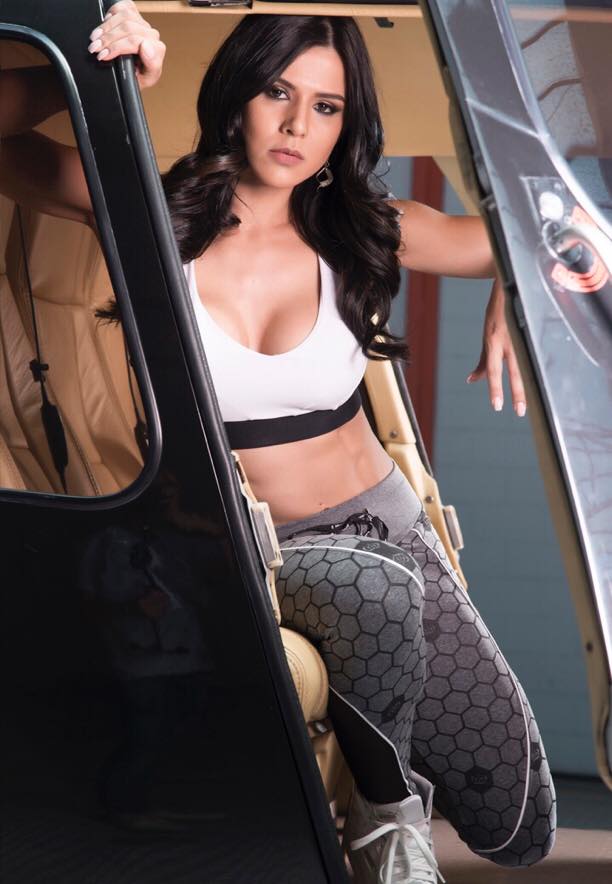 Continuing success
After making her first massive break in the industry, Andressa kept up her winning streak. She continued to compete in the NABBA, winning some major titles such as taking home the golden medal in 2006 at the Parana, Brazil competition in Figure. Soon after taking the amateur world by storm, Eva decided to try her luck with the pro's, competing in the International Federation of Bodybuilding and Fitness (IFBB) of Brazil. Here are some of the noteworthy accolades she achieved over the course of her more than a decade long (and still counting) career: NABBA 1st place at Lobo Bravo Cup Champion, and 1st place in Parana, Brazil, with the IFBB 1st place in Bodyfitness, Brazil, Overall Champion in Bodyfitness, Brazil and 3rd place at the South American Championship in Peru.
Break from competitions
Just like any other professional athlete, Andressa too had obstacles she had to overcome in order to get to where she is today. Faced with both her physical and mental limits, Eva had to leave the sport for a year, to be precise, back in 2007. This comes as no surprise, seeing as she entered the bodybuilding arena when very young, and was only twenty four when she found fame through her achievements. Have no fears though, Eva came back to the fitness world stronger than ever.
Bora começar a semana com um look novinho? A #massamfitness tem roupas incríveis, com preços mais incríveis ainda haha. ❤️?❤️ #massamfitness #EvaAndressa pic.twitter.com/kO7RW4r7CE

— Eva Andressa (@EvaAndressaOf) July 1, 2019
Even though she was well known in the professional circuits, Eva still struggled financially, not having a sponsor at the time. This played a major role in her decision to join the modelling world, which turned out to be crucial in Andressa finding firstly country-wide, and later world-wide fame. Her modeling gigs made her recognized throughout Brazil, which in turn attracted nutrition companies seeking to collaborate with her; currently she is the face of Athletica Nutrition. In March, 2013 Andressa was featured on the cover of "Revista Sexy", a man's lifestyle magazine, and the exposure she received in print quickly generated a buzz around Eva, so much so that in 2015 she even got her own TV show – "Dica Fitness", and so able to reach wider audiences with her knowledge and inspiring attitude towards life and fitness. As per our previous mention, Andressa has an impressive audience of more than 4.9 million followers on Instagram and10 million on Facebook, rest assured she puts that large audience to good use, spreading the word about the importance of body wellness and fitness across the globe.
As you can see for yourselves, Eva's  Instagram page would make anybody envious of this Brazilian's bod, but don't feel down about yourself just yet. On Andressa's official You Tube channel, which boasts more than 37,000 subscribers, you can find plenty of tips and tricks about how to get your body in shape. Her videos are not only focused on gym workouts, but give insider scoops on exercising with your own weight, and items that you can find around the house. She also gives advice on how to prepare your meals in a healthy way, while still keeping the flavors vibrant.
Body measurements
Being  a professional athlete Eva always keeps her vital stats in check. It is reported that Eva's height is 5'5″ (165cm) and she weighs around 140lbs (63kgs).