Who is volleyball player Kayla Simmons? Her age, height
After being dubbed the world's sexiest volleyball player, it's just expected that eyes are always on Kayla Simmons. Her curvaceous figure never goes unnoticed by everyone who stumbles upon her eye-catching photos and videos, turning her into one of the most prominent models on exclusive subscription platforms and beyond.
With a social media following which amounts to millions of followers and a career on the rise, Kayla not only attracts eyes everywhere but also raises many questions about her life, beginnings, relationship status, professional career in sports, and other interesting details about her life.
So who is Kayla Simmons? Keep reading to discover all!
Early Life
Kayla Simmons was born on 28 September 1995 in Gainesville, Florida USA. Her parents are Kiersten and Brian Simmons, the latter who is a former baseball player at the University of Florida and now works as a coach in a minor league. Her grandfather played for the Pittsburgh Pirates as a pitcher.
As Kayla affirmed in a 2023 YouTube video, growing up in Gainesville was a good experience for her, given how the city was small enough to not get into trouble, but big enough to have lots of activities to do.
Kayla attended Yonge Developmental Research School and was awarded a Wendy's High School Heisman for her sports accomplishments. Before matriculating from high school in 2014, Kayla was her team's captain and made it to the Junior Olympics as part of the US women's junior volleyball team. She studied at the West Virginia-based Marshall University, from which she graduated in 2018.
Sports Career
Long before becoming an internet sensation, Kayla Simmons was very well accomplished in sports. As a dedicated athlete, Kayla was involved with sports all her life but put all her focus on volleyball since school, accomplishing great things such as receiving an Academic All-American Award in 2012, and making it to the national volleyball championships more than once.
During her first year enrolled at Marshall University, Kayla joined The Herd and was awarded a medal and a spot in the honor roll by the Conference USA for her accomplishments throughout 2014. The next year saw Kayla winning more honors as she participated in 30 matches, averaging 1.92 digs per set during her sophomore year.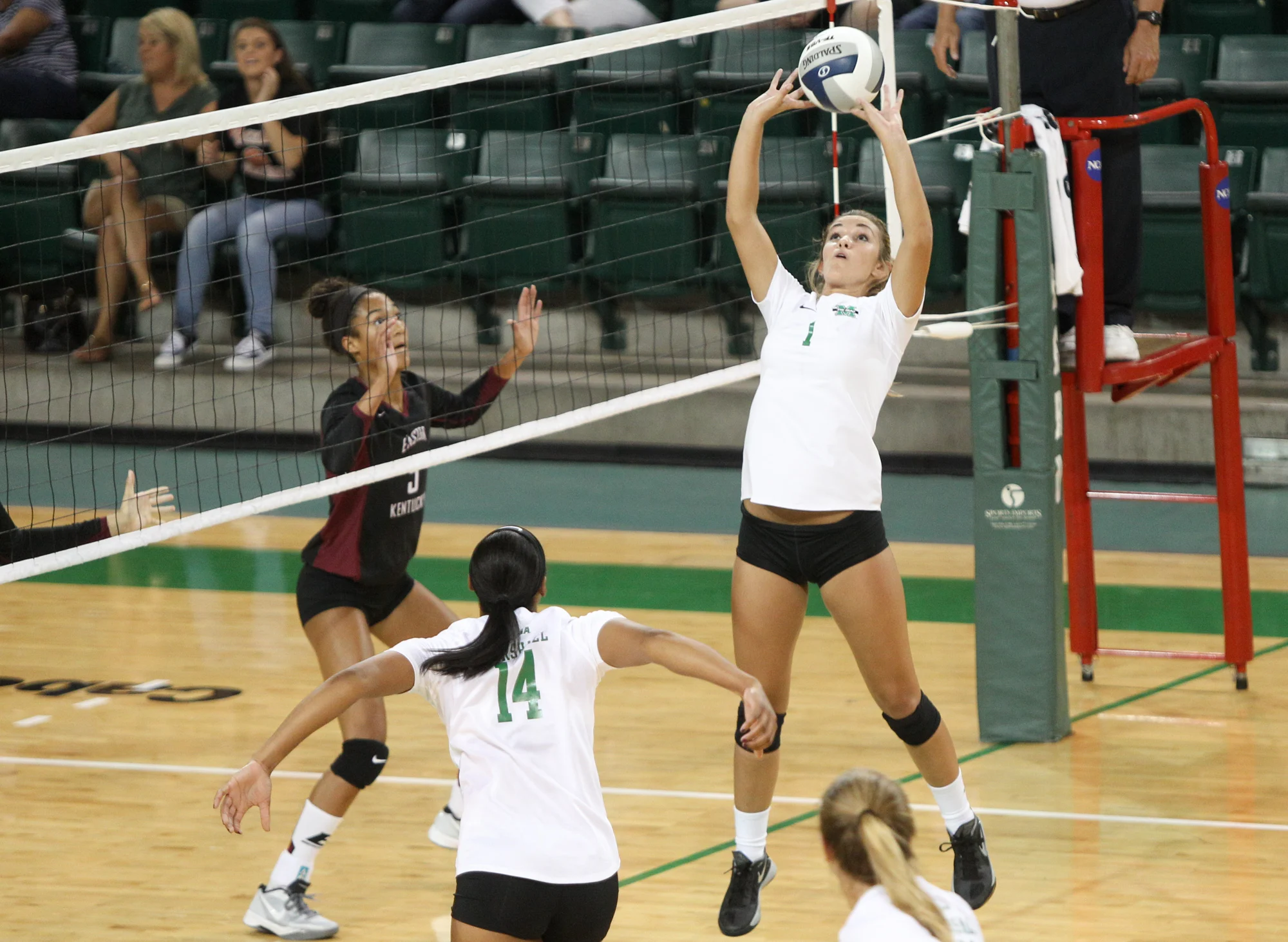 In 2016, Kayla joined The Herd's team for the ASICS All-Tournament, and had impressive numbers throughout the season. Her last semester at Marshall was devoid of volleyball, yet her accomplishments on the court were a sight to behold.
Rise To Prominence
Kayla Simmons was very good at volleyball, but her brilliant career as an athlete didn't make her famous. Instead, Kayla started gaining lots of popularity online starting in 2018, when her selfies and bikini pics took the attention of thousands on Instagram. However, it wasn't until she posted an audition to be featured in Sports Illustrated in 2019 that she started making lots of noise online, conquering her followers thanks to her personality and gorgeous looks.
The interest in Kayla didn't fade with time, leading her to take advantage of her online fame to sponsor clothing and jewelry brands on her social media. Though her YouTube channel was started in 2016, it wasn't until 2019 that she shared her first video on the platform, once and for all gaining a loyal following thanks to her vlogs and modeling content.
Always praised for her curvaceous and athletic body, it didn't take long for Kayla to capitalize on that by creating explicit content for the exclusive subscription platform OnlyFans. After finishing college, Kayla moved to Los Angeles to push her modeling career forward.
Her Social Media Now
Ever since 2018, Kayla Simmons' social media accounts have gained lots of traction. For one, her most followed account is her Instagram, where she has over one million followers nowadays.
Her TikTok account has mirrored her Instagram popularity, by gaining over 840,000 followers and 5.7 million likes since she shared her first short video on the platform in February 2020. Her content on TikTok is different from her other social media though, as she usually makes funny sketches, dance routines, and other entertaining videos for it.
Just to clarify.. I didn't say I was sick of questions about my boobs. I said I'm sick of people asking if they are fake https://t.co/ub1TbA5FsO

— Kayla Simmons (@kaylasimmmons) April 23, 2023
On the other hand, Kayla's YouTube channel hasn't gained as many followers as her other social media, but it's fair to consider that this is the platform on which she shares content less often, with barely seven videos shared to date. Despite having over 300,000 views combined on her videos, her subscriber count hasn't surpassed the 10,000 mark; similarly with her X account, which has less than 15,000 subscribers, despite being started in 2009.
Kayla's prominence on the internet hasn't gone unnoticed though, as so far she's often been featured on popular media platforms such as The Sun, The New York Post, and Daily Loud.
Personal Life
Kayla Simmons has slowly but surely become the center of attention of dozens of thousands of people online, many of whom admire her for her looks and content. That's why questions about Kayla's personal life and romantic relationships have also become a topic of interest among her fans.
With that being said, in 2023 Kayla affirmed that she's single and her social media accounts don't hint at any change in that status as of late. In the past, Kayla has been romantically linked to Justin, who often appears in her YouTube and TikTok videos, but the pair have affirmed that they're just childhood friends who have kept in close touch with each other for almost two decades.
The only known romantic relationship of Kayla was with a man named Hawk, with whom she used to share pics as early as 2016. The pair eventually broke up for reasons unknown, and no other partner of Kayla has been known since.
Regarding her dating preferences, Kayla affirms that she doesn't like 'pretty boys', and instead prefers athletic men who are taller than her, and have the manners of a gentleman.
Net Worth & Appearance
According to online reports, Kayla Simmons has an estimated net worth of $250,000, resulting from her prominent career as a swimsuit model, and exclusive content creator, including sponsorships she's obtained thanks to her online fame.
Regarding her appearance, Kayla is a Caucasian woman with dyed blonde hair and brown eyes. Her weight is unknown, and her height is 5ft 9ins (1.75m). According to a video shared by Kayla in 2019, she's had her tummy and ears pierced.