WWE John Cena Wiki: ex-wife Elizabeth Huberdeau, Net Worth, Retiring, Military, Girlfriend
• John Cena is a professional wrestler, actor, musician and TV personality, best known for his 16 World Championship titles in the WWE.
• He has a background in American football and graduated from Springfield College in 1998.
• He has won over 23 titles, including three World Heavyweight titles and 12 WWE World Heavyweight titles.
• He has had a successful acting career, appearing in movies such as "The Marine" (2006) and "Trainwreck" (2015).
• He has a net worth of $65 million and owns a 13,000 sq ft. mansion and a collection of 20 supercars.
Who is John Cena?
John Cena is quite a multi-talented personality – apart from being a professional wrestler, he is also an actor, musician as well as a TV personality, but who is probably still best known for being one of the most decorated professional wrestlers of World Wrestling Entertainment (WWE), with 16 World Championship titles. In addition, Cena is also widely recognized for appearing in movies such as "The Marine" (2006), "12 Rounds" (2009), "Legendary" (2010) and the "The Wall", as well as for being featured in a viral meme called "Unexpected John Cena".
John Cena's Early Life and Education
John Felix Anthony Cena Jr. was born under the zodiac sign of Taurus on the 23rd April 1977, in West Newbury, Massachusetts, USA, the second of five sons to Carol and John Felix Anthony Cena Sr. Apart from being of American nationality and white ethnicity, Cena is also of the French-Canadian, English as well as Italian descent. Being raised in a Roman Catholic manner, upon completing his elementary education, he went to Central Catholic High School in Lawrence, Massachusetts, and later continued his education at Cushing Academy in Ashburnham, Massachusetts, before transferring to Springfield College in Springfield, Massachusetts, from which he graduated in 1998, majoring in body movement and exercise physiology. During his college years, Cena was actively involved in college American Football.
John Cena's Professional Wrestling Career
John Cena dived into the world of professional wrestling in 1999, when he debuted as a semi-robotic wrestler named The Prototype in Ultimate Pro Wrestling, and in April 2000 won his first UPW Heavyweight Championship title. In October 2000 Cena debuted at the World Wrestling Federation's (WWF) Smack Down event, while in 2001 he transferred to Ohio Valley Wrestling, and soon afterwards was crowned with the OVW Heavyweight and OVW Southern Tag Team Championship titles. In June 2002 he was promoted to the WWF's main rooster, and adopted a new character – a rapper named The Doctor of Thuganomics. In 2004 Cena won the US Championship title, which he managed to defend as well as 're-win' four times by the end of the year, while in 2005 he won his first WWE Championship. In October 2007, during a duel with Mr. Kennedy, Cena suffered an injury to a pectoral muscle as he tore it from the bone completely ,and was subjected to a surgery with an expected recovery time of up to a year.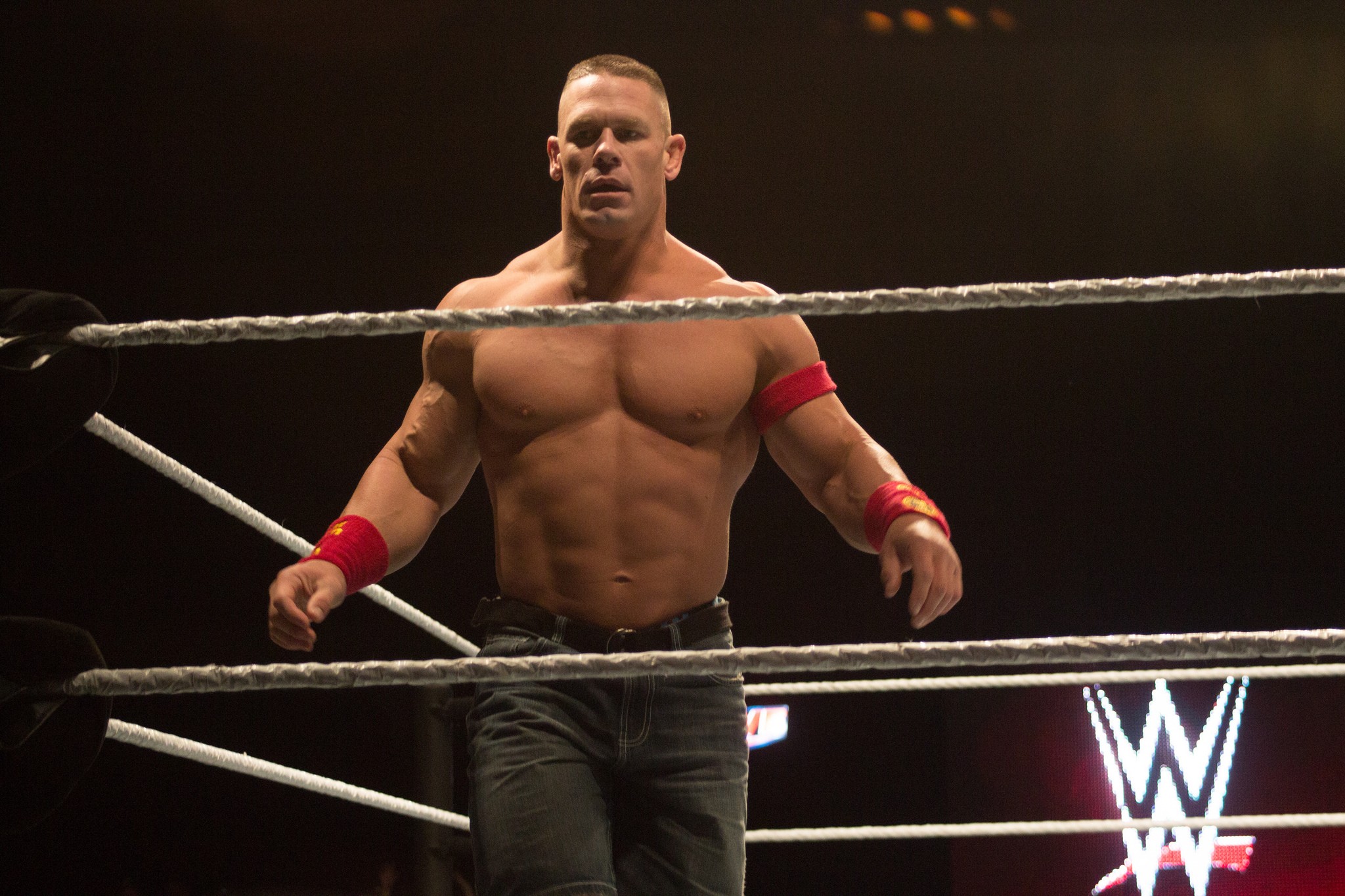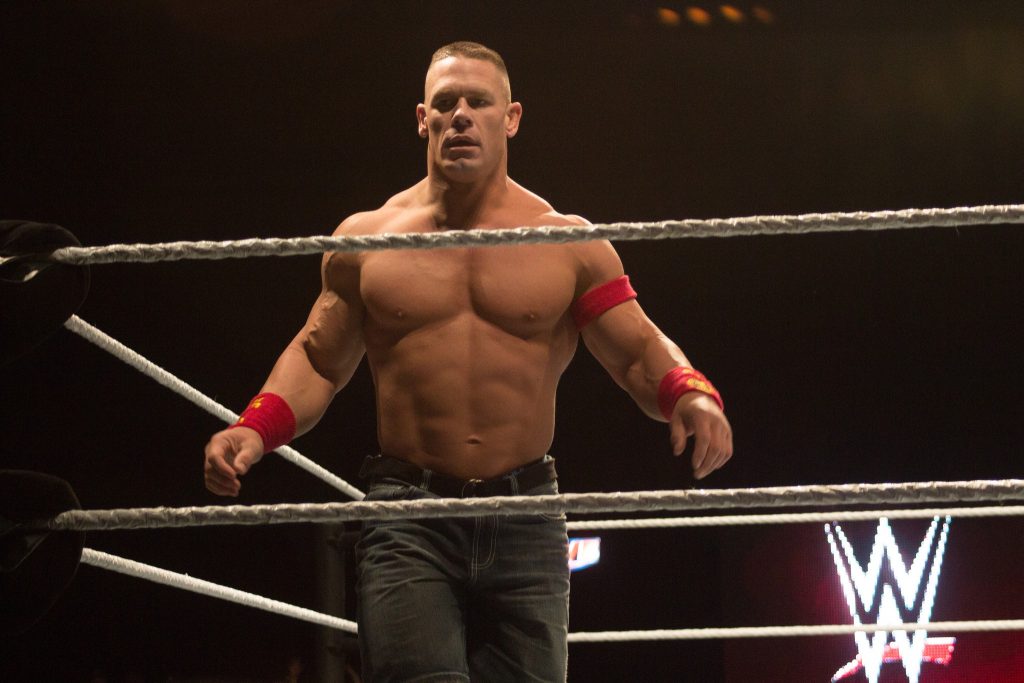 In 2008 John Cena returned to the ring, and in August won the World Tag Team Champion's title, while in November that year he was crowned with his first World Heavyweight Championship. Additionally, in July 2009 he won another WWE Championship title, and was anointed as the 2009 Superstar of the Year. After defeating Dave Bautista in March 2010, Cena added the Wrestlemania XXVI title to his portfolio as well, then after defeating Dwayne 'The Rock' Johnson at Wrestlemania 29 in April 2013, Cena was crowned with another WWE Championship's title. This success was followed by another WWE World Heavyweight Championship title in June 2013.
Between 2015 and 2016, John Cena reigned not only as the US Champion, but as the WWE World Heavyweight Champion for a total of 147 days, and also set the record for being a five-time-winning champion of the WWE World Heavyweight Championship title. Since July 2017, as a free agent, Cena regularly competes in both the SmackDown and the Raw events.
In his professional wrestling career so far, John Cena has become one of the audience's favorite fighters as well as one of the best – he currently peaks at No. 8 on the WWE's most decorated champions chart, with a total of 23 titles, including three World Heavyweight titles, four US titles, as well as 12 WWE World Heavyweight titles, which he managed to defend successfully for over 380 days.
闪电拳头 ⚡️? 10/6 #WWESSD @WWE @WWEUniverse #RAW #SDLive pic.twitter.com/uclK15AOjf

— John Cena (@JohnCena) October 1, 2018
John Cena's Acting Career
Cena debuted as an actor in 2006, when he appeared in the title role of John Triton in the action drama movie entitled "The Marine". Despite a common opinion, he never served in the US Army, and has no other connections with the US armed forces. His second big-screen acting appearance occurred in 2009, when he portrayed the character of Danny Fisher in another action drama – "12 Rounds". He then appeared briefly in an episode of the comedy-drama TV series "Psych" in 2010, after which he was cast for the leading role of Mike Chetley in the 2010 sports drama movie "Legendary". With his acting career on the rise, he got the opportunity to hone his on-camera acting skills through a streak of appearances in the "Fred" movie franchise, starring as the title character's father, as well as through movies such as "The Reunion" (2011) and "Trainwreck" (2015). Besides these, Cena has also made successful appearances in movies such as "Sisters" (2015), "Daddy's Home" and "Daddy's Home Two" in 2015 and 2017 respectively, "The Wall" (2017) as well as in "Ferdinand" (2017) in which he voice-acted the title character. Some of Cena's most recent acing engagements include the comedy movie "Blockers", and the  Hollywood's blockbuster Sci-Fi action movie "Bumblebee", both in 2018.
In addition, John Cena had been featured in a majority of WWE's productions, including numerous appearances on "WWE Main Event", "WWE SmackDown Live", "Southpaw Regional Wrestling" and "WWE Raw".
John Cena's Music Career
Besides being a successful professional wrestler and an actor, John Cena is also a musician – in May 2005 he released his debut rap album, entitled "You Can't See Me", which peaked at No. 15 on the Billboard 200 chart in the States, and contains 17 songs including Cena's entrance theme "The Time Is Now", and was rated Platinum for selling over 1.3 million copies by the 2010. He ha since released a couple of singles – "Untouchables" and "Bad, Bad Man" – and also featured on Wiz Khalifa's singles "Breaks" and "All Day".
John Cena's Personal Life
Interested in John Cena's private life, aren't you? Well, between July 2009 and May 2012, he was married to Elizabeth Huberdeau. Later that year, after finalizing divorce process, he began a relationship with a colleague, American professional wrestler Nikki Bella. The couple got engaged in April 2017, but called it off only two weeks later, just a couple of days before the scheduled wedding.
Cena has allegedly dated Kendra Lust, AJ Lee, Mickie James, Maria Kanellis, and the former WWE Diva Lisa Marie Varon widely recognized under her alias Victoria.
The 41-year-old and 6 ft 1/2 ins (1.84 m) tall American professional wrestler is quite active on several popular social media networks, such as Twitter on which he's amassed 11.5 million followers, as well as on Instagram where his official account – @johncena is currently followed by over 10.8 million fans.
He is also known and famous for being part of the viral internet meme "Unexpected John Cena".
John Cena's Net Worth
Have you ever wondered how much wealth one of the most decorated professional wrestlers in the history of the WWE has accumulated so far? How rich John Cena is? According to authoritative sources, it is estimated that the total of John Cena's net worth, as of early 2019, revolves around the impressive sum of $65 million, acquired primarily through his successful career in professional wrestling abundant with accolades. However, his acting engagements have contributed to his fortune as well. Cena's impressive wealth also contains assets such as a $3.4 million valued 13,000 sq ft. mansion in Land O'Lakes, Florida, USA, and a unique collection of around 20 supercars, including several one-of-a-kind and rare models such as a 2006 Rolls-Royce Phantom, 2009 Corvette ZR1 and a custom made 2013 Corvette Cr Incenarator, in addition to a handful of 1960s and 1970s American muscle cars such as 1966 Dodge Hemi Charger 426, a 1969 Dodge Daytona, as well as a 1970 AMC Rebel, to name a few.