Alison Pill (Scott Pilgrim) Wiki Bio, husband Joshua Leonard, height, age
• Alison Pill is an award-winning actress who has come to prominence through her roles in films and TV shows.
• She was born in Toronto, Ontario, Canada in 1985, and has Estonian ancestry from her father's side.
• Pill's breakthrough role was as Ella in "Confessions of a Drama Queen" in 2004.
• She has been married to actor Joshua Leonard since 2015 and they have one daughter.
• Pill stands at 5ft 6ins (1.68m) and weighs 121lbs (55kg).
Who is Alison Pill?
Allison Pill is an actress who has come to prominence through her roles in such films as "Confessions of a Teenage Drama Queen" (2004), then "Scott Pilgrim vs. The World" in 2010, and "Goon" in 2011, among other film roles plus successes in TV series, particularly with the role of Grace Webster in "The Book of Daniel", and as Ivy Mayfair-Richards in "American Horror Story" in 2017, among many other roles.
So, do you want to find out more about Allison Pill, from her childhood years to most recent career endeavors, including her personal life as well? If yes, then stay with us for a while, as we bring you closer to this award-winning actress.
Alison Pill Wiki: Age, Childhood, and Education
Alison Pill was born on the 27th November 1985. in Toronto, Ontario Canada, and is of Estonian ancestry from her father's side, while we don't have information about her mother for now. She attended Vaughan Road Academy, and was a part of the Interact program, designed for students who are interested in music, theatre, dance or athletics.
Career Beginnings
From an early age, Allison was interested in acting, and made her debut when only 10 years old as a member of the Toronto Children's Chorus. When she turned 11 she made her screen debut, appearing in the children's series "The New Ghostwriter Mysteries", and although her mother tried to discourage her from acting, Alison continued to pursue her dream, and appeared in other projects including the TV miniseries "The Last Don II" in 1998, and the following year was chosen as the voice of Cornflower in the animated series "Redwall", which lasted until 2002. In the early 2000s, she made several other appearances, including in the role of Chuckette Morris in the film "Skipped Parts" in 2000, then as Julia Creath in the television films "The Dinosaur Hunter" and "Pieces of April" in 2003, starring Katie Holmes, Oliver Platt and Patricia Clarkson.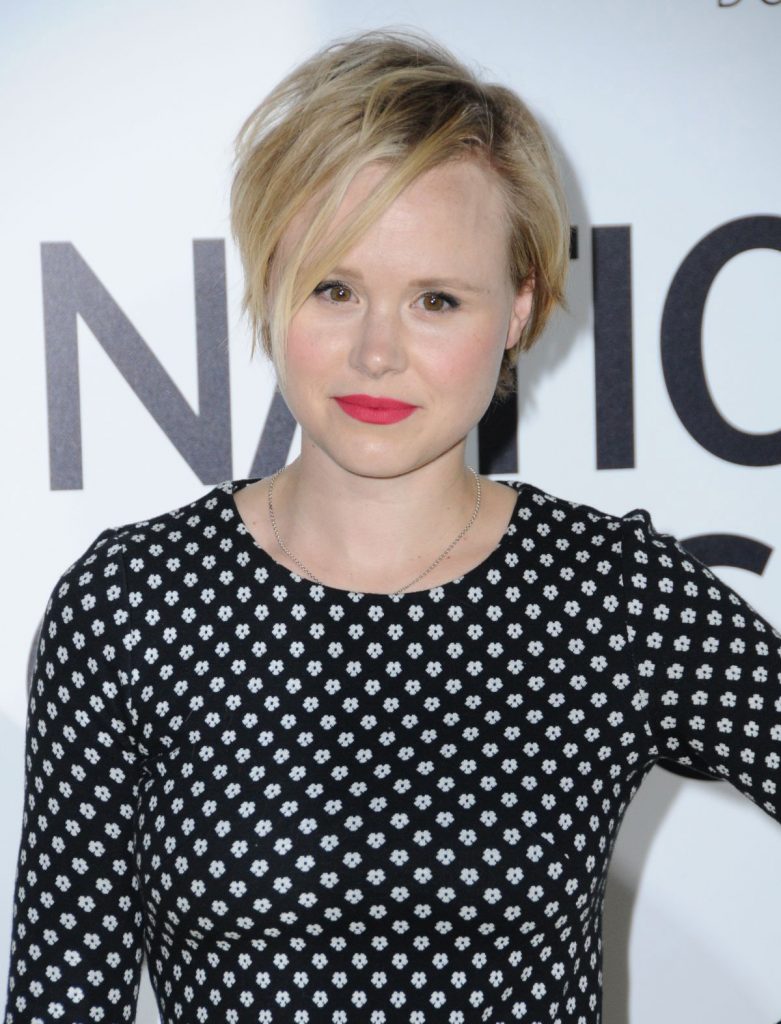 Rise to Prominence
Gradually, Alison was becoming more popular in Hollywood, and in 2004 she made her breakthrough with the role of Ella in the film "Confessions of a Drama Queen", starring Lindsay Lohan and Adam Garcia, and continued on successfully with the lead role in the comedy-drama film "Dear Wendy" in 2005, and then as Grace Webster in the TV series "The Book of Daniel", before playing Jane in the film "Dan in Real Life" (2007), co-starring Steve Carell and Juliette Binoche. In 2008 her career reached another level with the part of Anne Kronenberg in the Academy Award-winning biopic about the American gay activist Harvey Milk, entitled "Milk",  and continued her rise to stardom with such roles as Kim Pine in the fantasy comedy "Scott Pilgrim vs. the World" and then as Maud in the TV miniseries "The Pillars of the Earth", both in 2010.
Continual Success
Nothing could stop Alison on her way to the top, and she has proven herself a respected actress with roles in "Goon", and "Midnight in Paris", both in 2011, and then in 2012 she had a notable role in the romantic comedy "To Rome with Love". From 2012 to 2014 she was Maggie Jordan in the TV series "The Newsroom", and concurrently in 2013 had a role in the sci-fi action drama film "Snowpiercer", starring Chris Evans, Jamie Bell, and Tilda Swinton. Alison continued with roles in popular films such as the Academy Award-nominated comedy-drama "Hail, Caesar!" starring Josh Brolin, George Clooney, and Alden Ehrenreich, then "Miss Sloane" with Jessica Chastain, Mark Strong and Gugu Mbatha-Raw both in 2016, and the biopic about Dick Cheney, entitled "Vice" in 2018, portraying Mary Cheney, which won an Academy Award and had over 100 nominations, pushing Alison and her career another step forward. She is now working on the new TV series "Devs", in which she will play Katie, scheduled for release late in 2019.
An Accomplished Stage Actress
In addition to staring in film and on television, Alison has also had her share of success on stage; she made her stage debut in 2003 as Jamie in the play "None of the Above" in the Ohio Theatre, and has appeared in several other successful plays, including "The Lieutenant of Inishmore" (2006) as Mairead, for which she earned a nomination for a Tony Award in the category for Best Featured Actress in a Play. After this, she was Una in the play "Blackbird" in 2007, while in 2010 she was Anne Sullivan in the highly-appraised play "The Miracle Worker". From 2013 to 2018 she took a break from performing on stage, then returned in the play "Three Tall Women", performed at John Golden Theatre.
Alison Pill Net Worth
Since launching her career, Alison has proven her talents both on screen and stage; she has over 70 film and TV appearances and more than 10 stage credits to her name, all of which have contributed to her wealth. So, have you ever wondered how rich Alison Pill is, as of early 2019? According to authoritative sources, it has been estimated that Pill's net worth is as high as $2 million, which is quite decent, don't you think? Undoubtedly, her wealth will become even higher in the upcoming years, assuming she successfully continues her career.
Alison Pill Personal life, Marriage, Husband, Children
What do you know about Alison and her personal life? Well, since May 2015 Alison has been married to Joshua Leonard, an actor who is best known from the films "The Blair Witch Project" (1999), and "Madhouse" (2004); the couple has welcomed a daughter. Before marrying Joshua, Alison was in a romantic relationship with actor Jay Baruchel from 2010, and was apparently close to marriage, but their romance ended in 2013.
Alison Pill Internet Fame
Over the years, Alison has become quite popular on social media platforms, especially Instagram, on which she has close to 50,000 followers, on which she has mostly shared details from her personal life, such as her love for dogs, and also time spent with her husband Joshua, among many other posts. Alison isn't active on Facebook or Twitter.
Alison Pill Height, Weight, and Body Measurements
Do you know how tall Alison Pill is, and how much she weighs? Well, Alison stands at 5ft 6ins, which is equal to 1.68m, while she weighs approximately 121lbs or 55kg. Her vital statistics are 34-25-33 inches or 86-64-84cm, and she has blonde hair and hazel eyes. She has allegedly captured many hearts with her stunning looks.