Amaz (Twitch) Wiki Bio, age, height, nationality, dating, family, net worth
• Jason "Amaz" Chan is a Twitch celebrity known for successful performances in Hearthstone tournaments.
• He was born in Hong Kong and moved to Canada with his mother at a young age.
• He got his nickname when trying to create a username for online games.
• He founded his own Team Archon and hosted the Archon Team League Championship in 201•
• His net worth is estimated at around $500,000 as of early 2019.
Amaz is a Twitch celebrity who plays various games live on his Twitch channel, and is well-known for his successful performances in Hearthstone tournaments. Even though he is switching now to other games and doesn't stream Hearthstone all the time, he still has many subscribers and followers. So let's find out more about Amaz's life, family and career successes.
Early life, family, education
Jason "Amaz" Chan was born on 12 April 1991, in Hong Kong, now China; he was very close to both of his parents and has warm relationships with them, but there's no information about his parents' names or professions, nor their age. Jason didn't talk until he was three years old, which caused his mother panic somewhat. Jason recalls he wasn't a dream-kid for his parents, but he was a very caring and gentle boy. He remembers an episode when he was five years old, when he decided to treat his father and left him a cookie so he could eat it when he came from work, but Jason was watching TV and didn't even notice how he ate that cookie himself. When he found an empty plate he started screaming at everybody who was at home thinking somebody took his father's cookie, until his domestic helper convinced him that he was the perpetrator.
Many gamers dive into the world of video games when they don't find any support or friends at school, or get bullied, so fantasy worlds become their shelter, but the story is way different when it comes to Amaz. Jason was the guy who bullied his classmates, playing jokes and mocking and jeering them, so everyone was scared of him. His mother decided to take Jason to Canada, and they left for Vancouver when Jason was in fourth grade. Canada impressed Jhim very much, especially its large apartments which Jason never saw in China. He admits those years were the happiest in his early life, because even though he didn't know English, he quickly began to socialize and made a lot of new friends. Jason also had his cousin living in Vancouver, and it was him who opened the world of computer games to Jason.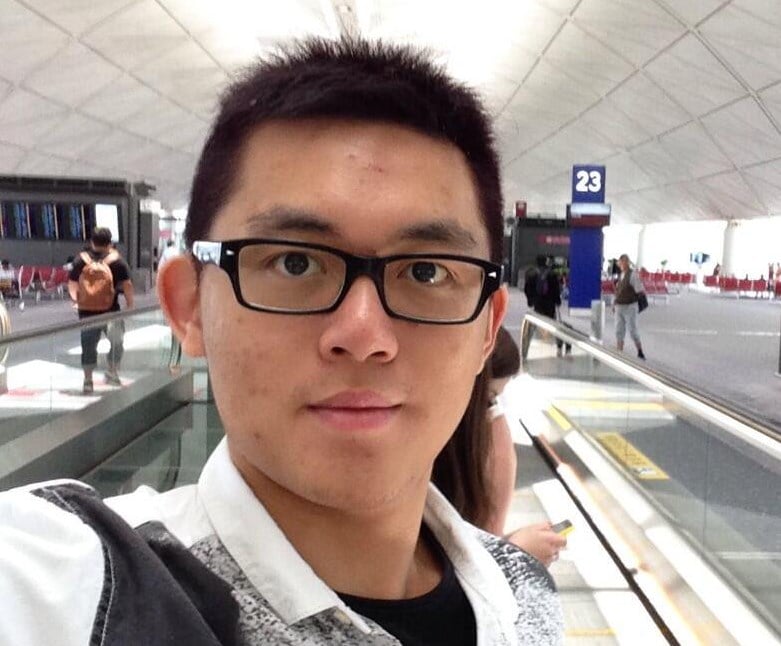 First gaming experience
The first game that impressed Jason was "Warcraft III", which he enjoyed playing until he saw a creepy unit there, a skeleton summoned by a necromancer. Jason was so scared that he had nightmares for a long time, and couldn't get back to the game to finish another campaign. It's worth saying that video games in China look very different from the original, since there are strict laws that censor any images of fleshless skeletons, death masks or injured bodies, and anything else violating the body integrity. Probably Jason was not ready for the images he wasn't used to, so they negatively impressed him and caused such a neurotic reaction.
When the time came to go to High School, his mother decided to return to Hong Kong, to reunite with Jason's father, but where Jason had to go to an international school since he almost forgotten Chinese, living for such a long time in Canada. He had to make new friends all over again, and tried to be nice to his classmates this time, and even engaged some of them into playing "World of Warcraft", the MMORPG based on the universe of "Warcraft" series. The game united the friends, with all the wins making them a real team. At that moment Jason made up his nickname: "When I wanted to make a username for online games, I wanted to merge "Amazing" and "Jason" together, so "Amazon" seemed like an awesome creation. Then I realized that the term is used everywhere—I don't sell things online!—so I shortened it to Amaz and it has stuck ever since", he said in his interview with the official Blizzard site.
The fun was over for Jason when he found out that his mother was very sick from an incurable form of intestinal cancer. The family had a very hard time trying to fight the disease, but nothing helped. Jason remembers his mom being confinded to bed, but she managed to find the strength to come to his graduation ceremony in High School and told him how proud she was to have such a son.
Studying in the university
After matriculating from the High School, Amaz and his parents decided he should continue his education in Canada. He entered the University of Waterloo in Ontario, where he studied at the faculty of mathematics extra hours. He receiving frequent calls from his mother and heard she was suffering too much from chemotherapy, so Jason even asked his father to stop the treatment since it didn't help, and made it even harder for his mother. In a few days his mother passed away, and Jason felt absolute apathy for everything around him. He tried to carry on but all he could do was lie on his bed, skipping classes and not caring about anything. Raiding with his guild became Jason's saving hand – all of his friends were still waiting for him in the game, and that pulled him out of his depression. He spent two more years playing and trying to deal with his university classes, and then decided to put his education on hold and return to Hong Kong to be with his family. So in 2013 Jason went back to his father, and took an office job which his uncle offered him. In a short period of time Jason realised that the job was way too boring, and focused on the present moment leaving all the past behind. He got back to his saxophone playing which apparently he was always good at, and started giving music classes for kids. At the same time, Jason was working on his own board game – "Scribe's Arena" – which he had conceptualized earlier in High School.
When I turn on the heater in this Calgary hotel, a spooky ghost visits me… pic.twitter.com/fJvASTc9ZS

— Amaz (@Amaz) January 24, 2019
Playing and streaming Hearthstone
It was April of 2014 when Jason's life changed forever – Blizzard Entertainment announced their new digital collectible card game "Hearthstone", and Jason decided to give it a try since he was Blizzard's fanboy and appreciated everything they produced. Jason enjoyed the game, and being cheered up by his friend he decided to start streaming his playing "Hearthstone" at Twitch. Jason admits he didn't expect that the number of his followers would grow so quickly. As a fan of games, Jason thinks he's lucky to be playing for a living, since he adores gaming challenges that keep his mind active, and now his hobby has become his main source of income.
Tournaments
Jason often participates in gaming tournaments – they bring him wins, popularity, fans and money. A professional gaming community, Team Liquid, took Jason into their team, making him the first member of Hearthstone squad. With Team Liquid he won "IEM Season IX – Shenzhen" (gaining $4000) and "Numericable M-House Cup 4" – $4000 again – and at the end of the year Amaz won the "Best Hearthstone Streamer in 2014" title (poll categories) at Blizzard 2014 Stream Awards. He was also the runner-up for "Most Active Chat" and was fifth in the category "Highest Mean Viewership".
Then Jason decided to leave Team Liquid and founded his own Team Archon, which soon became famous for the unique project they organized. The first (and the only, unfortunately) Archon Team League Championship (ATLC) was launched in July 2015 – several teams fought for the first prize of $150,000 (Team Nihilum won it). The runner-up got $60,000 (Team Cloud9), and the third place left the championship with $10,000 in their pockets (Team Value Town). The final of the championship took place in a special house in Texas, USA,  which Team Archon rented for the event and was streamed almost 24/7. The players were all in the same room, eating, drinking and joking, cheering each other and commentating on the games. The atmosphere of the event was very friendly and warm, and lots of viewers were waiting for the second championship to happen.
Though Jason was inspired by the success of the event, he didn't manage to find the budget for the second edition of the championship, even trying to rise money at the KickStarter. The idea of crowdfunding the tournament failed, and neither Jason nor other producers of the championship ever found the budget for another edition of ATLC.
Current life and popularity
Jason is still streaming on Twitch, playing with NRGEsports, and having more than 900,000 followers on his channel. The gaming community has a special attitude towards him, and one can say that Amaz is the only streamer who gets so much positive feedback on what he does. It's hard to find a negative comment on his videos, his audience just doesn't leave one. Probably such success arises from Jason's attitude to his viewers; he is famous for using the word "we", and while playing, he often asks: "Can we win?", "Does it mean we win?". He considers the audience to be a part of one big supportive team.
Personality and appearance
Jason has short black hair and dark-brown eyes – he always wears glasses. There's no information about his precise height, but he is not tall.
Jason often shares his fears and anxiety. Once he related a bad dream, waking-up in the middle of the night because he was scared that he couldn't prove he was a Canadian; then he checked his wallet, found the card and could get back to sleep. There's another joke his fans adore to repeat over and over again – once streaming, Jason was told in the chat that there was a spider on the door behind him, scaring him into screaming which made the viewers laugh for a long time. From that day on, one can see that almost every day there's someone who says in the chat: "Amaz, there's a spider behind you!"
Net worth and statistics
Jason has won around $40,000 participating in tournaments, but his daily income is based on his YouTube and Twitch earnings. According to sources Jason's net worth is estimated at around $500,000 as of early 2019. He earns around $130,000 yearly on his YouTube videos (which are cuts from his Twitch streams with emotional fails, thoughtful wins and tricks). Another source comes from Twitch subscribers.