Aracely Arámbula Biography: Luis Miguel, Children, Husband, Age
• Aracely Arámbula Jacques is a Mexican actress, model, and singer born in Chihuahua City in 197•
• She is best known for her portrayal of the lead character Perla Gutierrez Vazquez in the romantic crime series "Las Vias del Amor".
• Her career as a singer began in 2000 with a contribution to the film "Ellas Cantan Cri Cri".
• She is the owner of a spa in Mexico City with her brother.
• As of March 2022, her net worth has been estimated at more than $11 million.
Who is Aracely Arámbula?
Aracely Arámbula Jacques was born in Chihuahua City, Mexico, on 6 March 1975 – her zodiac sign is Pisces, and she holds Mexican nationality. She's an actress, model and singer, who's appeared in more than 20 TV series but no movies, while she's perhaps still known best for her portrayal of the lead character Perla Gutierrez Vazquez in the romantic crime series "Las Vias del Amor". It also starred Jorge Salinas and Enrique Rocha, and follows a woman and two men who are in love with her; the series won Daniela Romo a 2003 INTE Award for Supporting Actress of the Year (Talento: Actriz de Reparto del Año).
Early life and education
Aracely was raised in Chihuahua City alongside her brother Dr. Leonardo Arámbula, by their mother Socorro Jaques and their father Manuel Arámbula; not a lot is known about Aracely's parents, as she respects their privacy, but it's said that her father was a factory worker, and that her mother worked at a local bakery.
Aracely became interested in modelling at a very early age, and was 13 when she started entering beauty pageants. She was physically quite active while attending a local high school, and when she was 16 began appearing in school plays.
Aracely matriculated in 1993, and then chose to focus on acting and modelling, rather than to pursue a college degree; she won the beauty pageant El Rostro de El Heraldo de Mexico when she was 21.
Roles in TV series
Aracely made her debut TV series appearance in a 1994 episode of the romantic drama "Prisionera de Amor", while the following year saw her play Aide's Friend in three episodes of the popular romantic drama "Acapulco, Cuerpo y Alma". The series starred Chantal Andere, Guillermo Garcia Cantu and Saul Lisazo, and follows a girl searching for true love in Mexico. A couple of Aracely's other notable performances in the '90s were in the drama "Pueblo Chico, Infierno Grande", the crime thriller drama "Mujer, Casos de la Vida Real", and the romantic drama "El Alma no Tiene Color".
In 2000 and 2001, Aracely starred as Maria del Carmen Campusano in the romantic drama "Abrazame Muy Fuerte"; the series also starred Fernando Colunga and Victoria Ruffo, and follows the wealthy woman Cristina who has gone blind, and has been forced to marry her daughter to Federico Rivero. In 2009 and 2010, Aracely played the main character Regina Montes de Oca in the romantic drama "Wild Heart", which also starred Eduardo Yanez, and tells the story of Maria del Rosario and Juan de Dios who are in love, but have been separated by evil people.
Aracely has since appeared in four TV series, playing lead characters in three: the romantic drama "Los Miserables", the action crime drama "El Señor de los Cielos" and the romantic drama "La Dona".
She's currently shooting for the upcoming drama movie "The Councillor Member", which is going to be her debut film appearance.
Other credits
Aracely has sung in numerous episodes of five TV series, including "Las Vias del Amor", "The Return" and "Los Miserables".
Aracely has been featured in many TV specials, such as "Premio lo Nuestro a la Musica Latina 2004", "2018 Latin American Music Awards", and "Feliz 2021".
She's also made guest appearances in various talk-shows, including "Pa'lante con Cristina", "Don Francisco Te Invita", and "MasterChef Latino".
Career as a singer
Aracely launched her career as a singer in 2000, when she contributed to the making of the film "Ellas Cantan Cri Cri", which is about the late Mexican performer of children's songs, Francisco Gabilondo Soler.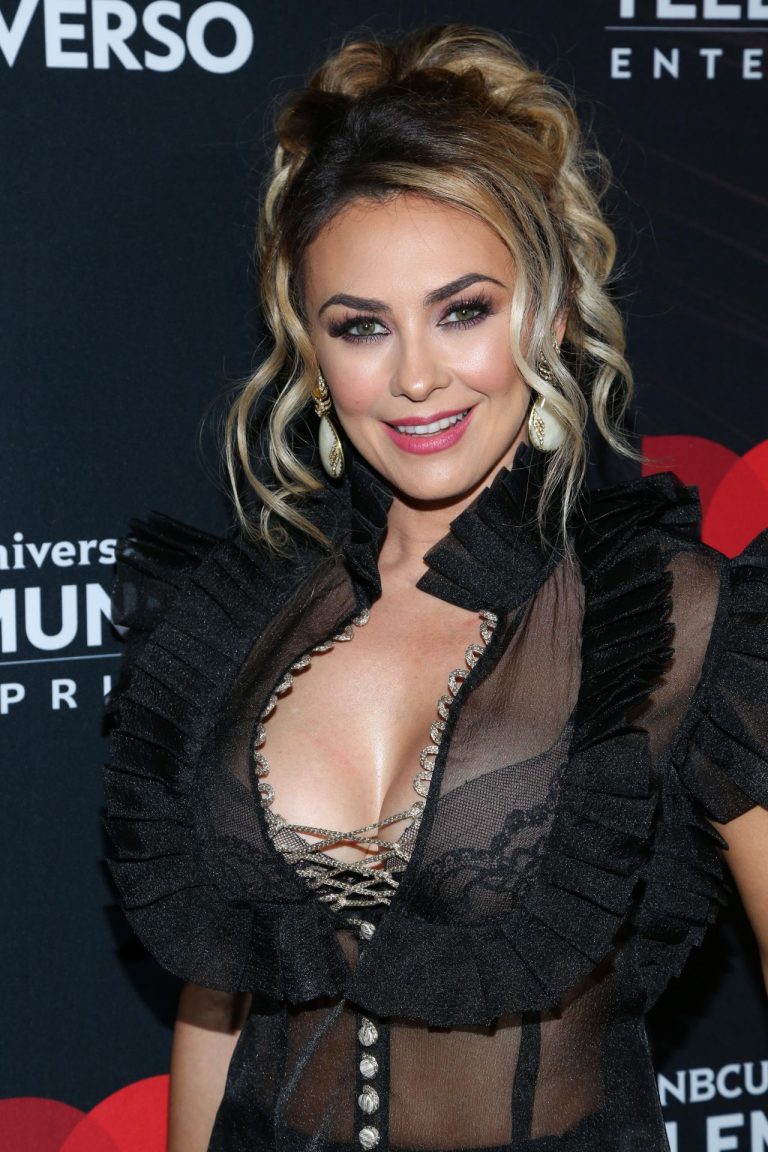 In 2001, Aracely sang the soundtrack for the series "Abrazame Muy Fuerte", and was in 2003 nominated for three Billboard Latin Music Awards, for Best Regional Mexican Song, Best Duo and Best Album, all for "Solo Tuya", her debut album released on 14 May 2002.
Aracely released her second album, "Sexy" on 19 July 2005, produced by A. B. Quintanilla, brother of the late American singer Selena. Aracely has since released only a single album: "Linea de Oro" on 10 July 2007.
Other business ventures
Aracely and her brother Dr. Leonardo own a spa in Mexico City.
Boyfriend and children
Aracely prefers to keep the details of her love life away from the media's attention, but it's still widely known that she was once in a relationship with the famous Mexican singer Luis Miguel Gallego Basteri. They were introduced by a mutual friend at a party in 2005, and began dating a month later; the relationship attracted a lot of attention, as both Aracely and Luis were already popular in Mexico. On 1 January 2007, Aracely gave birth to their son Miguel, and their second son Daniel followed on 18 December 2008, however, they broke up in 2009, but it's said that they both remained equally involved in raising their sons.
In 2011 and 2012, Aracely was in a relationship with the actor Arturo Carmona, then in 2012 and 2013, she dated the actor Sebastian Rulli.
As of March 2022, Aracely seems to be single, hasn't married, and has two sons from her past relationship with Luis Miguel.
Hobbies and other interests
Aracely is an Instagram star, as she has amassed over six million followers on the network, while she's uploaded more than 5,000 pictures, the majority of which have been taken during her everyday life.
Aracely is a fashionista, and is trying to keep up with all of the latest fashion news by reading popular Mexican fashion magazines, such as "Vogue Mexico y Latinoamerica" and "Veintitantos"; she's also a bit of a shopaholic, as she goes shopping for clothes every week.
Aracely is into travelling, and her career has taken her to several US states and European countries, while her dream travel destination is Barcelona in Spain.
Aracely enjoys watching movies starring her favorite actor Leonardo DiCaprio, such as "Titanic", "Inception" and "Once Upon a Time… in Hollywood".
Age, height and net worth
Aracely's age is 47. She has long brown hair and brown eyes, her height is 5ft 7ins (1.7m) and she weighs around 145lbs (65kgs).
As of March 2022, her net worth has been estimated at more than $11 million.