Are all the kids of Duck Dynasty's Willie and his wife Korie Robertson adopted? Wiki, Children, Family, Death, Houses
• Willie Robertson is an American television personality, actor, author, businessman, hunter and outdoorsman.
• He is the current CEO of the company Duck Commander, and has a net worth of $20 million.
• He grew up with a passion for the outdoors and hunting, and went on to take over the family business Duck Commander.
• He starred in the reality television series "Duck Dynasty", and is a member of the Churches of Christ.
• He was awarded the Inaugural Governor's Award for Entrepreneurial Excellence by Louisiana Governor Bobby Jindal.
Who is Willie Robertson?
Willie Jess Robertson was born on 22 April 1972, in Bernice, Louisiana USA, and is a television personality, actor, author, businessman, hunter and outdoorsman, best known for his work on the reality television series "Duck Dynasty". He is the current CEO of the company Duck Commander.
The Riches of Willie Robertson
How rich is Willie Robertson? As of late-2018, sources estimate a net worth that is at $20 million, mostly earned through the success of his business, plus the television show has also been responsible for the further elevation of his business success and income. As he continues his endeavors, it is expected that his wealth will also continue to increase.
Early Life, Education, and Business
Willie was born two days before his father's 26th birthday and grew up with two older brothers as well as a younger brother. Throughout his childhood he developed a strong love for the outdoors and hunting, which his family was very involved in. He also spent a lot of time with his father's business called Duck Commander which at the time was just a small business. He undertook numerous tasks with the company, including handling business enquiries and building duck calls.
He along with his brothers grew interested in the business as they grew up, and after matriculating from high school, he enrolled at Harding University, then moved to NE Louisiana University and completed his business degree there, which would serve him well as he began to take over the family business, helping make Duck Commander a multi-million dollar empire. The wealth he gained from the business made him think about expanding his ventures, and this would lead him to the idea of a reality show which would later air as "Duck Dynasty".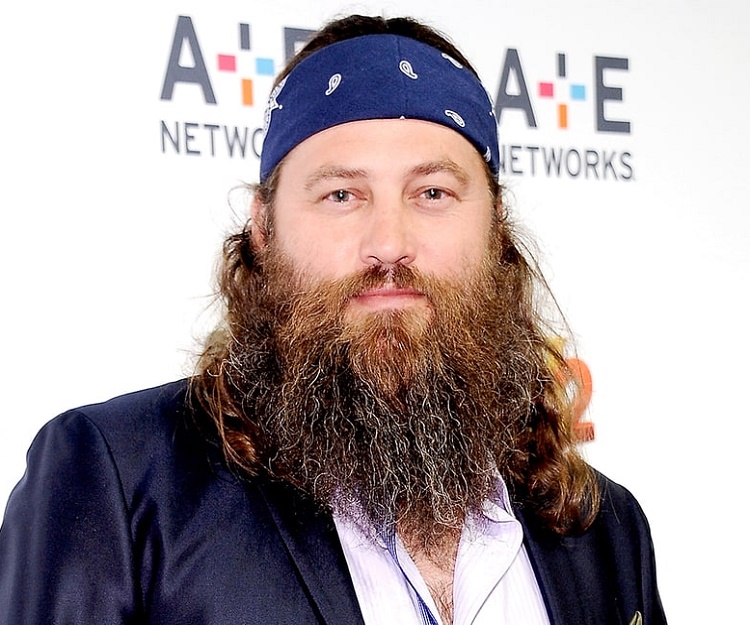 Duck Dynasty
"Duck Dynasty" began airing on the A&E TV channel in 2012, following the lives of the Robertson family, who had become successful through their family operated business, Duck Commander. The business mainly focuses on making products for duck hunters, particularly the duck call named after the business. Prior to the creation of the show, they appeared in "Benelli Presents Duck Commander" as well as its spin-off entitled "Buck Commander" which aired through the Outdoor Channel. Willie appears in the show alongside his parents and his siblings. The Robertson men are known for sporting long beards and having Protestant Christian views.
The show is responsible for breaking several ratings records on A&E, as well as on cable television – during their fourth season premiere, they became the most watched non-fiction cable series in history. The show earned $80 million through advertising sales alone, and sales of merchandise brought them $400 million in revenue. The show would run until 2017 when the family decided to end the show and focus on other endeavors. It has not been without controversy however, as Phil Robertson was given an indefinite suspension by A&E because of anti-gay comments he made during an interview. However, he was later reinstated following public pressure for him to return to the show.
Other Pursuits
Aside from Duck Commander, Wille also started another pursuit called Buck Commander, and forayed further into television as well, creating the show "Buck Commander Protected by Under Armour", which airs on the Outdoor Channel. He's also done some acting, including an appearance in the sitcom "Last Man Standing" which stars Tim Allen as the senior employee of a sporting goods store. Additionally, he's released a series of Buckmen DVDs. He certainly spends a lot of time building his wealth through his business Duck Commander which continues to run strongly.
In 2014, he made a cameo appearance in the film "The God's Not Dead" alongside his wife; the Christian film follows the life of a college student who is challenged by a philosophy professor, and is based on the book entitled "God's Not Dead: Evidence for God in an Age of Uncertainty". During the same year, he was a guest of US Representative Vance McAllister during the 2014 State of the Union Address by President Barack Obama.
Personal Life
For his personal life, it is known that Willie has been married to Korie since 1992, and they have six children altogether, three of whom they have confirmed during "Duck Dynasty" are adopted. Like the rest of his family, he is very active in preaching his Christian faith to others. He is a member of the Churches of Christ which mainly has congregations throughout the US.
He always sports a bandana in the pattern of the American flag, and often wears a white suit jacket, just to look more professional. Many pointed out that his look resembles that of "The Dukes of Hazzard" character Boss Hogg, of whom he is a big fan. He sports a beard too, called the ZZ which was popularized by the rock band ZZ Top, and the majority of the males in the Robertson family sport the same beard. He was rewarded the Inaugural Governor's Award for Entrepreneurial Excellence by Louisiana Governor Bobby Jindal in 2014, at the Duck Commander warehouse located in West Monroe, Louisiana.