Bob Harper's Wiki: Heart Attack, Wife, Partner, Family, Net Worth, Married, Vegan diet, Dogs
• Robert "Bob" Harper is a Nashville-born personal trainer and fitness guru.
• He gained national popularity as a personal trainer in the weight loss show "The Biggest Loser".
• He has authored three books that reached The New York Times Best Seller status.
• He had a near-fatal heart attack in 2017 and changed his lifestyle to a plant-based diet.
• He has two dogs • Karl and Vivienne • which accompany him on his regular walks.
Who is Bob Harper?
Robert "Bob" Harper is a Nashville, Tennessee-born personal trainer and a fitness guru, born on 18 August 1965, who has appeared in multiple TV shows. He has a celebrity clientele as a personal trainer, including the actress Jennifer Jason Leigh and the popular talk show host and comedienne Ellen DeGeneres.
Harper gained national popularity after he became a fitness trainer in the weight loss show "The Biggest Loser". Out of the two personal trainers in the show, Harper was the gentler and more amicable trainer which further gained him his popularity in the audience. He had a steady tenure in the show being one of the show's main personal trainers, and in 2015 he was announced as the host of the show.
Bob Harper has also been successful as an author, writing  three books that reached The New York Times Best Seller status. He has issued a series of fitness DVDs which became popular due to his practical ways to work out and stay healthy. He also has a website with fitness forums, where people can share their fitness tips and advice.
Bob Harper's Heart Attack and aftermath
In February 2017, when he was 52 years old, Bob Harper unexpectedly had a near-fatal heart attack; he was working out at the gym at the time, and immediately went into a cardiac arrest. As someone who exercises regularly, eats well and maintains a healthy weight, this heart attack came as a complete shock to him. He was in a comatose state for two days, but and eventually recovered with the help of his medical team, and cardiac rehab.
He has subsequently changed his entire lifestyle, including his diet and the way he works out in the aftermath of the heart attack. Almost two years later, he shared an intimate picture of himself with his social media followers, lying on a hospital bed in a coma, adding that he is getting back to his normal health and that he is back to doing Cross Fit workouts that he has always practiced and endorsed. He also began using a plant-based diet after the heart attack.
Bob Harper's wife, partner, marriage
Bob Harper does not have a wife. During the 15th Season of The Biggest Loser, Harper publically came out to be gay in a segment in the show, when talking to a contestant in the show – Bobby Saleem – about the challenges of coming out to his family. Harper supportively told the contestant that he came out to his family when he was 17 years old. He further added that being gay does not make one weak, nor does it make anyone less than who they are. This was the first time he publically mentioned his sexual orientation.
Bob Harper's long-term partner is Anton Gutierrez, who is often featured in his social media. As an advocate for LGBTQ rights, Harper is very much open to the public about his relationship, often sharing the romantic and memorable moments of the couple in his social media profile. They are not married but lives together. The couple have not shown any engagement rings or talked about any upcoming nuptials so far. They mostly focus on living a healthy and happy lifestyle, while traveling, encouraging people to be healthier and creating memories that they can cherish.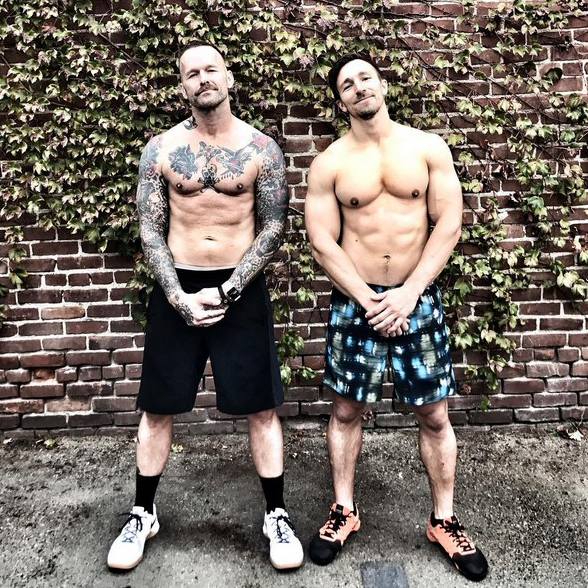 Bob Harper's Family
Harper has not revealed much about his childhood and family upbringing to the public. He was born and raised in Nashville, Tennessee where his family lives. He came out as gay to his family when he was 17 years old. They have been supportive of him throughout his journey from being a health conscious teenager to a national celebrity fitness guru and a personal trainer.
The total net worth of Bob Harper
With his long tenure in The Biggest Loser, his multiple best-selling book deals, fitness tapes, and many other TV appearances, Bob Harper has a net worth estimated by authoritative sources at over $4 million dollars. He also does plenty of charity work, recently teaming-up with BRILINTA, a prescription drug for heart attack treatment to spread awareness of heart attacks, which is one of the deadliest diseases in the US.
Going into Friday night like… pic.twitter.com/b6rPzIPMGt

— Bob Harper (@MyTrainerBob) November 10, 2017
Bob Harper's vegan diet info
Bob Harper became a vegetarian after he read the book "Skinny Bitch" and understood the health and fitness benefits of that lifestyle. He fully converted to a vegan lifestyle in 2010, which he publicly shared with his followers. PETA named him as the "Sexiest Male Vegetarian of the Year" in 2010, admiring his commitment to being a vegan and bringing more public awareness of the benefits of being a vegan. He actually stopped following a full vegan diet in 2013, saying that his body required more, but after his cardiac arrest in 2017, he went back to following a plant-based diet for health reasons.
Does Bob Harper have a dog?
He has two dogs – Karl and Vivienne – who accompany him on the  regular walks he takes as a way of giving them and himself a good workout. His dog Karl was named after Karl Lagerfeld due to his color. Harper has always had a lifelong love for animals, which was one of the big reasons that he practiced a vegan lifestyle for a long period of time.