Bull star Michael Weatherly Bio, Net Worth, Leaves NCIS, Family, Wedding
• Michael Weatherly is an American actor, director and producer.
• He was born in New York City in July 1968, and raised in Fairfield, Connecticut.
• He rose to fame after appearing as Anthony DiNozzo in the CBS TV series "NCIS", and in 2016 began playing the role of Jason Bull in the series "Bull".
• He has earned numerous nominations for Teen Choice, Saturn and Soap Opera Digest Awards.
• His net worth is estimated to be not less than $25 million.
Who is Michael Weatherly?
Michael is a renowned American actor, director and producer, who rose to fame after appearing as Anthony DiNozzo in the CBS TV series "NCIS". His other famous role is that of Jason Bull which he began playing in 2016 in the series, "Bull", but is noted for numerous other acting roles, as described below.
Michael Childhood and Education Background
He was born in New York City toparents, Michael Manning Sr. and Patricia O' Hara, who named him Michael Manning Weatherly Jr. This was on 8 July 1968 under the Cancer Zodiac, which makes him 51 years in July 2019. Michael is an American by nationality, and of North American and Irish ethnicity.
He spent his childhood in Fairfield, Connecticut, where he was raised alongside his brother Will Weatherly, and developed a passion for acting as well as music at a tender age. He attended Fairfield Country Day School before transferring to Brooks School, in North Andover Massachusetts from where he matriculated. He later joined several higher education institutions, including Menlo College, Boston American University, but dropped out of college to follow his desire of becoming an actor. He was also in a musical band while chasing his acting dream.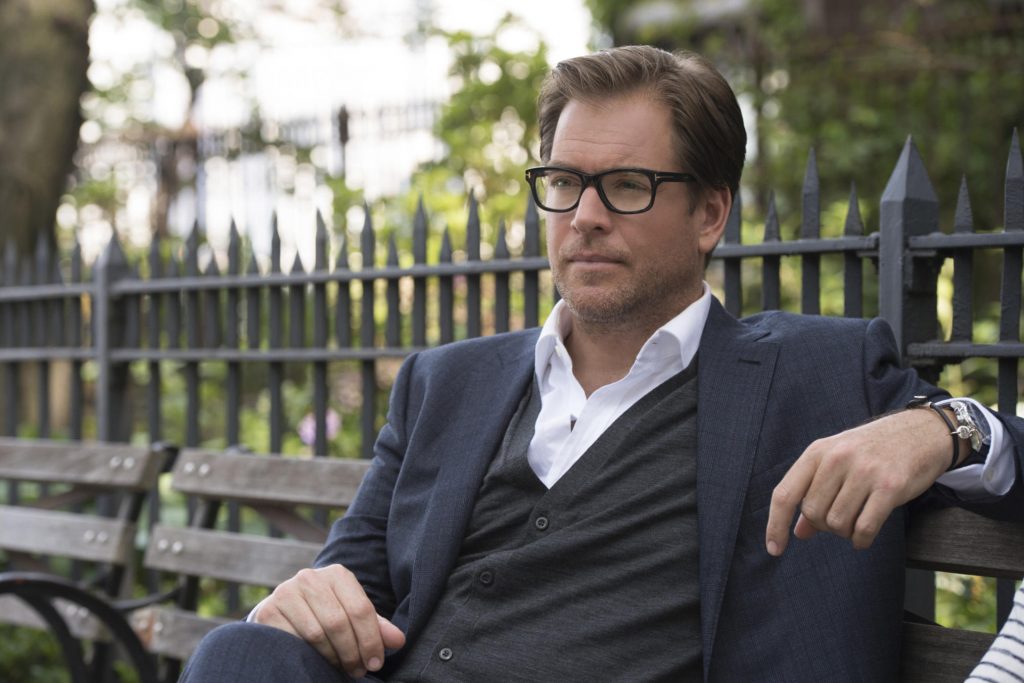 Michael Weatherly Professional Career
Michael started his acting career with a minor in TV's "The Cosby Show", in which he played the role of Theo Huxtable's roommate, and also featured in "The City", "Seinfeld" and "Loving" dramas. Later, Michael moved to Los Angeles to advance his career, and in 1997, appeared in the films "Asteroid" and also in "Meet Wally Sparks". That same year, Michael was a guest-star in an episode of "Spy Game".
The following year, Michael had roles in series including "Jesse" and "Significant Others", and around the same time featured in the movie "The Last Days of Disco". Soon afterwards, he acted in the dramas "The Crow Stairway to Heaven:" and "Charmed".In the 2000's decade, Weatherly appeared in many films, including "The Specials", "Gun Shy", "Dark Angel", and "NCIS" as Anthony DiNozzo.
He did not stop there; from 2012 to 2015 Weatherly was a guest-star in television programs such as "Hollywood Game Night", "Major Crimes", and "Whose Line is it Anyway" to mention but a few. In 2016, Michael left the "NCIS" cast where he was a lead actor, and ABC announced that he would be getting the lead role in the drama series "Bull" playing Dr. Jason Bull, based on Dr. Phil McGraw's real-life trial consultancy, depicting a psychologist and trial science expert who utilizes his skills with the help of his team to select the perfect jurors for all his clients, their cases, and attorneys. Due to his contributions to the film industry, Michael has earned numerous nominations for Teen Choice, Saturn and Soap Opera Digest Awards. Michael has other entertainment skills too, which include playing musical instruments such as the piano and guitar.
So there's this lady… #bull pic.twitter.com/1swjQ0nNqo

— Michael Weatherly (@M_Weatherly) November 17, 2018
Michael Weatherly Personal Life, Marriage, and Children
In 1995, Michael married Amelia Heinle who was his co-star in the film "Loving and The City", and the following year, the couple was blessed with a son they named August Manning Weatherly. However, their marriage was short-lived, as they divorced in 1997, the reason for their divorce was apparently due to the fact that the show Michael was working on had just been canceled, and he found it challenging to take care of a wife and a child, supposedly having to take any job that came his way, which meant being separated from the family, which led to difficulties in their relationship and ended in divorce. While Michael was filming for "Dark Angel", he met and fell in love with one of the actresses, Jessica Alba, who was much younger than him. Their love affair became the talk of the town and of media houses. They were engaged for a short time before they broke up in 2003.
Weatherly then married Dr. Bojana Jankovic in 2009; this time he was more prepared to take care of a family, learning to make them a priority, and confessed that he doesn't take work home. The two are still married, have a daughter and a son and live in Manhattan, New York City. His wife is a physician and Michael says that she sometimes sees him as a patient as opposed to a husband. He is looking forward to a happy retirement with his wife and children and says that he is happy to have such a wonderful woman as his wife.
Michael is the uncle of Alexandra Breckenridge, a famous American actress whose works include "Family Guy", "This Is Us", "American Horror Story", and "The Walking Dead".
Michael Weatherly Net Worth
Michael is reputed to have earned $250,000 for every episode of "NCIS", and although he is no longer getting this amount any longer, he has managed to accumulate a good amount from his acting career, as he was in NCIS" for 13 years as the series' main character which means that he earned a lot of money from it. His salary on the CBS series "Bull" is around $175,000 for each episode. As of 2018, reputable sources estimate Michael Weatherly's net worth to be not less than $25 million. One asset is a Range Rover he drives valued at over $40,000.
Michael Weatherly Height, Weight, and Body Stats
Michael is a tall man standing at 6ft 2ins (1.88m) tall, and has an athletic body which has raised speculations especially after he lost weight, which is currently 190lbs (86kgs). His vital body statistics are 44-34-16 inches for chest, waist and biceps respectively. His eye color is hazel and he has blonde hair; he wears a size 12 US shoe.