Cameron Cuffe (aka Seg-El on Krypton) Wiki Bio, age, height, net worth
• Cameron Cuffe is a 25 year-old actor from London, United Kingdom of Italian and Irish descent.
• He gained recognition for his roles in "Florence Foster Jenkins", "The Halcyon", and "Krypton".
• Cuffe stars in the lead role of Seg-El in Syfy's hit show "Krypton".
• He has an estimated net worth of $1.2 million and is in a relationship with Melissa Dive.
• Cameron Cuffe is 6ft 1ins (1.85m) tall, weighs 176lbs (80kgs), and has brown hair and brown eyes.
Who is Cameron Cuffe – aka Seg-El from the show "Krypton"?
Cameron Cuffe was born on the 1st April 1993, in London, United Kingdom of Italian and Irish descent, and is a 25 year-old actor. Cuffe is probably best known for his portrayal of Gino in the 2016 film "Florence Foster Jenkins" and the role of William Shannon in the television series "The Halcyon". The young actor gained further recognition after he landed the lead role in Syfy's hit show "Krypton". His career has been active since 2015.
Cameron Cuffe Bio: Early Life, Family and Education
Cameron Cuffe was raised by his father Dana Cuffe and his mother Caroline Cuffe in a west district of London called Hammersmith; he has two siblings called Jamie and Alex. Young Cameron's first experience with acting came when he was only nine years old, when his mother took him to an audition and he was cast in a minor role in the short romantic film called "New Year's Eve", which starred Philip Herbert and Keira Knightley. After that, in 2005 he once again had a minor role in the star-studded comedy thriller entitled "Stories of Lost Souls", having the chance to work with some of the biggest names in the film industry such as Hugh Jackman, Cate Blanchett, Paul Bettany and James Gandolfini. This experience convinced him that acting was his true calling in life. Having matriculated from high school in Hammersmith, he was accepted into the Lir National Academy of Dramatic Art in Dublin. Following his graduation, he appeared in several plays, the most notable being the Donmar Warehouse production of "City of Angels", and the Park Theatre production of "The Vertical Hour", both lauded by the critics, and Cuffe's performance especially commended.
Career Beginnings
Cameron Cuffe's film career kicked off in 2015 with a supporting role in the short comedy "Home Made", after which he was cast as Gino in the biographical film "Florence Foster Jenkins", starring Meryl Streep as the titular New York heiress whose biggest dream in life was to become an opera singer, despite having an obvious lack of talent. Also featuring Hugh Grant and Simon Helberg, the film was nominated for two Oscars, and was the first big budget production for the young Cameron.
After that, he lent his voice for the role of Zack in the open world snow sports video game called "Steep", then in 2017, Cuffe made his small screen debut with a regular role in the war drama series "The Halcyon", playing William Shannon in the first four episodes of show's only season. Next up was a guest appearance in an episode of the science fiction television series "Time After Time", and another voice acting gig for the video game "Need for Speed: Playback", before he was cast in the lead role of the hit show "Krypton".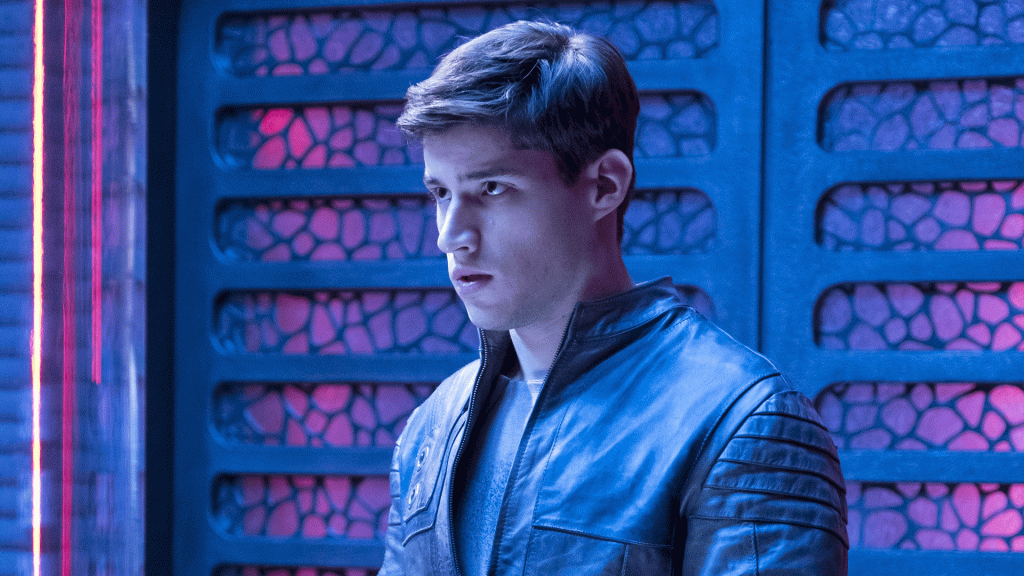 "Krypton"
Cameron stars in the lead role in Syfy's new show called "Krypton", which takes place on Krypton, a fictional planet from the DC Comics Universe, which is the birth place of Superman. The show was created by David S. Goyer and the plot is set approximately 200 years before the birth of The Man of Steel or Kal-El. Cuffe plays the role of Seg-El, a brilliant scion of the House of El who is destined to become the grandfather of Superman. The series began filming in 2016, and premiered on 21st March 2018 on the Syfy channel. The first season of the show consisted of 10 episodes and was met with mixed reviews from critics, however, it garnered a solid following amongst the fans of DC Comics, and had a great viewership which secured the production of the second season. The show's upcoming season is currently in post-production, and we can expect to see more of Cuffe as Seg-El in 2019.
Personal Life
Regarding his personal life, for quite some time fans of the show "Krypton" have been trying to find out whether Cameron is single or in a relationship. Even though his popularity is constantly growing, for now the young actor is quite shy when it comes to sharing details about his private life. However, thanks to his Instagram posts, we do know that he is currently in a relationship with Melissa Dive, who works as a PR for the London Travel company, and is originally from Sydney, Australia.
Net Worth
Being cast in the lead role of Syfy's new hit show was a great personal and professional success for the aspiring actor. According to authoritative sources, Cameron Cuffe has managed to acquire a net worth estimated at $1.2 million over the course of his acting career. Seeing that he's really only just started, we can expect that his overall wealth will grow as he lands more acting roles.
Social Media
Fans can find more about his private and personal life if they follow him on his official Instagram account, on which the actor has a following of nearly 25,000. Furthermore, he has a Twitter account with more than 12,000 followers. Fans can also find his girlfriend Melissa on Instagram.
"As a man, I'm flesh and blood, I can be ignored, I can be destroyed, but as a symbol… as a symbol I can be incorruptible, I can be everlasting."

Thank you to the Dark Knight (and all of the artists involved in his stories) for 80 years of justice.#Batman80 ? pic.twitter.com/9zgvwPhokg

— Cameron Cuffe (@thecameroncuffe) March 30, 2019
Appearance and Physical Characteristics
Speaking about his appearance, Cameron Cuffe has a muscular figure, is 6ft 1ins (1.85m) tall, weighs around 176lbs (80kgs), has brown hair and brown eyes, and his shoe size is 10.