Who has JoJo Siwa dated? Boyfriends List, Dating History
• Jojo Siwa rose to fame at age 10 as a finalist in 'Abby's Ultimate Dance Competition'
• She also appeared in two seasons of 'Dance Moms'
• She released her first music singles in 2016 and started a YouTube vlog with 12 million subscribers
• She became a fashion trend due to her signature oversized bows, but was banned from many UK schools
• In 2020 she revealed her boyfriend Mark Bontempo, a fellow TikTok star, who she has been dating since June 2020
American actress, YouTube vlogger, dancer and singer Jojo Siwa, rose to fame at the age of ten, when she became a top-5 finalist in 'Abby's Ultimate Dance Competition'. At the time, Jojo was also the youngest contestant to compete on the show, and although eliminated in the ninth week of the series, Jojo then started appearing in the show 'Dance Moms' with her mother, Jessalynn Siwa, and would stick around for two whole seasons.
Born as Joelle Joanie 'Jojo' Siwa on 19 May 2003, in Omaha, Nebraska, she is the younger of two children born to her mother, a dance instructor, and her father Dr Tom Siwa, who works as a chiropractor. Her older brother, Jayden Siwa, is also a popular YouTube vlogger. From a young age, Jessalynn taught her daughter dancing, and it didn't take them too long to start competing on numerous shows.
Following the start of her career as a dancer, Jojo moved on to releasing her first music singles in 2016, including the popular songs 'Boomerang' and 'I Can Make You Dance'.
She also began her YouTube vlog, posting daily videos of her everyday life, to which up to an estimated 12 million subscribers now tune in to watch her every day.
As the popularity of her vlog grew, so did her fashion trademark. Jojo is known for wearing colourful and often oversized bows, which feature in her music videos and her daily vlogs. In 2016, she created a line of bows endorsed by Claire's, and as expected, within no time it became a popular trend among girls aged between six and 12. However, despite the popularity of Jojo's bows, her fashion trademark caused controversial upsets in UK schools.
Due to a rise in peer pressure, with some girls mocked and teased if they didn't own a Jojo Bow, and for causing disruptive distractions in class, many UK schools banned Jojo's colourful accessories. However, because of her tremendous success on YouTube, and her ability to create a fashion trend, Jojo was an inclusion in Time's 2020 selection of 100 most influential people in the world, a remarkable achievement considering that Jojo is only 17.
At such a young age, one cannot expect that Jojo would have much of a dating history, but rumour has it that there has been at least one lucky gent in the young girl's life. However, with such a busy schedule, making daily vlogs and spending the better part of 2019 touring 52 cities across the US and Canada, it would come as a surprise if the young lady could find the time to fall in love.
While Jojo has been the subject of rumours, which include suggestions that she dated Nickelodeon star, Jace Norman, few rumours stuck around as long as the possibility that she dated Elliot Brown.
After starring in a film with the 'Henry Danger' star, and making a guest appearance in 'Henry Danger', gossipers began speculating that something romantic might be developing between the two teenagers.
However, after Jojo denied the claims, and the truth about Jace's romantic life came to light, the rumours quickly fizzled out. In May of 2020, Jojo published pictures on social media where she spent some casual time with a close family friend, which didn't take long to spark romantic rumours.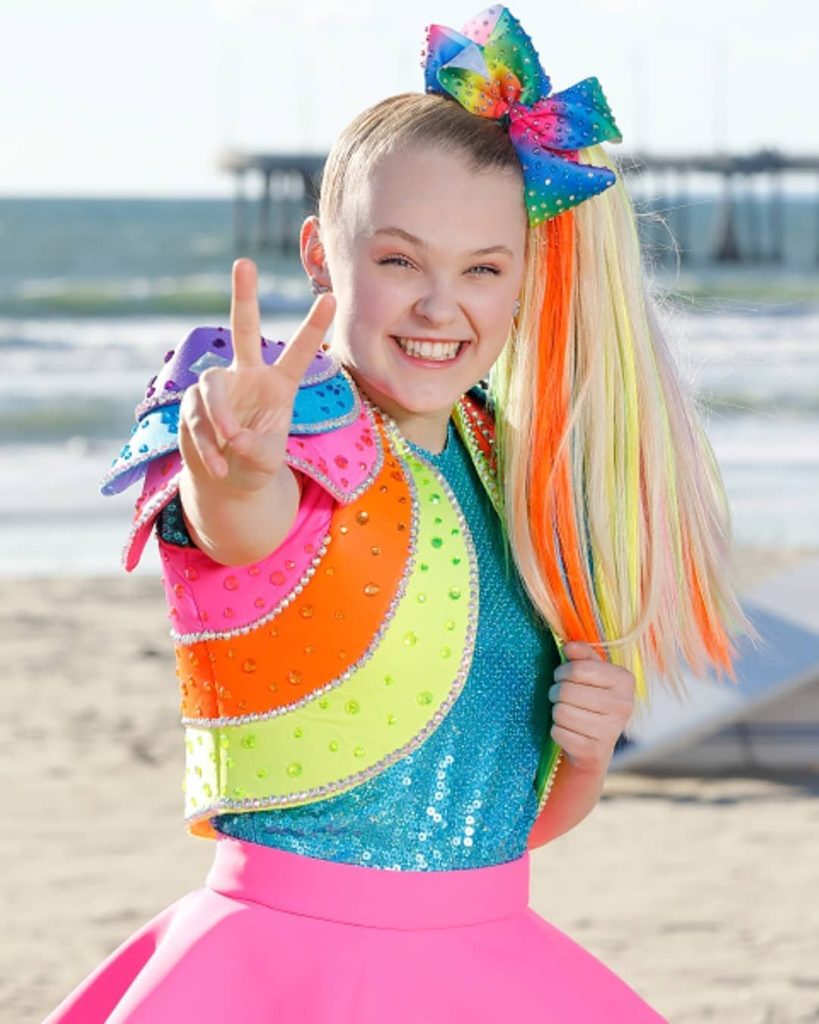 The young man, quickly identified as Elliot Brown, is a fellow teenager from Nebraska, and has had a long association with the Siwa family.
Speaking to US Weekly in an interview, Jojo addressed the dating rumours, stating that they are only friends. She did, however, reveal that there was a possibility that they could date sometime in the future, and although friends, they very nearly crossed the line into something more serious.
Despite being very close to each other, the two decided amicably not to date, and for now, seem fine with their decision.
During the interview with US Weekly, Jojo spoke at length about the difficulties of dating as an entertainer and famous personality. Despite still being rather young, the 17-year-old YouTuber seems to approach romance with maturity. She said that unlike many other girls, she has to be careful about who she decides to date, and it can be intimidating since many people don't understand her life.
She added that the difficulty of choosing to date someone in the same choice of career, or someone who is not famous and an entertainer, can also be overwhelming. While there are pros and cons to each option, it is hard to know which is the right choice. Jojo also expressed her belief that each person has a soulmate, and that when the time is right, she will find the love of her life.
Siwa admitted that she is permitted to go on dates, but currently her life is just too hectic, and she is way too busy to be dating.
At the time, most reports concerned about Jojo's love interests suggested that she was single, but only a month later, the socialite star revealed in a vlog that she was off the market. The video sparked a surge of speculation about who the mysterious boy could be, with some once again claiming that it might be Elliot Brown, her BFF.
Jojo first revealed to the world that she is no longer single after doing a TikTok challenge called 'Put Your Fingers Down', in which the app asks a series of questions and you answer by either keeping your fingers up or putting them down one-by-one. When asked if she was single, Jojo kept her fingers up.
A second confirmation about the rising suspicion came when a fan asked her to the Prom, to which she answered she couldn't because she was in a relationship. Jojo uploaded these videos in June, but only after months of fan speculation about who the mystery man is, did she reveal his identity. In August she uploaded a video called 'Meet Mark', in which she introduced her boyfriend to the world, Mark Bontempo.
In the video, they dressed as each other, having a little bit of silly fun. Mark is a fellow TikTok star, who plays the guitar and aspires to become a singer, posting regular covers on his Instagram account.
The two met in June 2020, but have kept their relationship quiet and private until the time came to reveal their romance to the world. Jojo has admitted that while she doesn't care about the privacy of her life, since she is a public figure anyway, she kept the relationship quiet at Mark's request.
She said that revealing the truth would be up to Mark since he has not yet become used to life in the limelight. Jojo also added that he makes her smile a lot, and that she is completely smitten with him.
YOU GO, GIRL! We couldn't be prouder of @itsjojosiwa🥰https://t.co/5JZQA7qUbA

— TigerBeat (@TigerBeatNow) September 24, 2020
She says he is like a dream, and has plenty of other sweet things to say about him. Mark has also since taken to TikTok to confirm their relationship, uploading a video which he captioned with 'This Girl'.
The video showed them spending some quality, casual time together, and confirmed to the rest of the world that Jojo is officially in a relationship. For now, though, fans are keeping an eye on them to see how their relationship develops, wishing them nothing but the best, but knowing quite well how young love can develop, or be difficult to sustain if not actually hurtful.