Camryn Manheim Biography: Weight Loss, Ghost Whisperer, Surgery, Married, Husband, House, Kids
• Camryn Manheim is an Emmy-award winning actress and bestselling author
• She is known for her roles in TV series such as "The Practice", "Elvis", and "Ghost Whisperer"
• She is an advocate for women's rights and self-acceptance
• Her son, Milo Jacob, is from a sperm donation
• She has an estimated net worth of $3 million
Who is Camryn Manheim?
Camryn Manheim is an Emmy-award winning actress, probably best known for her role as the attorney Ellenor Frutt in the TV series "The Practice". Also, this 57-year old actress coming from New Jersey, USA has managed to be on the New York Times' list of bestselling authors due to her book called "Wake Up, I'm Fat". She is well-known for her teachings and lectures about women's rights, and at the same time she is a strong proponent of a healthy lifestyle and self-acceptance.
Early life and education
Born as Debra Frances Manheim on  March 1961, Camryn grew up in a Jewish family. Her mother, Silvia, was a teacher, and her father Jerome was a mathematics professor. Soon after Camryn was born, the family moved from Caldwell, New Jersey to Peoria, Illinois, where the young girl started school. However, by the end of her high school, the family had moved again, and this meant that Camryn would finish her high school in Long Beach, California. One could argue that these changes in social circles and surroundings helped in forming her acting talent, since the girl had to adapt quickly, and be flexible and versatile. Camryn Manheim got her B.F.A from the University of California, and also her M.F.A from the Tisch School of Arts at New York University.
''Ghost Whisperer" and her other acting roles
Playing Delia Banks on CBS' ''Ghost Whisperer" was one of the major breakthroughs for this ambitious and energetic woman.  However, it was not this role that brought the most acclaim to the actress, but that of the feisty attorney Ellenor Frutt in ABC's ''The Practice", which was so good that it got her an Emmy in 1998.
The popularity of this show propelled her career, and Camryn was then cast for the role of  Gladys Presley in the miniseries ''Elvis", as a reward for her successful portrayal of Elvis' mother, Camryn became a Golden Globe nominee. Besides these roles, her acting career saw her take many other forms and genres, and you could notice her in many popular TV series, such as ''Mercury Rising", ''Sudden Impact", ''Scary Movie 3", ''Ally McBeal", ''Will and Grace", ''Chicago Hope", and ''Law and Order" among many others.
#TBT time already! #ThrowbackThursday.#GhostWhisperer, @TheReal_Jlh pic.twitter.com/XgrGetHBuI

— Camryn Manheim (@CamrynManheim) September 15, 2016
Personal life – husband and kids
Camryn Manheim's personal life seems to be well-shielded from the public eye, and there is almost no record of any romantic affairs or partnerships. As a matter of fact, even the birth of her son, Milo Jacob in 2001, was through the sperm donation process, although according to reputable sources, the father of the child is Jeffrey Brezovar, a gay model and a close friend of Manheim's. Camryn has always insisted that her career and her son are her number priorities, leaving little time for dating and romance. However, she did admit that she enjoys it when handsome men occasionally flirt with her in the gym.
Has she undergone surgery for weight loss?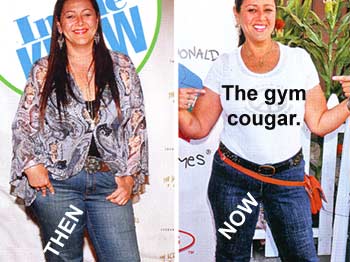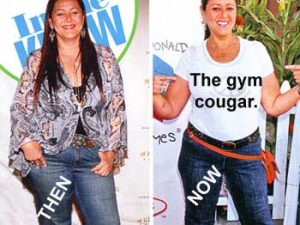 One of the things Camryn Manheim is most famous for would be her dramatic weight loss and subsequent changes in appearance. Despite the fact that she built her career playing the roles of chubby ladies, and even publicly saying that her Emmy was 'for all the fat girls out there', Manheim has undergone a dramatic weight loss. Allegedly, she was weighing 225lbs at one point of her life, but it seems that the birth of her son Milo triggered a switch in her mindset. In 2007, the media accused of her of going under the knife and getting rid of the excess fat in that way, but Manheim refuted the claims by saying that she just went through a 'change in lifestyle'. As she says, the secret to losing weight and being fit is physical activity, i.e. going on regular bike rides with her son, and enjoying various sports.
Happy #ThrowbackThursday #TBT!@SpringBway Opening Night.@thedanband @kathynajimy @TR_Knight & @MichaelEmerson pic.twitter.com/M7FBIV1onu

— Camryn Manheim (@CamrynManheim) April 21, 2016
Social media presence
Even with her hectic schedule, and constant lectures and traveling, Manheim still finds time to be present on social media. It looks like
Instagram
is her favorite way of communicating with fans and telling them about her projects and activities, but she also uses
Twitter
on a regular basis. In recent months, Manheim has predominantly used her profiles on social networks to promote her son, who is competing in the show ''Dancing with the stars". However, Camryn Manheim also remains an avid activist for human rights, and is engaged in a variety of activities with various charities and funds.
What is Camryn Manheim doing these days? Her Net Worth
As we already mentioned, Manheim is using her personal story to inspire other women to love themselves and accept their bodies. Aside from that, she is working on several acting projects, in the cast of the miniseries ''Waco" which is produced by Paramount Networks, and starring in the CBS series ''Living Biblically", often promoting this show on her social media profiles. Her wit and humor are as sharp as ever, and that is why her acting career shows no sign of slowing down, at the age of 57. It could be that regular exercise and physical activity keep her body and mind fresh and energized. Her net worth as of late-2018 is estimated by authoritative sources at over $3 million, and this is likely to grow as it sure looks Camryn Manheim is here to stay.