Carson Daly Wiki: Wife Siri Pinter, Net Worth, Weight Gain, Salary, Family
• Carson Daly is a television and radio personality, producer and host.
• He gained popularity as a VJ on MTV's "Total Request Live" and was the host of the late night talk show "Last Call with Carson Daly".
• He is currently the host of the reality music competition "The Voice" and a co-host for the morning show "Today".
• Carson Daly has an estimated net worth of $25 million.
• He has openly discussed his battle with Generalized Anxiety Disorder.
Who is Carson Daly?
Carson Jones Daly was born on 22 June 1973, in Santa Monica, California, USA, and is a television and radio personality, producer and host, best known for initially finding popularity as a VJ on MTV"s "Total Request Live". He later joined NBC and became the host of the late night talk show "Last Call with Carson Daly". Afterwards, he became the host of the reality music competition "The Voice" and is a co-host for the morning show "Today".
The Riches of Carson Daly
How rich is Carson Daly? As of early-2019, sources estimate a net worth that is at $25 million, earned largely through a successful career on television, but he has also served as a radio DJ, working for various stations in the Los Angeles area. As he continues his career, it is expected that his wealth will also continue to increase.
Early Life, Education, and Career Beginnings
Carson is the son of Coachella Valley television personality Pattie Caruso, with her husband Jim Daly who is a salesman. However, he did not get to know his father as he passed away from bladder cancer when Carson was young.
He attended Santa Monica High School, and during his time there played with the school's golf team. He matriculated in 1991 and then enrolled at Loyola Marymount University in Los Angeles, but dropped out to pursue a professional golf career. However, with his efforts on the  golf course not panning out, he became an intern to Jimmy Kimmel on radio at a station based in Palm Springs, California. His first professional effort in the entertainment industry was at the College of the Desert, and then he got his first break with KCMJ FM, where he went by the name Kid Carson.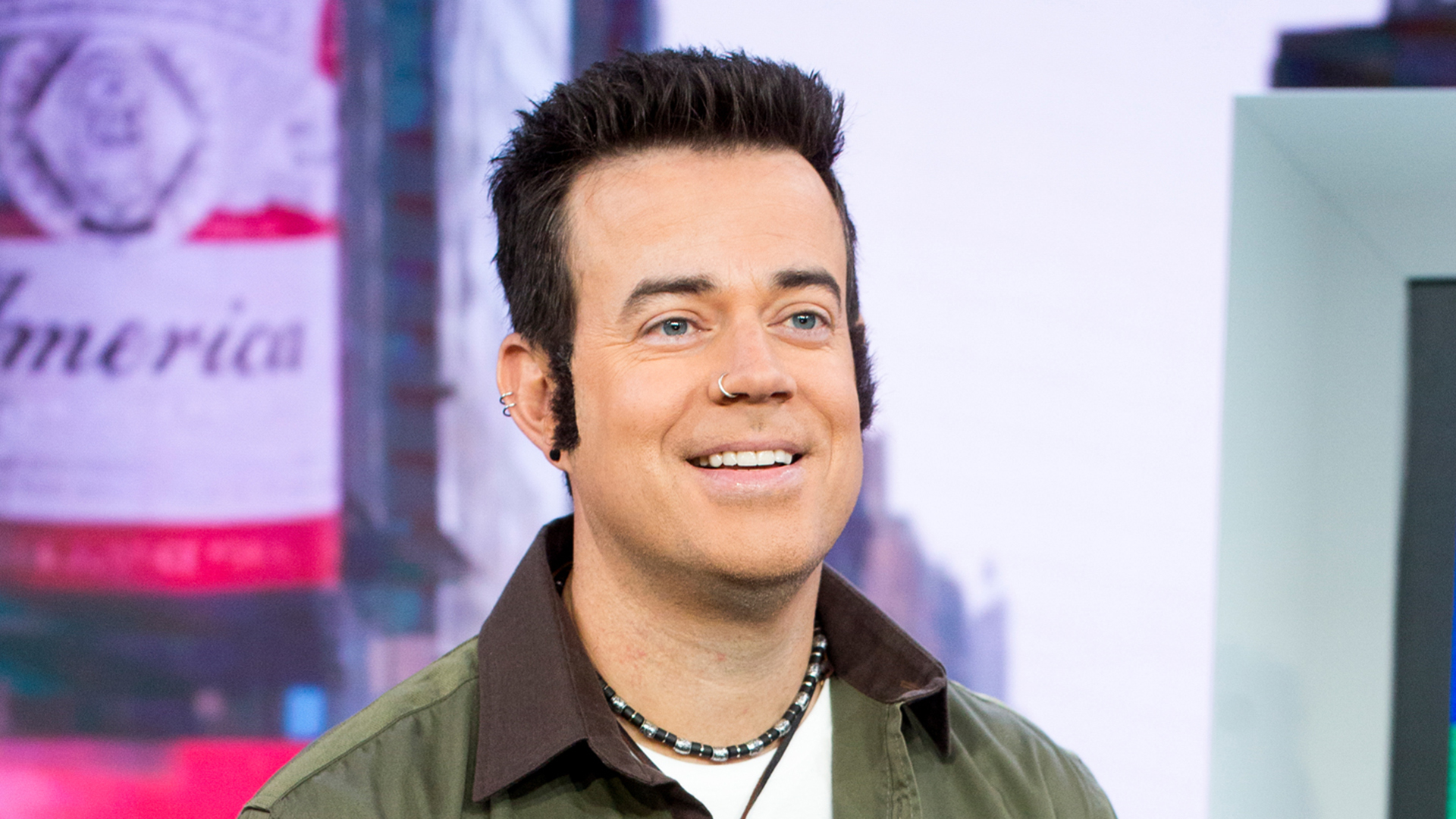 Career Prominence
His broadcasting efforts continued at the San Jose, California-based radio station KOME, and he was later given a 6-10 PM time slot at the Los Angeles sister station KROQ. During his time at that station, he was recruited by the television network MTV as a VJ during their summer beach house programming called "Motel California", at the end of which he was hired as a permanent VJ, and relocated to New York City, where he would begin by hosting the show "MTV Live".
In 1998, he began hosting "Total Request Live", and would do so for the next five years. The show features popular music videos, and often guests too, promoting their newest works, and was based on his previous shows "Total Request" and "MTV Live". In 2002, he started working for NBC, on which he debuted "Last Call with Carson Daly", shot on the same set as "Saturday Night Live" for the next three years, until he relocated to Los Angeles, and was a traditional talk show, featuring interviews and produced segments. During this time, he also began hosting the New Year's Eve special of the network entitled "New Year's Eve with Carson Daily".
Great hang this morning with Twitter's proud papa @jack in the #orangeroom @TODAYshow happy 10th! pic.twitter.com/o3bV5Pohpi

— Carson Daly (@CarsonDaly) March 18, 2016
Later Projects
In 2011, Carson became the executive producer and host of the reality music competition "The Voice", a singing competition based on the original "The Voice of Holland". He watched blind auditions alongside family members, and the show won four Emmy Awards for Outstanding Reality Competition program during its airing for 15 seasons; winners of the competition received $100,000 and a record deal with Universal Music Group. He also appeared in the first episode of the series "My Name is Earl", in which the main character Earl watches his show and learns about karma. He also had a brief role in the television "Chappelle's Show", starring Dave Chappelle.
In 2013, he was hired as the orange room anchor, or social media reporter of the "Today" show, while also serving as a fill-in during the show's weekend edition. The program was the first of its genre, and is the fifth longest running American television series.
He also forayed into business, founding the independent record label called 456 Enterprise & Entertainment, which released the compilation of Viva La Bands. Partners of this endeavor are Bam Margera, Jonathan B. Davis, and Jonathan Rifkind.
Personal Life and Health
For his personal life, it is known that Daly started dating actress Tara Reid in 2000 during an episode of "Total Request Live". They shared an apartment together and became engaged a few months later, however, they broke off their engagement after a year. In 2013, it was announced that he had become engaged to food blogger Siri Pinter, the daughter of actor Mark Pinter who best known for his work in soap operas. The couple married in 2015 in a small ceremony.
They have three children together, all born before they decided to marry, even though he is a Catholic. He has been open about his struggle with Generalized Anxiety Disorder, a disease often typified by an uncontrollable and excessive worry about events or activities, which can affect a person to the point that they can no longer perform their daily functions including interpersonal relationships, work, money, family and friendship problems, and health. Symptoms can also manifest as fatigue, headaches, muscle tension, breathing and sleeping difficulty.
Considering this problem, Carson Daly has had an outstanding career to date, and looks set to continue.