CaRtOoNz Wiki Bio, age, height, real face and name, girlfriend, net worth
• Luke "CaRtOoNz" Patterson is a well-known YouTube personality born in 1982 in North Carolina USA.
• He had a passion for superheroes and video games as a child, and worked as an Aircraft Structural Engineer before starting his YouTube career.
• He is a close friend of H20 Delirious, and has a current girlfriend of three years.
• He enjoys hobbies such as throwing axes and collecting coffee mugs, and is passionate about his appearance.
• His net worth is estimated at over $2.3 million.
CaRtOoNz is a well-known YouTube personality who is famous for his collaborations with such other YouTubers as H20 Delirious, Ohmwrecker, and many others. Let's find out how he started on YouTube, dropping out from aircraft engineering; we're also going to dig deeper for more facts about his personal life, girlfriends, net worth and more.
Early years and family
Luke "CaRtOoNz" Patterson was born on 21 September 1982 in Green, North Carolina USA. His father's name is Frank Patterson, his mother is Gail Herring Patterson, and he has a sister named Christina. His family once moved to Washington D.C., and Luke is sure he picked up a lot of his personality there. He confesses he was a good guy while growing up, behaved well and can't remember doing anything bad his parents could be mad at him for.
Luke's beloved grandmother Jean, was once scammed by a person who pretended to be from Publisher's Clearing House (a direct marketing company distributing magazines and merchandise subscriptions offering games with prizes and sweepstakes). So Luke visited his grandmother on Christmas and presented her with $1200 to cover the sum she lost.
He admits that video games have been his hobby since he was a kid – he remembers playing them when he was five years old. Dreaming of becoming a superhero such as he saw in the games, Luke always wanted to have the superpower of invisibility or flying. One of his favourite comic character was Spider-Man, and he wanted to be just like him, saving people and fighting malicious villains.
Education and work
Luke matriculated from a local high school in Green after his family returned from Washington D.C. Then he graduated from Rockingham Community College, and worked for TIMCO Aviation Services, Inc. on with airplanes as an Aircraft Structural Engineer; as he described his job: 'If there's a hole in a plane, I'll fix it!'
YouTube success
Luke registered his channel on YouTube on 10 September 2006, though he only started posting his videos nine years later, in 2015. His favourite games are the "Bioshock" series, "Mass Effect" series, "Elder Scrolls" series, and he played "World of Warcraft" for a while, but that MMORPG takes a lot of time to achieve at least something to feel comfortable while playing, and Luke didn't want to spend so much time on one game.
As for his YouTube channel, he makes videos in which he plays "God of War", "Devil May Cry", "Destiny 2", etc.
Luke gets a lot of handwritten letters from his fans – some of them send his their sketches, pictures and arts, and Luke enjoys all those signs of attention, saying he loves his fans endlessly, although many of them admit that Luke is pretty agressive in his videos; answering the questions in his "Q&A" video, he uses many aggressive and offensive words. trying to sound funny but not succeeding.
Friendship and collaboration with H20 Delirious
He's a close friend of H20 Delirious for 15 years, another YouTube star who has around three million followers but has never revealed his face, always wearing a Jason mask while streaming or making videos. Lots of Luke's followers ask him about Delirious' appearance, but Luke always leaves this question unanswered, only saying that he looks like a guy, and that should be enough for his watchers since to Luke's mind it doesn't matter a bit how a person looks like. He also claims he doesn't have any right to reveal any details about Delirious's face, since it's only his business and not Luke's.
Real life hobbies and passions
Luke enjoys visiting museums of contemporary arts, thus he once visited a Wax Museum and then Mattress Factory and Museum of Contemporary Art, sharing the photos on his Instagram account and making fun of the statues at the exhibition. Among Luke's other hobbies one can see throwing axes which Luke is very good at. His fans, seeing him with an axe, often tell him he should have been in the "Vikings" series.
As for food habits, Luke loves sandwiches, sweet desserts and smoothies; he loves Japanese cuisine, Thai food and Vietnamese soup, and enjoys cooking oriental dishes himself; he often chooses healthy food to stick to his sports diet: chicken, broccoli, brussel sprouts, corn, etc. He started training and getting fit at the end of 2016, and shared his impressive results in July 2017, having lost a enough weight to look slim.
Luke is a cat lover and has a black-and-white cat at home whose name is Veda.
Luke is a movie lover, and has a collection of signed movie posters, among them "The Terminator" signed by Arnold Schwarzenegger, "The Alien", signed by Sigourney Weaver, and "Hellboy", signed by Ron Perlman, all having certificates of authenticity. One of his favourite movies is "Matrix", and has a poster with autographs of the main cast of which he's very proud, calling the poster his 'most prized possession'. His favorite TV show is "Breaking Bad".
Luke has a collection of coffee mugs; he's organized a coffee bar with a special fridge for milk and cream, and a cupboard for his coffee mugs of which he has dozens around the house.
He's very passionate about his appearance, visits salons and barber shops not only for a good haircut and beard cut, but also for a manicure and pedicure. Luke collaborated with the "CanYouHandlebar?" brand, advertising their products for beard and moustache oils, waxes, brushes, and combs.
Luke drives a Honda, and enjoys his car very much.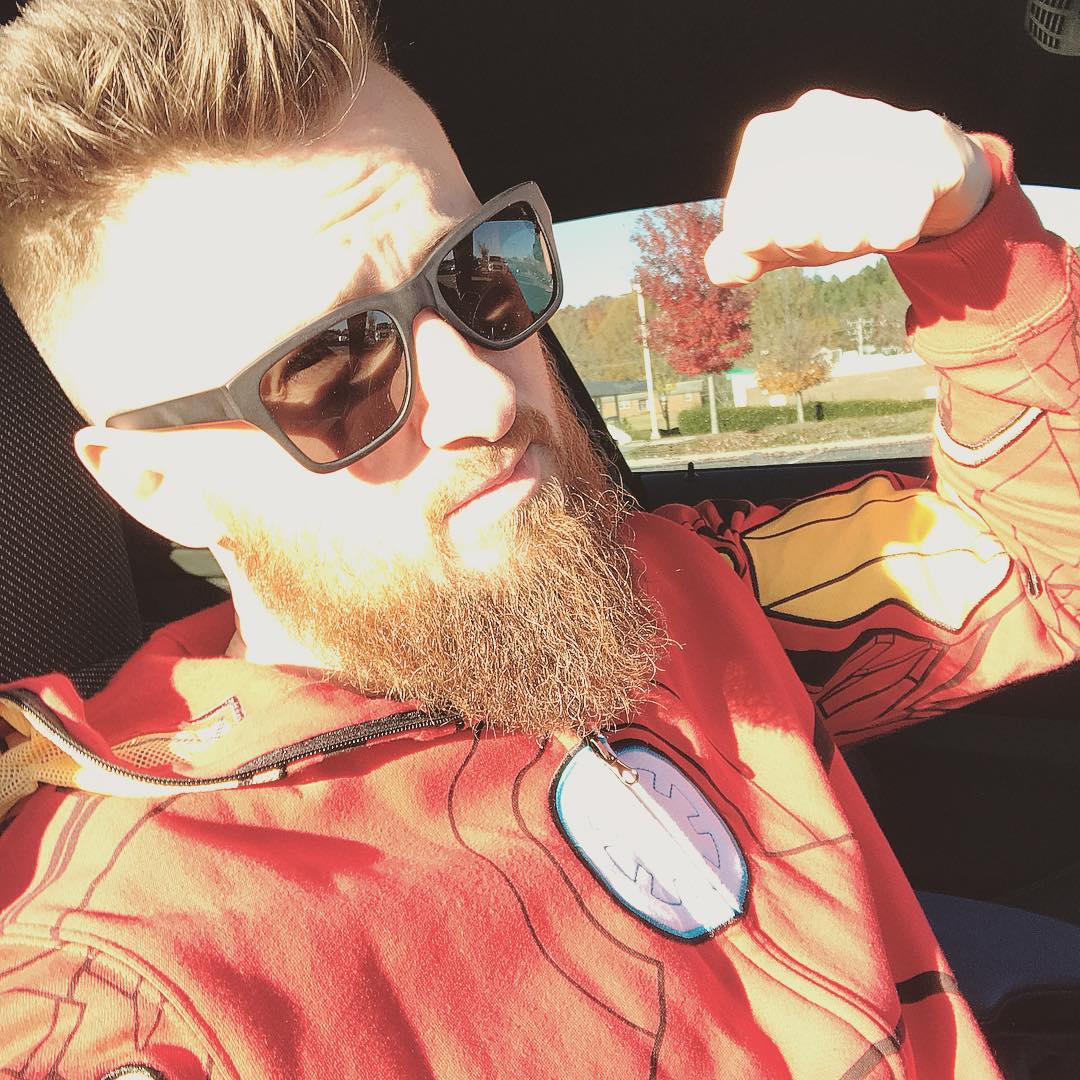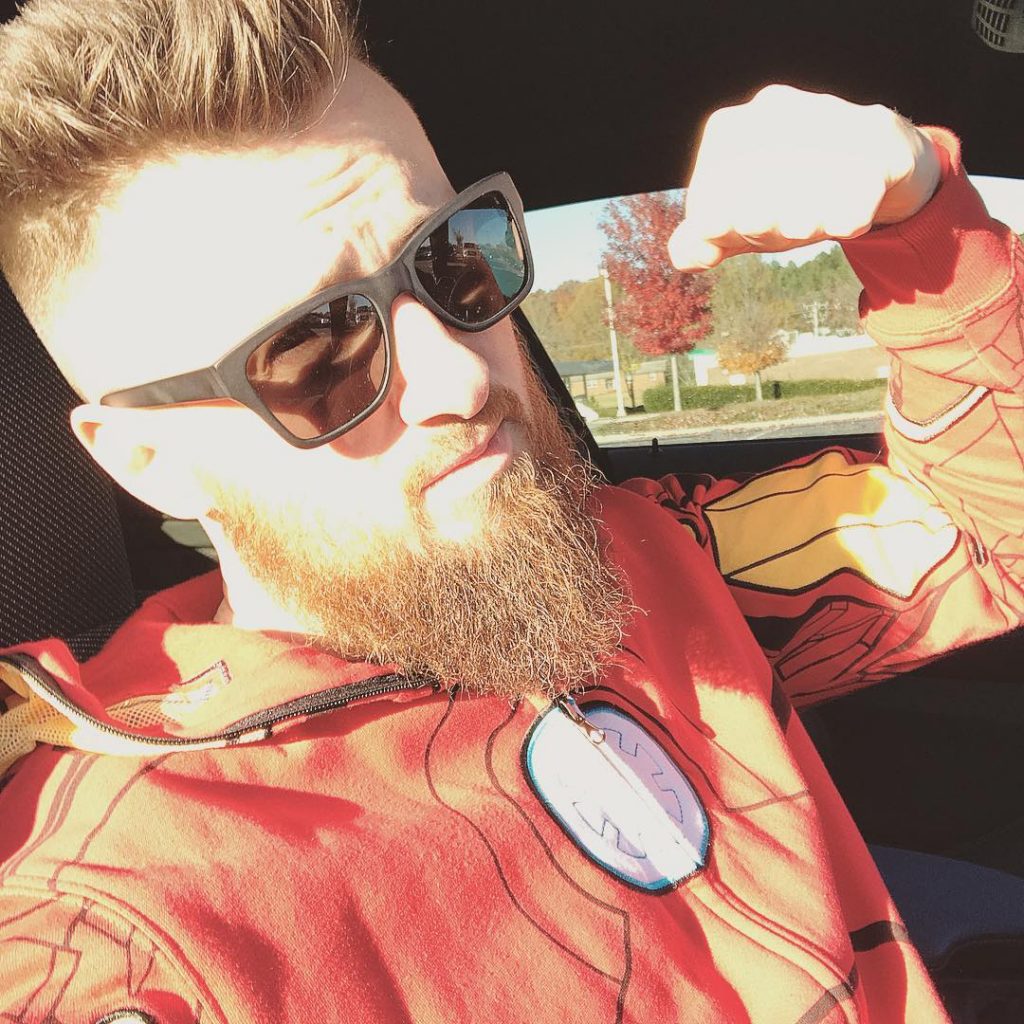 Ex-girlfriend: Delirious' sister
For a long time Luke's girlfriend was Delirious' sister. To be precise, they dated for almost eight years and then broke up for undisclosed reason. Luke and Delirious were always good friends, but for that period of time they were like brothers, spending time together as one big family.
Current girlfriend
As for the moment, Luke has been dating a girl named Genay Peavey for about three years; they live together and enjoy travelling together, and she now works as Luke's brand manager. Genay also claims herself to be the owner of the project called "The Recovery Planner", which according to the capture in its Instagram profile, is a planner which helps one to recover from anything, step by step; the project is still unreleased. Genay is obsessed with artificial nail designs which she changes very often, and is also passionate about tattoos, having many on her arms, shoulders, legs and feet – her father is a tattoo master – and taking nature pictures plus practicing Yoga.
Just crawled out out bed looking like fresh-squeezed hell. Let's hope your weekend is starting out better than mine ? pic.twitter.com/ttscaDzMKr

— Luke (@_CaRtOoNz) January 12, 2019
Appearance
Luke has a very noticeable appearance with a long thick beard which he takes care about; he has short brown hair and light-brown eyes. His height is 6ft 3ins (1.90m), but his weight is unavailable. He trains a lot, and consumes protein supplements.
Net worth
The main platform which Luke uses to earn money is YouTube. He has almost three million followers on his channel, and his net worth is authoritatively estimated at over $2.3 million. As for his monthly income, it is said to be around $20,000. He also has an account on Twitter on which he promotes his merchandise and announces new videos and activities to his almost 600,000 readers.