Chai Hansen from "The 100" Wiki: Girlfriend, Mom Sandra Hansen, Body, Martial Arts, Monkey King
• Chai Hansen is a Thai-Australian actor, athlete and dancer
• He has an interesting family background with Thai, Australian, and Chinese heritage
• He initially trained in track and field and dance before beginning his acting career
• He has been in "Mako: Island of Secrets", "The 100", and "Shadowhunters: The Mortal Instruments"
• He is 29 years old with a height of 5ft 10 inches (177 cm), brown hair, and charming eyes
Chai Hansen is the charming boy with a candid smile who played in "Mako: Island of Secrets" back in 2012, but also the werewolf from "Shadowhunters", seen now on screens. The actor gained the audience in both cases, despite the differences of age and type of movie. He is the perfect combo between well-built body, talent and hardwork.
But let's see what he hides behind the smile. Is it a romantic disappointment? Or maybe an interesting family history? Keep reading to find out his secrets.
Short Bio
Hansen is a Thai-Australian actor, athlete and dancer who has an interesting family background. He has a Thai father – Superut Romruen – and an Australian mother – Sandra Hansen. Moreover, he also has Chinese genes as his grandfathers were half-Chinese, so he represents a harmonious mix of multiculturalism. Or, as his mother once said: 'He's a representative of modern Asia and the modern world'.
He was born on 8th February 1989 on the tiny Thai island called Ko Samui. Not only is his DNA divided into pieces, but his first years of life, too. At seven years of age he left his birthplace with his mother and sister, Sandra Hansen, and moved to south-east Queensland in Australia. His mother's dream was to give to her children a better chance of education, and more opportunities for the future.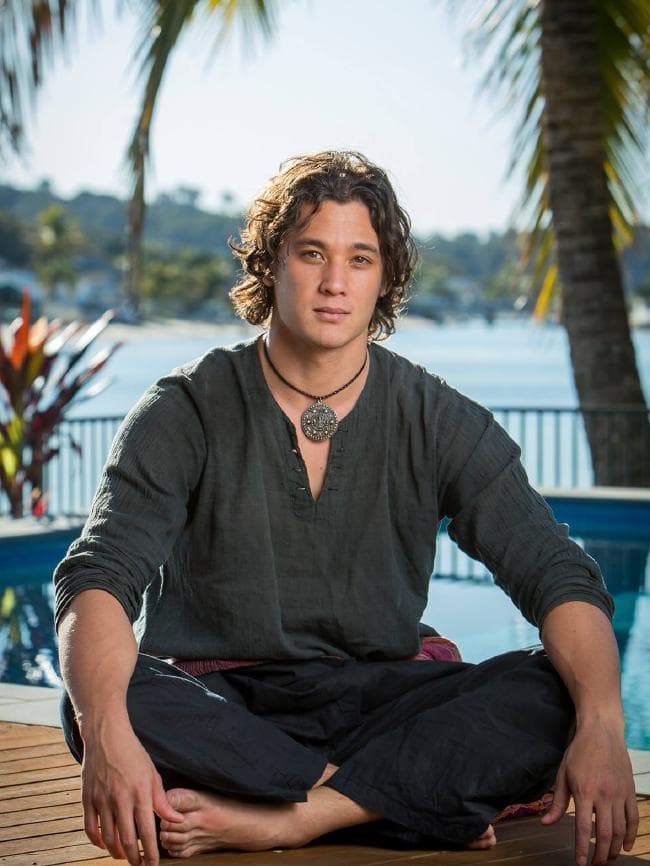 Was he an athlete and a dancer before being an actor?
Chai didn't go straight to acting and becoming famous for that. His first big passion was track and field – he trained a lot and broke triple jump records in Australia and Canada at. He was officially ranked as the second-best athlete at triple jump in Australia in 2006 at the schools' championship.
The next year he found another love – dancing. After just a few months of training, his impressive talent was discovered by the dancer Travers Ross, who helped him win a scholarship which he took up after matriculating with his HSC, and in 2011 gained a Diploma in Performing Arts. That was the moment when he actually discovered his passion for acting, too, and therefore he moved to Sidney to practice all the things he learned in the last years and maybe catch something new on the road. There he was protected and supported by William Sanchez, who highly appreciated his dancing skills and eventually got him a place in "Beat The Streets" street show.
Chai Hansen's acting appearances
He first appeared in 2012 in "Dead Moon Circus" in the role of Sean McComb, and in 2013 did the voiceover for his character in the second and the third movies from the same series. His first lead role in a television series was the merman Zac Blakely from the internationally known and loved series "Mako: Island of Secrets"., which project was like a launching platform for him. Due to the success of the Mako series, he got another important role in "The 100". While portraying Ilian in the fourth season of the series, his popularity rose considerably – the interesting fact about this project is that it was the first time when he was credited under a new name. Earlier in his career, he used his father's last name – "Romruen" – now he is mostly known as Chai Hansen after he chose to bear his mother's last name.
Not long after the farewell episode from "The 100", he received another role, playing a more fictional character – the Monkey King from "The New Legends of Monkey". The first season was aired in 2018 and the ratings are good – he had to prepare and train a lot for this role, as it is physically demanding, and so took martial arts classes in order to make the action-packed fight scenes Monkey is involved in, apparently not just a few. Recently, his mother visited the team on stage and was impressed by the amount of work and energy all the actors give to the project: 'They get picked up at 4 am and spend an hour in make-up, then return home after a long day filming and have lines to learn', said she in an interview.
Future projects, Net Worth
Hanson has signed a five-year contract with the producers from the Monkey, but he is open to other collaborations. His latest appearance was in "Shadowhunters: The Mortal Instruments" playing the werewolf Jordan Kyle. We are sure that it not much time will pass until we hear about him again, and that his estimated net worth of over $100,000 will certainly increase.
Body measurements
As a former athlete and a dancer, Chai is very fit and always keeps his body in shape. He is 29 years old now and looks great at his height of 5ft 10 inches (177 cm). He has brown hair and charming eyes.