Chase Hudson (TikTok) Wiki Bio, Dating Girlfriend, Family, Siblings, Age
Who is Chase Hudson?
Chase Hudson is a young American social media personality and internet celebrity, who is probably best known for his lip sync videos published on the popular social media service for sharing short video clips – TikTok. In addition, he is widely recognized and quite popular on Instagram and on YouTube as well.
Chase Hudson Early Life
Chase Hudson was born under the zodiac sign of Libra on the 11th October 2001, in Tucson, Arizona, USA, and is of American nationality and white ethnicity. He is one of three children in the family of Cole and Tamora Hudson, and although a native of Arizona, he was raised in Stockton, California. Further details about Chase's family's background have never been released to the media to this day, except that he has two sisters named Marlena and Karissa. There isn't any information available about Chase's educational background either.
Chase Hudson Career
Chase began his career by uploading short video clips on the live stream video sharing service YouNow. As his uploads quickly became viral, he switched to muscial.ly and later TikTok, where he gained even more popularity – his TikTok account – @lilhuddy currently numbers over 1.7 million fans, and his videos have been viewed over 108 million times. Chase Hudson aka 'lilhuddy' has also collaborated with several other popular TikTok 'musers' such as 'autumnkuriger', 'sarahemes' and 'legallylayla' to name a few. Since May 2018, Chase is also active on YouTube, on which his eponymous channel counts nearly 60,000 subscribers, while his videos have amassed a total of 320,000 views.
Chase Hudson has also stepped into the limelight with his official Instagram account – @xlilhuddy – which has been followed by more than 530,000 fans.
Additionally, Chase is also associated with the popular social media talent agency Vivid Management, and is about to appear at the Lights Out x Christopher's Birthday Bash part in Costa Mesa, California, on the 13th April 2019.
Chase Hudson's Personal Life
Despite his huge popularity and his frequent on-camera appearances, Chase Hudson has somehow managed to keep his personal life quite private, as there aren't any available details about his romantic connections or love affairs. However, at just 17 he has allegedly been dating a colleague, another TikTok sensation Mary Kate.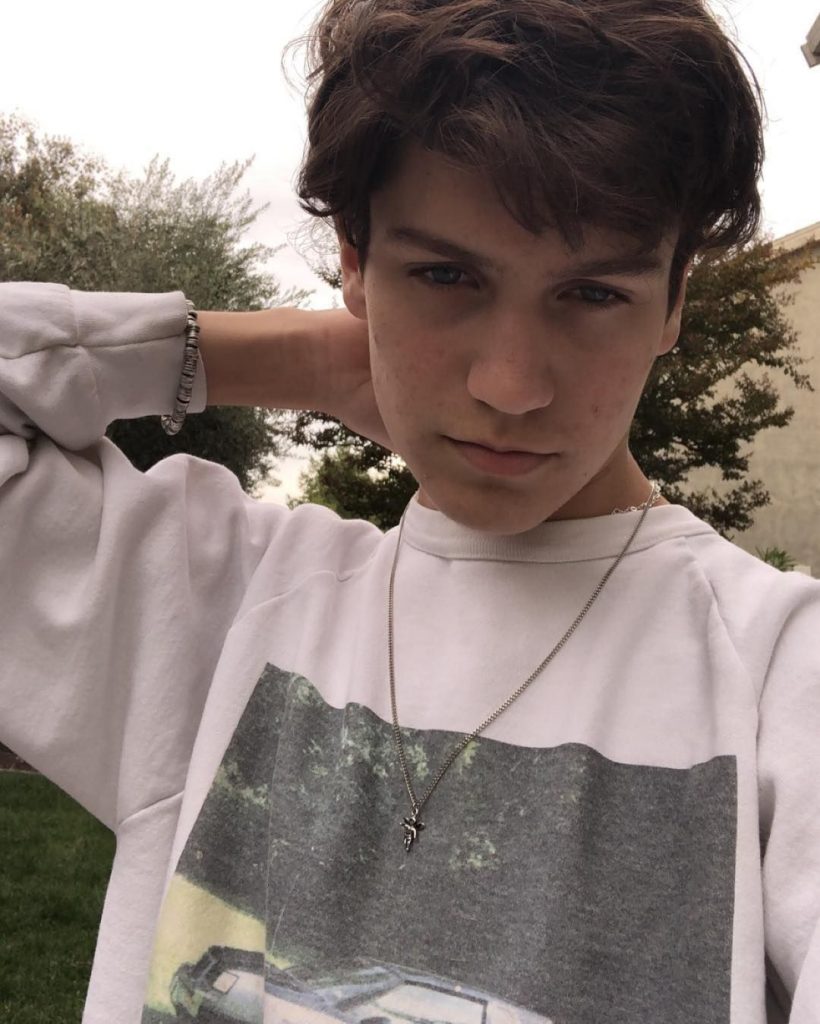 Chase sports a slim and toned physique, standing 5ft 7ins (1.70m) tall and weighing around 141lbs (64kgs), which in addition to his dark and messy hair and blue eyes, makes his appearance quite attractive. He has a distinctive style and sense for fashion, and can often be seen wearing ripped jeans, sweaters and hoodies, complemented with rather unusual accessories.
Chase Hudson's Net Worth
Have you ever wondered how much wealth this 17-year-old American internet celebrity has accumulated so far? How rich Chase Hudson is? According to sources, it is estimated that the total of Chase Hudson's net worth, speaking as of early 2019, revolves around the sum of $100,000 which has been acquired primarily through his endeavors in the digital world and popular social media networks, where he's acquire quite a dose of fame, with a fan base of nearly three million fans altogether. He also owns a line of personalized clothing apparel, which has certainly increased his wealth too.