Colin Ford (aka Young Sam Winchester on 'Supernatural') Wiki Bio, family
• Colin Ford was born in Nashville, Tennessee and moved to Los Angeles, California to pursue his acting career.
• He attended Campbell Hall School and Oaks Christian Online High School.
• He has had roles in movies such as "Sweet Home Alabama" and "We Bought a Zoo" and in TV series such as "Supernatural" and "Under the Dome".
• He has dated actresses Isabelle Fuhrman, Chloë Grace Moretz, and Jasper Polish.
• His net worth is estimated to be around $400,000.
Colin Ford is one of those actors who start filming in series and movies from an early age, and the fame grows with a snowball effect as they become adult actors. Some people who act in their childhood then switch to other professions losing their interest fin acting, but Colin Ford is not the case. He keeps working hard to get as much from the profession of an actor as he can, enjoying his life and career. Let's find out more about his childhood, family, girlfriends, net worth and upcoming roles.
Family
Colin Ford was born on 12 September 1996, in Nashville, Tennessee USA. There's no information about Colin's father, but his mother's name is Kim Ford, and she is a finance director at School Nutrition Plus, a premier food service company for schools, from 2015. Information on the company's website says that she has extensive experience in accounting and financial operations management in the spheres of healthcare and entertainment. She has a love of sports which she's passed on to her son, Colin which he says he's grateful for. Colin has a younger brother whose name is unknown.
He's also very close to his grandfather, who recently turned 100, and capturing a photo of the birthday man with the words: 'I wish you all knew him like I do, he's the best man I've had the chance of knowing and I hope to be half the man he is as I get older'.
Early years
Colin spent his early years in Nashville, but after he got his first job as a model in printed advertisements of  a regional (and then national) retailer in Atlanta, Georgia, he had to move to Los Angeles, California, to develop his career. He was only four years old when he set foot on this path, and was lucky to get his first role in a movie when he was five years old, in a scene of "Sweet Home Alabama" (2002) playing the role of Clinton Jr., a romantic comedy with Reese Witherspoon, Josh Lucas and Patrick Dempsey, being the first movie the New York authorities allowed to be filmed after the tragedy of 11 September 2001, which was successful, though the movie didn't win any awards. His parents helped him to follow his dream, and Colin got his next roles one by one. He next appeared in the comedy "Dumb and Dumberer: When Harry Met Lloyd" (2003), playing Lloyd, then had several roles playing young versions of the main characters, such as in "Moved" (2004) as the young Noel Franks, in "Smallville" as Evan Gallagher at the age of seven, then had a voice-over role in "Family Guy", the popular TV series. In 2004 he appeared in another movie called "The Work and the Glory" in the role of Matthew Steed.
In 2005 Colin got a job offer for the Steven Klein shoot for W Magazine. He participated in a commercial photoshoot of Angelina Jolie and Brad Pitt, in which the "Mr. and Mrs. Smith"  co-stars played a family couple with five boys, with Colin one of them. The pictures were released on 1 July 2005 and advertised luxury clothes and jewelry of such brands as Alexander McQueen, Cynthia Wolff, Eres, Alberta Ferretti, Cartier etc.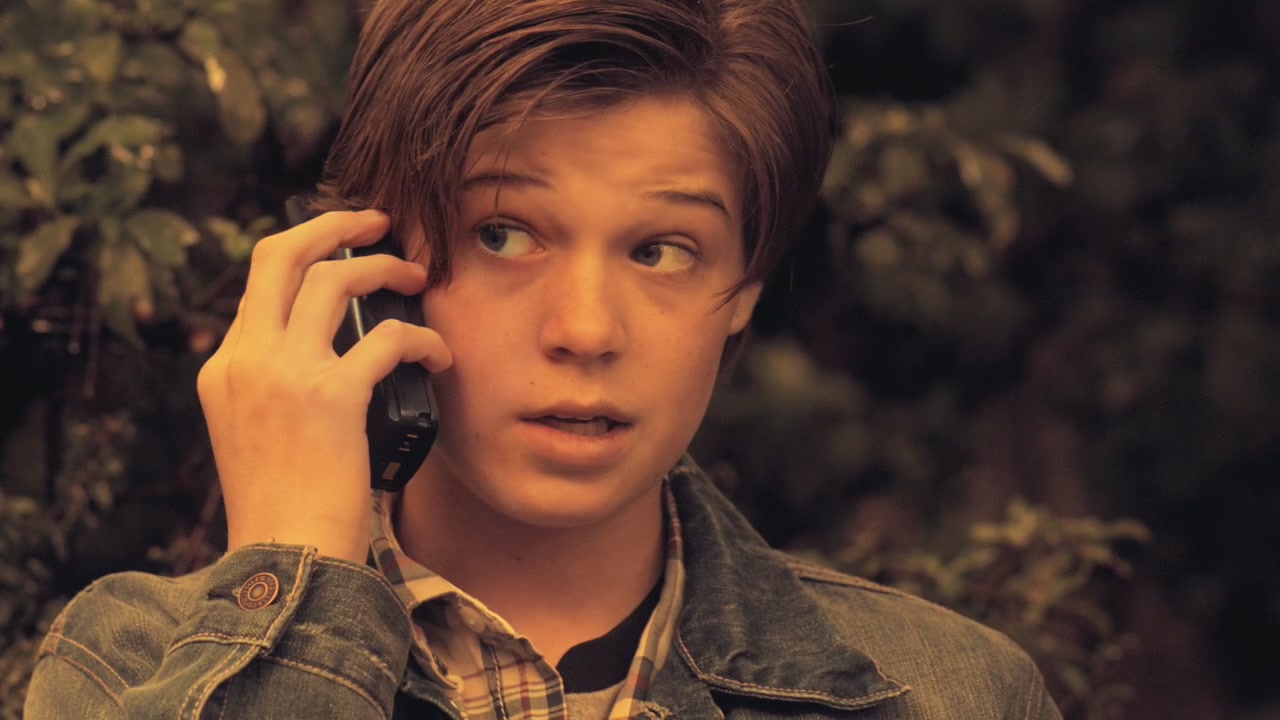 Education
Though Colin was very busy with his work from an early age, he had to attend school, and entered Campbell Hall School (an Episcopal day school) in Los Angeles, California.  It was hard for Colin to study and to work at the same time since job offers kept on coming, so in June 2015 he switched to Oaks Christian Online High School, a college-preparatory private coeducational organization, with among the notable alumni were several professional football players: Jimmy Clausen, Casey Matthews, Marc Tyler; models Sofia Richie and Dree Hemingway; and young actors Paul Butcher, Jaden Smith and Preston Strother.
Further career
Colin continued his career participating in the popular TV series "Supernatural", playing young Sam Winchester in several episodes of the legendary series which was on TV for 11 years 2005-2016, and gained the hearts of the audience from the first season, the reason why Colin's fans say that he will always be "the young Sam Winchester", which also gave Colin his first Young Artist Award in Best Performance in a TV Series – Recurring Young Actor 13 and Under category in 2010.
Colin also played in such series as "Close to Home" (2005-2007), "Journeyman" (2007) and "Private Practice" (2007-2013), plus had several voice-over roles in "American Dad!" (2005-now), "The Ant Bully" (2006) and "Christmas Is Here Again"(2007).
In 2006 Colin starred in Uwe Boll's movie "In the Name of the King: A Dungeon Siege Tale" as Zeph, which despite the poor reputation of Uwe Boll's movies didn't do Colin's reputation any harm, and he kept getting offers. While still young, he starred in children's and family movies such as "Jack and the Beanstalk" (2009), which gave him another Young Artist Award in Best Performance in a DVD Film – Young Actor category, "We Bought a Zoo"(2011), and "Disconnect" (2012). Later Colin starred in such movies and series as "Under the Dome" (2013-2015), "Every Day" (2018) and "Captain Marvel" (2019), in which he played Steve Danvers.
Personal life, girlfriends, current relationship
Colin has always been surrounded by girls seeking his attention, only having to choose one. The first girlhe was in relationship with from 2012 to 2013 was Isabelle Fuhrman, his childhood friend, who is now also a famous young actor who played in such popular movies as "Orphan", where she had the role of Esther, "The Hunger Games", where she played Clove, and a TV series "Adventure Time with Finn & Jake" where she had a voice-over role of  Shoko.
Colin then dated Chloë Grace Moretz, an American actress, model and singer, for almost a year, who then broke up with him for Brooklyn Beckham, David Beckham's eldest son.
Afterwards, Colin apparently found happiness in the arms of a girl named Alex (her surname is still unknown for the audience), from 2014 and spent more than two years together, sharing romantic photos from their datings (which Colin later deleted from his Instagram). In May 2017 it was obvious that Colin and Alex were no longer dating, since Colin started posting photos with his new girlfriend, Jasper Polish, an actress and model who has appeared in such movies as "The Astronaut Farmer", "Big Sur", and "90 Minutes in Heaven".
Hobbies and passions
Colin is a dog lover, having two dogs – Rocky and Nala. As for his hobby, he enjoys ax throwing in the team of his friends, often spending weekends together when they have spare time. He is also a collector of Jordan shoes; he has more than 10 pairs of that brand and seems obsessed with them. His favorite movie is "Stand by Me" (1986), and his favorite series and shows "Breaking Bad", "Parenthood" and "Revolution". Colin sometimes works as a DJ, his nickname is C-4.
#NewProfilePic pic.twitter.com/O4iMchHZKT

— Colin Ford (@colinfordactor) October 5, 2017
Appearance
Colin has short fair hair and blue eyes, is 5ft 6ins (1.69 m) tallh and his weight is around 143lbs (65 kgs). He has a slender body which he keeps fit by spending a lot of time in the gym, and is obsessed with demonstrating the results of his workouts, posting an endless number of pictures of his naked abs.
Net worth
Though Colin has worked hard since his childhood, his net worth is said to be only around $400,000, accumulated from his acting career, voice-over roles and modelling. He signed a contract with apparel brand Karl Kani, participating in its promotional photoshoots and posting the pictures in his Instagram account, on which he has almost 200,000 followers. His girlfriend Jasper is also signed to Karl Kani's child brand The Pretty Little Thing, which is a line of women clothes and lingerie. Colin and Jasper are often suspected of faking their relationship for the sake of hot pictures in the apparel they advertise, since it's really hard to divide their personal and sponsored photos as they look pretty much the same.