Did Jonny Harris leave "Murdoch Mysteries"? His Wiki: net worth, career, single, rumors, still standing
• Jonathan Harris is an actor and comedian born in Corner Brook, Canada in 1975.
• He is best known for his roles in television series like "Still Standing", "Murdoch Mysteries" and "Hatching, Matching and Dispatching".
• His net worth is estimated at $1.5 million, earned through his successful career in the entertainment industry.
• He has worked on writing, producing and acting in films, television series and web series.
• He is active on social media, sharing content from his projects and daily thoughts.
Who is Jonny Harris?
Jonathan Harris was born on 22 September 1975, in Corner Brook, Newfoundland and Labrador, Canada. He is an actor and comedian, best known for his roles in various television series, such as "Still Standing", "Murdoch Mysteries", and "Hatching, Matching and Dispatching". He's also appeared in several films such as "Grown Up Movie Star", "Moving Day", and "Young Triffie".
TONIGHT on an all new Murdoch Mysteries – Crabtree becomes embattled with Russian chess grandmasters who stole an iconic…

Posted by Jonny Harris on Monday, March 5, 2018
The Riches of Jonny Harris
How rich is Jonny Harris? As of early-2019, sources estimate a net worth that is at $1.5 million, earned largely through a successful career in acting. He's also worked behind the scenes in the entertainment industry, such as in writing and producing. As he continues his endeavors, it is expected that his wealth will also continue to increase.
Early Life and Career Beginnings
Very little information is known about Jonny's past, childhood, education, family, and how he came to aspire to a career in acting, but it's known that he got a lot of experience at a young age, working summers at the Rising Tide Theatre located in Trinity Bay, Newfoundland. For five consecutive summers, he developed a strong interest in performing while working there, eventually leading him to gain his first role on television.
In 2006, he played the role of Troy Furey in "Hatching, Matching and Dispatching", a Canadian sitcom following the family who own a combination of an ambulance, wedding and funeral business, with other cast members including Sherry White, Mark McKinney and Joel Thomas Hynes. During the same year, he also made his film debut in "Young Triffie", a dark comedy written by Ray Guy and based his original play entitled "Young Triffie's Been Made Away With". The film follows an unpopular Newfoundland Ranger, who is sent to investigate a case of sexually assaulted sheep in a fictional outport.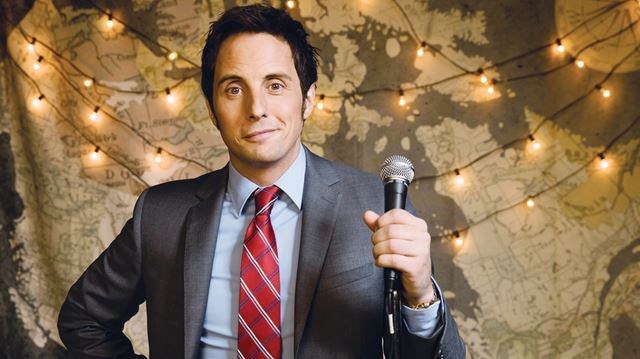 Career Prominence
In 2008, Harris was cast in one of his most notable roles, as Constable George Crabtree in "Murdoch Mysteries". The series featured him alongside Yannick Bisson who plays William Murdoch, a police detective working in Toronto during the turn of the 20th century, and is based on the "Detective Murdoch" novels written by Maureen Jennings. He's been with the series since its inception, and has been nominated for two Gemini Awards for his performance.
The show allowed him to still have time to take on other projects, and he worked on his second film entitled "Grown Up Movie Star", written by Adriana Maggs. He also forayed into writing comedy, collaborating with The Halifax Comedy Fest as a writer for three years. He also served on the CBS Winnipeg Comedy Festival, and was a department runner for "Brighton Rock". He had a lot of projects in 2011, mainly guest roles in shows such as "Republic of Doyle" and "Comedy Now!", and also reprised his role as George Crabtree in the web series "Murdoch Mysteries: The Curse of the Lost Pharaohs", spearheading many other Murdoch web series.
Later Projects
In 2012, Jonnny was cast in the film "Moving Day", a comedy film centered on four men who work for a moving company and the mess that they have in both their professional as well as their personal lives. He then appeared in "Murdoch Mysteries: The Murdoch Effect" before working on an episode of "The Listener".
In 2015, he had another big project as the writer, producer and host of the show "Still Standing", the hybrid comedy and reality series following him as he travels to a small financially struggling community, where he performs a stand-up comedy show for the town's residents, integrating his newfound knowledge of the town. The show has been nominated numerous times, and has won two Canadian Screen Awards, one for Best Host in a Lifestyle, Talk or Entertainment News Program, and the other for Best Writing in a Factual Program or Series. One of his latest projects is 2018's "Frankie Drake Mysteries", appearing in the pilot. He also continues as a cast member of "Murdoch Mysteries".
Personal Life and Social Media
For his personal life, not a lot of information is known about Harris' romantic relationships, about which he is rather secretive, but mentioned in an interview that he has dated a lot of women in his life, although sources state that he is single. In 2015, he was romantically linked to "Murdoch Mysteries" co-star Georgina Reilly who played the role of Dr. Emily Grace from the fifth to ninth season of the show. However, the rumors proved false as she had already been married since 2013.
Similar to numerous actors and comedians, he is highly active online through accounts on social media sites, including on Twitter and Facebook, on which he talks about some of his recent endeavors, along with daily thoughts. He also posts a lot of comedy content, and promotes some of his recent projects. He's recently posted a lot on his show "Still Standing", which has gained him a lot of attention thanks to the positive nature of the show. Videos of him doing stand-up and clips of him from the show "Murdoch Mysteries" can also be viewed online through his accounts, or through the video sharing website YouTube.