Djarii (Twitch) Wiki Bio, body paint, boyfriend, family, net worth, age
• Djarii is a Twitch and Instagram personality, famous for her body art works and being a member of the esports organization, Method.
• She gained a BTECH degree in Art and Design from South Downs College in Portsmouth and Edinburgh College in 201•
• She started streaming after a friend suggested it, and joined Method after visiting an esports event.
• She is in a long-term relationship with Method's founder, Scott "Sco" McMillan.
• She streams body art, and is estimated to have a net worth of over $3 million.
Djarii is a Twitch and Instagram personality, who is famous for her body art works and for being a member of one of the most successful esports organization, Method. She's now also well-known for being the long-term girlfriend of Method's founder, Scott "Sco" McMillan. We're here to collect all the current information that is known about Djarii.
Early life, family, education
Sophia "Djarii" White was born on 25 July 1994, in Great Britain. Not much is known about her early years, even less about her parents though they are both alive – Sophia mentioned in one of her videos that her father helped her to sharpen her pencils when she started drawing. Sophia hasn't mentioned whether she has any siblings or not.
Sophia ultimately gained a BTECH degree in Art and Design from South Downs College in Portsmouth, and then from Edinburgh College in 2015. She always took art classes seriously, and was very devoted to what she did. However, she admits that she didn't ever consider herself as a very talented artist, and just kept working on a daily basis improving her skills and learning more about art and drawing. A couple of years later Sophia became interested in make-up and started developing in this direction; there's no information about any courses she took, though Sophia mentioned she enjoyed watching other make-up artists streaming their working process or studying YouTube videos and tutorials on this theme. She now lives in Edinburgh, Scotland.
Streaming and getting into Method
Djarii says that she started playing computer games when she was very young; the first games she played on her first PC were "Pajama Sam 3" and "Crystal Rainforest", later switching to MMORPG games, the first being "Rohan. Blood feud", which got her into playing "World of Warcraft".
In one of her videos on YouTube Sophia shared how she started streaming; she said she spent a lot of time playing various games with her friend Jonas (who is now known as Hamoth, a video editor for Method), and they made several YouTube videos but never thought about streaming. Another friend, Kevin, was watching Twitch and suddenly said: 'You could do that", so Sophia started playing and streaming "World of Warcraft", doing casual things, then playing all kinds of games from Minecraft to Lineage, sometimes streaming for more than 8-10 hours continuously. As for her favourite streamers, Djarii admits she respects the streamers who are not just streaming games, but different kinds of content, and have a certain purpose; she claims Okaydrian to be one of her favourites since he has a special approach to playing games, such as educational streams called "Video Games Taught Me", where he tells what one can learn playing video games.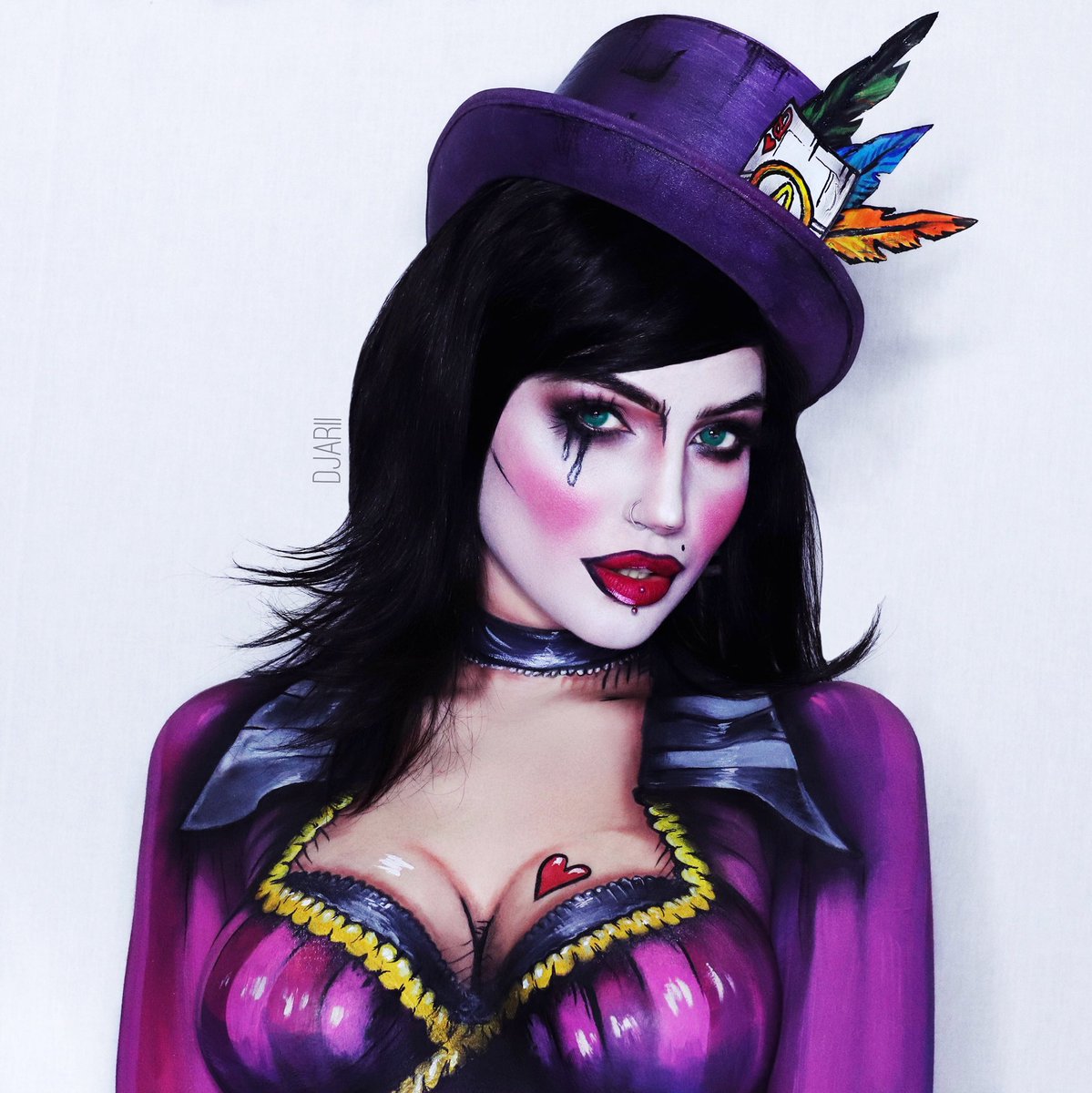 Once she visited an esports event, DreamHack and met the members of Method guild there. The team offered Djarii to stream under their tag, and she couldn't be happier: 'Having followed the Method World of Warcraft guild since I was 15 years old, I was stoked to have met some of its members six years later at Dreamhack. I am incredibly honored to be a part of such a successful and well known name in gaming," she said. So a lot of people began watching her streams hoping to witness the legendary Method raiding, but were often disappointed. Sophia wasn't raiding with the main roster of the guild, and constantly repeated: 'I'm not raiding with Method, I'm only here to entertain', trying to attract new viewers and followers with fancy hairstyles (she had the right side of her hair blonde and the left dyed black) and funny jokes. She often received advice on her gaming style, but Sophia's reaction was always point-blank: 'I've been playing WoW for several years for now, I know better what I do'. However, Sophia couldn't get to the main roster of the guild for a long time, as it had a lot of more technically strong people who hold their places confidently. While she was streaming, her boyfriend used to show up in the background, but in a couple of months they broke up.
Dating Sco
In 2015 Scott "Sco" McMillan, the founder of Method, asked Sophia for a date, and they haven't parted since then. No one knows the details of the start of their relationship, but it's a well-known fact that Sco had a girlfriend, and Sophia was not alone; however they finished their previous relationships to unite in a couple. Sco's ex-girlfriend, Christina Frederiksen is a blogger who writes about psychology. One can see she's keen on posting on complicated relationships. The questions she writes about relate to break-ups similar to "Why do some people go for people who are already in a relationship and what do they want?" and "Can you build a healthy relationship with someone you have stolen' from someone else?" One can think she may still suffer from a painful break up with Sco.
Sco is a well-known personality in the gaming world; his fans went a long way with him, witnessing him raiding, gaining weight and mastering his body-building career. One can remember Sco as a mild-mannered thin guy who rarely spoke while streaming, only declaring the commands for members of the roster; then protein cocktails made their way, and Sco started streaming his gym routine, encouraging other gamers go for real life sports.
Here's the two looks I did on stream recently! ☺️☺️ hope you guys like 'em. Which is your fave??

Find more on my IG https://t.co/npmWY8pm85 pic.twitter.com/Umg0EqS9IU

— djarii (@Djari328) March 22, 2019
Sco's "World of Warcraft" guild Method changed into an esports organization managing teams of various gaming genres, though their main success is still reached in "WoW". Method started their invincible raiding in 2015, and achieved all first kills of the main bosses in all game contents and addons. Their participation in "The Race to Worldfirst" looked legendary at first, but then some gamers suspected Method in collaborating with Blizzard, which could mean they are sponsored by the game publisher to promote the game, and their recent success has nothing to do with fair play. Method is always provided with the best gaming gear, special space for raiding ,and hundreds of people who help them achieve wins. Nevertheless, Sco gets his Method to new heights with a faithful team of his old friends who eventually became world gaming stars.
Since Sco is keen on sport, he took Sophia to the gym where he showed her how to do exercises and watched her carefully when she did them. There were only a couple of vlogs where they both went to the gym, because Sophia lost interest to active sports and stopped vlogging about them. The couple shares all the details of their relationships willingly, posting photos and vlogs from their dates and trips. Sophia is said to be in good relationship with Scott's mother – they baked a cake together for the celebration of the latest Method world first. Sophia and Sco took part in the Unibet poker championships together, they both feel a strong interest in poker, and are planning to develop this direction among Method.
Body Art Streaming
Djarii was once taken to the raiding roster of Method, but left it in a short period of time and switched to a very different sphere – body art. She started streaming painting on herself, mainly cosplaying famous gaming and movie characters. Later she participated in the FaceAwardsUK makeup contest, and was a runner-up in 2016. The same year she took part in the Breast Cancer Twitch Charity event, raising money for women who suffer from breast cancer.
Sophia admits that if not streaming she could probably be a content artist for a video game, or a freelancer or a makeup artist, and would go to university for an illustration course. What she benefited from streaming is finding a gaming  community which became her family; when she first visited Dreamhack in 2014, she felt that she was no longer alone. She feels strong inspiration when someone writes to her saying that he/she feels better watching her streams. In such moments she feels herself at her place.
Streaming body art made it hard for her to deal with sexual harassment which constantly takes place after she posts her photos on her Instagram. Sophia almost cries, she's tired of the guys sending her pictures of their 'intimate body parts', trying to get some attention from her.
Appearance
Djarii became famous for her courageous hairstyles; from the very beginning of her Twitch career she had her long hair parted into two sections – the left side was black and the right side was ash-blonde. She has green-grey eyes, and is well-known for her piercings in the center of the lower lip and the nose. She has at least one tattoo on her left ribs which can be seen in a photo she posted on her Instagram. There's an indistinguishable word or phrase written with a narrow font. There's no information about her precise height, weight or vital statistics.
Personality
Sophia is very open and friendly to her fans. She often shares her thoughts and emotions with her followers, answers direct messages (if they are polite) and interacts with her audience. She loves eating well, not thinking about gaining weight; she or Sco often post photos of their meals and they are always big and meaty – she hates mashed potatoes. Sophia is a passionate traveller, she enjoys every trip she has whether it's a vacation or a working one.
Net worth
Sophia has several platforms on which she makes money – her Twitch channel has over 320,000 followers with more than 600 subscribers, her Twitter account has almost 65,000 followers, and her Instagram account more than 85,000 fans. Her overall net worth is authoritatively estimated at over $3 million, as of early 2019, which would seem very likely to grow, assuming that she continues her career successfully.