Does Swae Lee of Rae Sremmurd come from Guatemala? His bio, worth, age, height, parents, family
• Swae Lee is one half of the hip-hop duo Rae Sremmurd, alongside his brother Slim Jxmmi.
• He was born in Inglewood, California and grew up in Tupelo, Mississippi.
• His career began with the hip-hop band Dem Outta St8 Boyz, before he and his brother formed Rae Sremmurd.
• He has a net worth of $6 million and is active on Instagram, Twitter, and Facebook.
• He stands at 5ft 8ins and weighs 145lbs.
Who is Swae Lee?
Swae Lee has come to prominence in recent years as one half of the hip-hop duo Rae Sremmurd, which includes his brother Slim Jxmmi. They have released three studio albums, including their debut "SremmLife" in 2015, and "SremmLife 2", both achieving platinum status in the USA.
So, do you want to find out more about Swae Lee, from his childhood to most recent career endeavors, and his personal life? If yes, then stay with us for the length of this article as we are about to bring you closer to this prominent musician.
Is Swae Lee From Guatemala?
The short answer to this question is no. Swae and his brothers are African American, and were born in Inglewood, California, though they grew up in Tupelo, Mississippi. Both would later move throughout the US, but we will talk about that a bit later.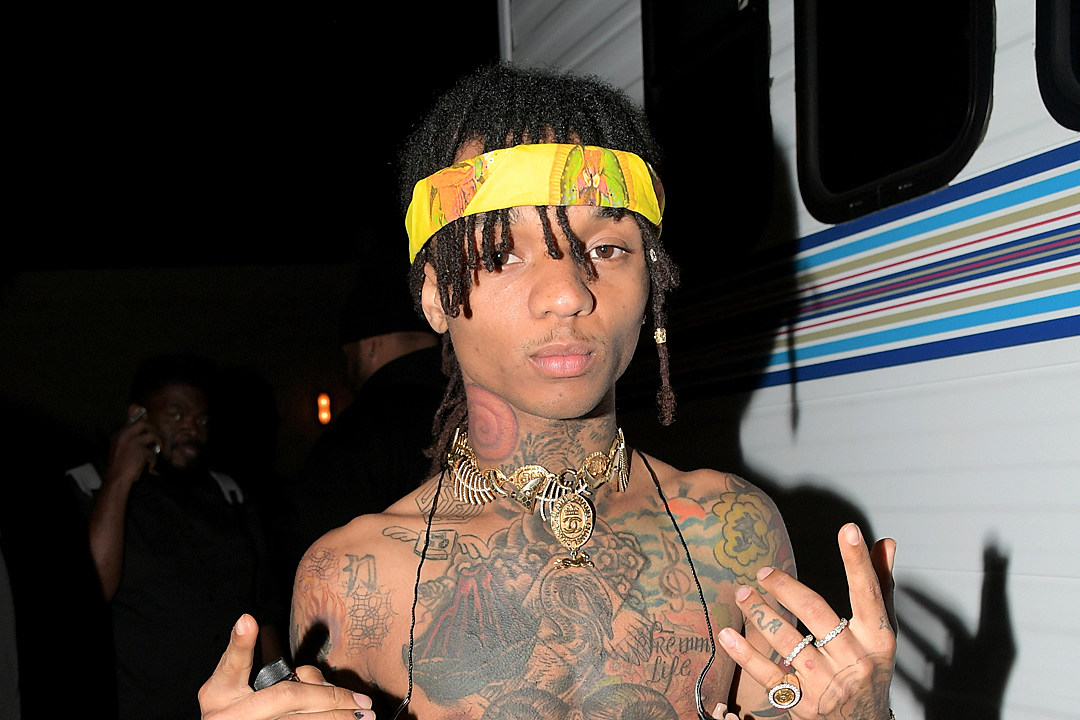 Swae Lee Bio: Age, Early Life, Parents, and Education
Born as Khalif Malik ibn Shaman Brown on the 7th June 1995, Swae is the son of a single mother Bernadette Walker; in addition to Slim Jxmmi, he has another brother, Michael; his biological father left the family just a couple of years following the birth of the third child. His mother, Bernadette, was working in the army, which meant frequent moves, as a result of which, the brothers lived in Mississippi, Maryland, and Texas, before they finally settled in the somewhat notorious Ida Street housing projects of Tupelo, Mississippi.
Career Beginnings
During his high school years, he and his brother became interested in music, and it was then that they took their first steps towards music by creating a hip-hop band named Dem Outta St8 Boyz, consisting out of Jemiah Middlebrooks, who called himself Lil Pantz, while Swae was then Kid Krunk, and his brother was CaliBoy. They struggled to make an impact, and after a few singles they fell apart, with Swae and his brother later on forming the duo Rae Sremmurd – their label EarDrummers spelt backwards.
#1 song in the world ?? now that's love @PostMalone rockstars pic.twitter.com/W6ZrNsmYIE

— Swae Lee Lee Swae (@goSwaeLee) January 14, 2019
Rise to Prominence
Before their first album came out, the duo introduced themselves through the song "No Flex Zone", which eventually achieved double platinum status, and then released two more singles – "No Type", which became even more popular and "Throw Sum Mo", which was a duet with Nicki Minaj and Young Thug. Swae and his brother were becoming more popular, and their first album came out in 2015 entitled "SremmLife", which also achieved platinum status while topping the US R&B/HH and US Rap charts. Since then, they have continued quite successfully, releasing two more albums – "SremmLife 2" in 2016, and "SR3MM" in 2018.
In addition to working with his brother, Swae has also been focused on a solo career, but has collaborated with other musicians too, including The Weekend, French Montana, Ellie Goulding and Post Malone among others. Furthermore, Swae Lee has also released his debut solo album "Swacation" in 2018, though it was initially to be released back in 2016. As his solo career gained momentum, rumors of him leaving Rae Sremmund appeared online, of which he also twitted recently, stating that he is never going to leave this hip-hop duo.
Swae Lee Net Worth
Since launching his career, Swae has become quite popular, after he and his brother initially struggled to get things going. Nevertheless, they are now counting their wealth in millions. So, have you ever wondered how rich Swae Lee is, as of early 2019? According to authoritative sources, it has been estimated that Lee's net worth is as high as $6 million, which is quite impressive, don't you think? Undoubtedly, his wealth is bound to increase in the upcoming years, assuming that he successfully continues his career.
Swae Lee Personal Life, Dating, Girlfriend
When it comes to his personal life, Swae hasn't been very open when it comes to sharing details about his life behind the scenes. Nevertheless, we have managed to discover some interesting details – Rae has been in an on-again-off-again relationship with model Marliesia Ortiz, but we have no information if the two are dating at the moment, though Marliesa went public when she accused Blac Chyna of performing oral sex on Swae.
Swae Lee Internet Fame
Swae Lee has become quite popular on social media platforms, especially Instagram and Twitter, though he is also no stranger to Facebook. His official Instagram page has over 5.5 million followers, with whom he has shared videos of his performances, among other details such as pictures from various events from his everyday life. Swae is also quite active on Twitter, with over 635,000 followers, posting his most recent career endeavors, including the new album "SremmLife 3". You can find Swae on Facebook as well, on which he has just over 165,000 followers.
So, if you aren't already a fan of this prominent musician, then this is a perfect opportunity for you to become one, just skip over to his official pages, and see what he is up to next, both personally and professionally.
Swae Lee Height and Weight
Do you know how tall Swae Lee is, and how much he weighs? Well, Swae stands at 5ft 8ins, which is equal to 1.73m, while he weighs approximately 145lbs or 66kgs. He has dark brown eyes and black hair, while other statistics are yet to be discovered by the public.