Drake's ex-girlfriend Bernice Burgos Bio: Daughter Ashley Burgos, Net Worth, Surgery, Boyfriend, Arrested, Dating
• Bernice Burgos is an internet celebrity and social media personality, best known for being the alleged ex-girlfriend of the triple Grammy Award-winning musician Drake
• She is an Instagram model with over 4.7 million followers, entrepreneur, and model
• She has a daughter, Ashley, and is a young grandmother
• She has had plastic surgery and is active on social media networks
• She was arrested in 2010 on charges of child abuse
Who is Bernice Burgos?
Bernice Burgos is an internet celebrity and social media personality, but who is probably best known for being the alleged ex-girlfriend of the triple Grammy Award-winning musician Drake. Apart from this, she has also found fame as an Instagram model – her official account @realberniceburgos currently counts more than 4.7 million followers, and in addition is an entrepreneur widely recognized for her line of Bold & Beautiful sleepwear. Bernice also has a history of being romantically connected to several high profiled celebrities.
Bernice Burgos' Early Life
Bernice Burgos was born under the zodiac sign of Aries on the 17th April 1980, in New York City's borough of The Bronx, USA, and apart from American nationality, she is also of Puerto Rican ancestry as well as of African-American ethnicity. Further details about her family's background as well as her educational history haven't been publically disclosed to the present day.
Bernice Burgos' Career
In the early 2000s, Bernice began to earn her own bread and butter by working as a waitress and a bartender in The Bronx. However, due to her stunning looks, she shortly after gained the opportunity to try herself out as a model, after which she started to build her career in the modeling business. Some of her first on-camera engagements included appearances in music videos such as "Southern Hospitality" for the eponymous song by Hal Linton, Jaheim's "Ain't Leaving Without You", and J. Cole's "Work Out". Her attractiveness quickly got her noticed and set her career on a path to stardom – after appearing in Rick Ross' music video for his song named "Diced Pineapples", Bernice caught an eye of several fashion designers, which led her to several catwalk appearances as well.
With her new-found fame, Bernice Burgos began starring in a variety of television commercials, which really set her career on a rising path, crowned by the streak of Bernice's appearances on the pages of several popular men's magazines, including "The Source", "KING Magazine" as well as the XXL's "Eye Candy" to name a few. She also adorned the pages of "Hot New Hip Hop" magazine, and featured in a short video for the "Show Black Lingerie" magazine. It is certain that all these accomplishments helped Bernice Burgos to dramatically increase her fame, and establish her fortune.
In 2015, Bernice was Deborah Norville's special guest in one of the most popular and long-running TV news magazine shows in the states – "Inside Edition" – while in 2016, alongside superstars such as Chris Brown and Nicki Minaj among several others, she appeared in the music video for DJ Khaled's song "Do You Mind".
Bernice Burgos's Daughter Ashley
Bernice was blessed(?) with the gift of motherhood at the very early age of 15 – and unplanned pregnancy with a certain 19-year-old boy who shortly after ended up in prison; his identity still hasn't been publically acknowledged to the present day. Young and struggling, Bernice was forced to do several jobs at the time, in order to provide for her daughter born in 1996, and named Ashley, who actually followed her mother's footsteps, not only by becoming an alluring beauty herself, but also by becoming a young mother as well – at her age of 21 Ashley gave birth to a daughter named Amarie, which made Bernice a young grandmother at the age of just 37.
Bold & Beautiful
In 2014, Bernice realized that the fashion industry doesn't provide a sufficient amount of fine sleepwear convenient for all body shapes and sizes, so she launched her own line of sleepwear which will be "comfortable, multi-purposeful and sexy" at the same time, and Bold and Beautiful was born. Every piece in Bernice's sleepwear collection is carefully designed under her watchful eye, with the help of her daughter Ashley.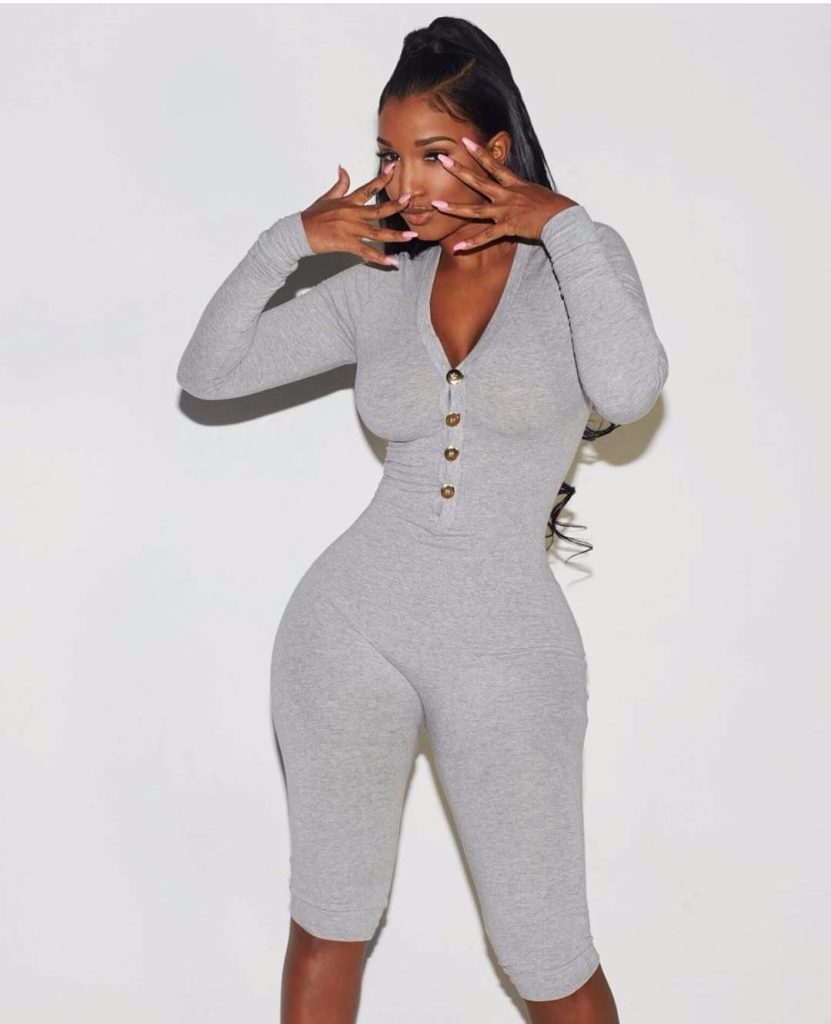 Bernice Burgos' Net Worth
Have you ever wondered how much wealth this successful American Instagram model and entrepreneur has accumulated so far? How rich Bernice Burgos is? According to sources, it is estimated that the total of Bernice's net worth, as of late 2018 is now well over $1 million, acquired through her numerous abovementioned endeavors – her modeling career, Instagram popularity as well as her own business, certainly providing an enviable amount of wealth.
Bernice Burgos' Personal Appearance & Surgery
The 38-year-old Bernice Burgos sports a slim and toned body, and stands tall with a height of 5ft 7ins (1.70 m), and weighing around 123lbs (56 kg). She keeps her body in perfect shape by regularly hitting the gym, which, in addition to her curvaceous figure and genuine hourglass silhouette with vital statistics of 36-25-40, makes her appearance quite attractive and seductive. However, despite a healthy diet and numerous workouts, part of the credit for her good looks goes to a streak of surgical procedures – as she publically admitted in July 2017 during one of her interviews, having undergone multiple plastic surgeries such as breast augmentation and a hip job among several others, in order to emphasize her looks.
https://www.youtube.com/watch?v=uwRAucP-QnM
Bernice Burgos' Personal Life
Aren't you curious about Bernice's romantic connections or love affairs? It appears that her love life is as vigorous as her appearance – apart from making a name for her self from being a model, Bernice also came into the limelight for dating several quite famous men as well. The list begins with retired American Football player as well as a former music and record producer and businessman named Marion 'Suge' Knight, with whom she dated in the early 2010s. Between 2013 and 2014, Bernice was in a relationship with American musician, songwriter and rapper Trey Songz, while between 2014 and 2015 she was allegedly dating with popular Canadian musician and rapper Drake. However, these rumors were never officially confirmed by either party. In 2016 and 2017, Bernice was romantically connected with rapper T.I. – although she publicly denied that she was responsible for T.I.'s divorce, the whole truth about the nature of their relationship hasn't been fully exposed so far. In addition, the latest rumors claim that since 2017, Bernice is dating another American rapper, 11-years-younger Migos' member – Quavo.
Controversy
In December 2010 Bernice Burgos caught the mass media's attention when she was accused of committing a second-degree crime – child abuse. She was arrested on the 14th December in Palisades Park, New Jersey, and taken into custody on endangering the welfare of a child charges, after "physically assaulting a 14-year-old female acquaintance".
— Bernice Burgos (@berniceburgos) January 19, 2019
Bernice Burgos on Social Media Networks
Bernice is active in the digital world as well, and regularly posts updates through her profiles on popular social media networks such as Facebook and Twitter, where she has amassed a total of almost 250,000 fans altogether so far. However, she is most popular for her Instagram profile – @realberniceburgos which is abundant with photos of her smoking-hot body in a variety of a rather provocative and picturesque posts, currently followed by the spectacular number of over 4.7 million fans.