Flip Or Flop Star Christina El Moussa Dating Boyfriend Ant Anstead After Divorce From Tarek Her Net Worth, Age, Height, Measurements
• Christina El Moussa is a 35-year-old American TV personality and real estate investor best known as a co-host of the HGTV show "Flip or Flop"
• She began her career in real estate immediately after college and met Tarek El Moussa, her boyfriend then and co-host of "Flip or Flop"
• In 2011, Tarek asked a friend to help him create an audition video for HGTV which led to the creation of the series
• She is set to host her own show "Christina on the Coast" in 2019, and is dating Ant Anstead
• Her net worth is estimated to be around $6 million
Who is Christina El Moussa?
Christina El Moussa is a 35-year-old renowned American TV personality and real estate investor, perhaps best known as a co-host of the HGTV show "Flip or Flop" alongside Tarek El Moussa, her ex-husband. Her success came from a strategy she applied in real estate investment, called "house flipping". Her show demonstrates the activities of their business of flipping houses, and also their private lives.
Christina Early Life and Education
She was born Christina Meursinge Haack in Anaheim, California USA, on 9 July 1983 under the Cancer zodiac, and grew up in the same place. She is an American by nationality, and of mixed ethnicity. Christina began her career in real estate immediately after graduating from college in southern California. It was at this time that she met Tarek El Moussa, her boyfriend then and the duo went into business together, selling homes in the Southern California region. The housing market crash in October 2008 hit their business hard, but they were able to overcome the crisis and run a successful empire.
Christina Career in Real Estate
Christina and Tarek started a real estate agency known as The El Moussa Group based in Orange County, and the two continue to flip houses in southern California. In 2011, Tarek asked one of his friends to help him create an audition video for HGTV, recorded a whole episode of how houses are flipped from the start to the end. The audition tape was not taken seriously by many people, however, Pie Town Production loved it very much, and HGTV producers were impressed by the couples' Instagram profile photos of houses before and after renovations, and they ended up signing their company to a weekly program. This led to the creation of the series "Flip Or Flop", which debuted in April 2013 on HGTV.
The El Moussa Company deals with real estate designing, and the duo does renovations on homes where Christina is tasked with handling the designs and delivering everything according to the schedule. Between 2013 and 2017, the couple co-starred in 87 episodes of "Flip Or Flop" series. When the sixth season came to an end, most people thought that the show would be cancelled since the couple had just filed for a divorce, However, it continued to air despite the couple's split, as they agreed to put their personal differences aside and continue working together on the show.
Besides running this agency, Christina and Tarek run Success Path Education, which is a seminar series for real estate investors across North America. In their workshops, they educate potential investors on how to flip houses successfully. They also assist new investors in ensuring they don't make mistakes while flipping houses.
The mother of two is set to host her own show "Christina on the Coast" that will began airing in 2019 starting with eight episodes. The series' plot follows Christina's business in designing being expanded in Southern California, as she wants to do extreme makeovers of old houses and transform them into high-end showplaces.
The show will not just focus on her business, as her family will also be featured in it, and every episode will give a glimpse of Christina's real life to add some spice. According to her, it will include things like her selling her Yorba Linda home, going house hunting and finally settling in her new home. Fans will also be treated to a dose of Christina's love life with Ant Anstead, her new boyfriend, balancing everything with raising her kids and running her business.
Christina says that the past number of years have brought a big change in her life, and she is very excited to step into the next stage and see what is in store for her both personally and professionally. She promises her fans that there is much to expect, and this is just the beginning.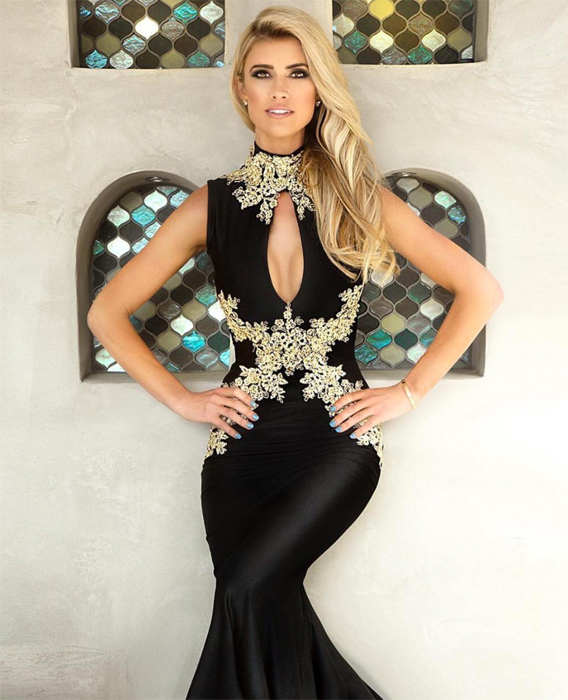 Christina El Moussa Dating Boyfriend Ant Anstead After Divorce From Tarek
Tarek and Christina El Moussa were married for a couple of years and had a daughter and a son. However, in 2017, they filed for divorce after their marriage hit rock bottom, and their divorce was finalized in January 2018; Christina had already started dating Ant Anstead, a British motor specialist and TV host the previous year. The love birds seem to be enjoying each other's company and having a great time together judging from the numerous photos that Christina posts on her Instagram account.
Christina says that what connected her to Anstead was the similarities of their jobs which make them understand each other well. She also confessed that her new boyfriend is very supportive of the work she does with her ex-husband. The two have been travelling around the world and spending quality time with each other. Ant also has a daughter and a son from his previous marriage, and Christina says that she loves how they have been able to merge the two families.
Woah! A month has passed and finally got some wedding pics!! Love this! She is crazy! But the right sort of crazy!!! ? and yes I'm punching!!! ?? #Act2 x x pic.twitter.com/Q13JtxpGV5

— Ant Anstead (@AntAnstead) January 24, 2019
Christina El Moussa Net Worth
Apart from co-hosting "Flip or Flop", Christina acted as a "Brother vs. Brother" guest judge, a reality show that starred Jonathon Scott and Drew Scott. She is also a co-owner of El Moussa Group alongside her ex-husband, and earns a good amount from it; the company was rebranded after the couple divorced.
Christina is said to have bought a new home in Newport Beach which cost her over $4 million – it is 4,870 square feet with four bathrooms and four bedrooms, and which adds to her net worth which is estimated by reputable sources to be around $6 million.
Christina Body Measurements and Height
Christina is 5ft 5ins (1.63m) tall, is reputed to weigh 127lbs (58kg), and her vital statistics are 35-24-35 inches (89-61-89cm). She has an hourglass figure and has managed to maintain a good body weight despite having two children. She has blonde hair and blue eyes to complete her good looks.