"Graveyard Carz" star Allysa Rose's Wiki: Age, Net Worth, Family, Husband, Biography
• Allysa Rose is a female cast member of the reality Velocity TV series, "Graveyard Carz".
• The show features crazy ideas to restore dead muscle cars from the '60s and '70s.
• Allysa is the principle researcher for the show, collecting background info on rare cars and recording their stories.
• She grew up around cars and developed a passion for these classics in her twenties.
• Her net worth is estimated to be over $500,000, earned largely from her involvement in the TV show.
Have you heard of Allysa Rose?
Allysa Rose (nee Worman) is well-known for her role in the reality Velocity TV series, "Graveyard Carz", which features crazy ideas that are implemented on dead muscle cars to recondition and reconstruct them back into action. Allysa is the only female in the cast of this show, and is quite a unique woman, as not only does she have an inherent love of classic cars, but she also enjoys getting down and dirty, and is totally hands-on when it comes to the restoration work required to bring back these old graveyard cars, i.e. old cars from the '60s and '70s that have been dumped on salvage sites, to a resounding new life.
Of American nationality, Allysa was born in Springfield, Oregon in 1991, which makes her 27 now and although her exact birth date is unknown, she posted herself a birthday wish on Instagram on 17 May 2014. Her father, Mark Worman founded the show "Graveyard Carz" in 2012, based on his actual business, and for which in her words, Allysa is 'the principle researcher collecting background info on some of the rarest cars in existence, and recording their stories'.
The background story of "Graveyard Carz"
This hit TV series came about when a friend videoed the original team's antics while they were at work in Mark Worman's shop, restoring a badly wrecked 1971 Plymouth Barracuda, known as the "Phantom Cuda". The idea sprang up for them to create an exclusive TV show, and so in 2012 "Graveyard Carz" was born, and owing to its great success, is currently in its 10th season. The Cuda was a labour of love as it took 6½ seasons to complete, however, it proved well worth it when it was auctioned for over $3 million.
These blue-collar Mopar Maniacs (as they call themselves) live by their motto: 'It's Mopar or it's No Car' and they state that no car is too rusted or too far gone for it not to get restored. So what's a Mopar? It's a blend of the words "MOtor" and "PARts" and is used for Chrysler-built vehicles, e.g. Dodge, Plymouth etc. and since their company mergers, also Jeep, AMC, Fiat and Alfa Romeo. Some can also be referred to as muscle cars, which are American sports cars that are souped-up usually with V8 engines designed for high-performance driving and drag racing. As with many popular TV shows, they have a range of merchandise available on their website.  Mark Worman also owns The Division Productions, which is the official production company for "Graveyard Carz".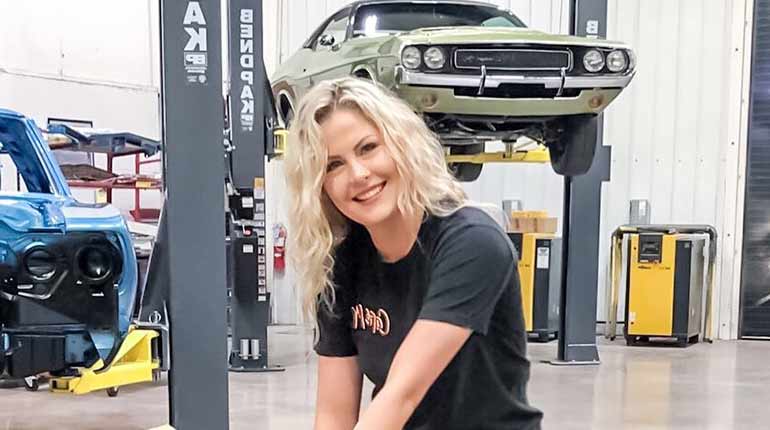 Allysa Rose's growing years and how her career developed
From about the age of seven years Allysa trained as a dancer in various disciplines including ballet, hip-hop, ballroom, tap and jazz until she was about 17.  Her father has always been involved in motor vehicle restoration, and has amassed a huge amount of in-depth knowledge when it comes to his field of expertise, so Allysa grew up surrounded by cars and reading car magazines, although she didn't really take a direct interest in it all back then – it was only in her twenties that she developed a passion for these classics of the road.
She contracted to a hair salon for a while before she became involved in "Graveyard Carz" in its first season, then she took a break in 2014 to have her children, before returning to the series in 2015. So, she may appear tough on the surface, yet has always portrayed a soft heart with her children, and her love of animals.
How does Allysa Rose fit into this male-dominated industry?
The original cast of "Graveyard Carz" was made up of Allysa's father, Mark Worman, Royal Yoakum (a long-standing friend of Mark's who is still very much a part of it), Darren Kirkpatrick and Josh Rose. Darren and Josh left and Dave Rea and Will Scott came into the picture in 2015. The series has moments of craziness and whacky, lighthearted fun; in fact, the cast are also notoriously known as "The Graveyard Ghouls". Mark enjoys showing off his dance moves, which are awful but amusing. Allysa commented 'I hate his dancing and wish he'd stop dancing. Seriously I think he thinks he can dance.'
Allysa enjoys her role, which is to find these old beauties, and her passion is to restore them into dream cars. However, apart from this groundwork, you can often find her under the bonnet working on the engines or sprucing up the interiors of the vehicles, as she loves the variety her work affords her. She has mentioned that she is more comfortable doing this then being in front of a camera. Befitting her style and work, she currently drives a 2014 Dodge Charger.
Allysa Rose's love life and family
Josh Rose, a participant in the series when it kicked off, and Allysa were married, and their daughter, Emma Rose was born in August 2010. In 2013 the couple separated, and when Josh unexpectedly and abruptly left the show, it sparked off a lot of rumours; they later divorced. It was on the day after Christmas in 2013 that Allysa first publicly displayed a picture of herself and her new boyfriend, who was unknown at the time, kissing under mistletoe. On 30 August, 2014 Allysa posted 'How'd I get so lucky?! I have truly found my best friend in this man. #ILoveYou' And Chris Wanke responded, 'I love you so much @llysylys'.
Chris Wanke completed his schooling at Lahainaluna High School in Hawaii, studied sports at the University of Oregon, and is now a Retail Store Manager at T-Mobile. There is some speculation around whether Chris and Allysa are married or not. In June 2013 Chris posted that he was with Allysa Rose on Facebook and his profile, which he keeps private, states he has been in a relationship since then.
On 12 January 2015 Allysa posted the first pictures of her newborn daughter, Brooklyn Monroe Wanke. Since then some posts have appeared where Allysa and Chris publicly declared their love for each other, and recently in November 2018, images of a Disney vacation together with the kids. It is unknown whether Allysa has any siblings and her father keeps his life private as well. However, Allysa does occasionally post pics and messages of appreciation to her mom.
Happy Father's Day to the best daddy ever who was so thoughtful as to be on the road so that I didn't have to buy a present today. Always putting me first! pic.twitter.com/EG6HRw6hke

— Alyssa Rose (@AlyssaRose) June 17, 2018
What is Allysa Rose's net worth?
Authoritative sources estimate that Allysa's net worth is now over $500,000, earned largely from being a key figure in her father's business and the long-running "Graveyard Carz" TV show.
Allysa and her Social Media profiles
Allysa is active on Facebook with almost 20,000 followers, and on Instagram with over 21,000 fans right now. Her fan base certainly applaud this green-eyed blondie, who sports a nose piercing, and sing praises to her beauty.  Most of what is known about Allysa Rose stems from these social media avenues, and it is reported that she enjoys her family as much as her unique position and researcher for and active participant in the reality TV series "Graveyard Carz".