How Did Jynxzi Get so Famous? How to Get Jynxzi Charm?
Who is Jynxzi?
American professional gamer, Twitch streamer, YouTuber and social media personality Nicholas 'Nick' Stewart – aka Jynxzi – was born under the zodiac sign Libra on 26 September 2001 in the USA. He's perhaps known best for his gaming skills, which he often shows off in his YouTube videos; Jynxzi launched his self-titled channel on 19 January 2020, and there are today over 1.4 million people subscribed to it, while all his 728 videos combined have been watched over 250 million times. Most of his videos feature him playing the popular video game "Rainbow Six Siege", and many of Jynxzi's fans believe him to be one of the best players in the world.
new haircut 💇‍♂️ pic.twitter.com/M0ulhzl3qY

— Jynxzi (@jynxzi) August 25, 2023
Education and early life
Jynxzi was raised by his mother and father in the US, but because he respects their privacy, not many details have been shared about them; it's believed that Jynxzi's father's a police officer and his mother a high school teacher but this is yet to be confirmed by him. Because he's yet to speak about whether or not he has siblings, most of Jynxzi's fans believe him to be an only child.
He became passionate about playing video games while still attending a local elementary school, while he also enjoyed playing various sports with his peers at school, including soccer and basketball. Jynxzi enrolled at local high school in 2015, and although he was around 16 when he already knew that he wanted to pursue a career on the internet, his parents urged him to complete his education before focusing on his career.
Jynxzi matriculated in 2019, then didn't enroll at college.
Most watched YouTube videos
Jynxzi's mostly popular on YouTube for the videos which feature him playing the video game "Rainbow Six Siege", but his fans also seem to like him for his unique personality, ability to entertain his fans while he's playing, and for setting strange goals for himself in-game. We're going to cover Jynxzi's three most viewed videos as these have contributed to his overall popularity.
His #1 video "Copper to Champion Episode 1 (Rainbow Six Siege)" has been watched over 2.5 million times since 15 April 2023, and features him trying to progress from the rank 'Copper' to 'Champion' in the game "Rainbow Six Siege".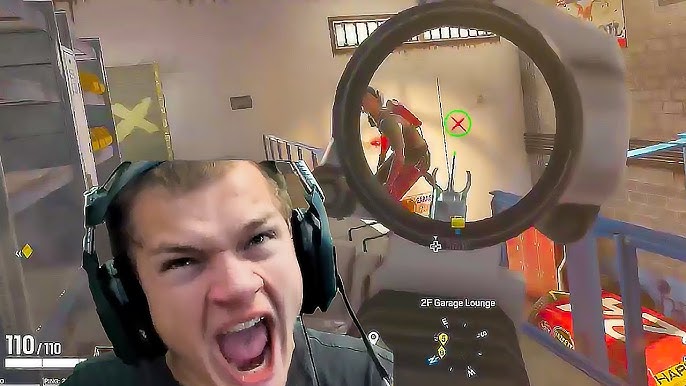 Jynxzi's second most popular video "Jynxzi Reacts to Hacker on Xbox" has been watched over 2.1 million times since 23 May 2023 and has amassed nearly 170,000 likes; it features Jynxzi watching a guy playing "Rainbow Six Siege" while he's using a hack which enables him to see enemies through walls.
His #3 video "300 IQ Osa Tricks" has been watched over 2.1 million times since 17 May 2023, and has amassed over 180,000 likes; it features him reacting to videos of highly skilled "Rainbow Six Siege" players.
Jynxzi's so good at "Rainbow Six Siege" that the developers have allowed him to have his own weapon charm, which one can obtain by subscribing to his Twitch channel.
Presence on the internet
Jynxzi's active on various social media networks, but his Instagram account's recently been deactivated for unknown reasons; he's thus launched another account which currently numbers close to 500 followers, while 34 pictures and videos have been posted onto it.
More than 160,000 people are following Jynxzi on his Twitter account, which he launched in August 2019 and onto which he's tweeted over 1,600 times; most of his Twitter content's about his gaming skills, although he also occasionally just uploads random selfies.
Jynxzi's a TikTok star, as more than four million people are following him on the network today, while all his videos combined have amassed more than 130 million likes; most of these feature Jynxzi playing "Rainbow Six Siege", although he also enjoys taking on internet challenges and telling jokes.
His Twitch channel's today subscribed to by close to three million people, making him the owner of the #13 most popular Twitch channel. Jynxzi became active on the network on 22 January 2019 and has since livestreamed for nearly 7,600 hours (316 days), while his highest recorded number of concurrent viewers was 62,641 on 15 September 2023. He's spent 7,200 hours livestreaming while playing "Rainbow Six Siege", while he's spent the rest playing 46 other games, which include "NBA 2K20", "Only Up!" and "NBA 2K22".
Love life and relationships
Jynxzi rarely speaks about his love life on the internet, and most of his fans believe that there's nothing for him to talk about, as he spends nearly all of his time at his home playing "Rainbow Six Siege".
Some of his fans still believe that he was until recently in a relationship with his high school sweetheart, as some have claimed to have seen the two spending time together in public on several occasions; it's believed that they broke up because of Jynxzi's obsession with "Rainbow Six Siege", but this hasn't been confirmed.
Jynxzi seems to be unattached as of October 2023, hasn't married and doesn't have children.
Interesting facts and hobbies
Aside from "Rainbow Six Siege", Jynxzi enjoys playing sports games the most, especially basketball ("NBA 2K") and soccer ("FIFA" and "Pro Evolution Soccer").
He's physically active, and goes to the gym multiple times every week, which seems to be his only physical recreation; some have claimed to have seen Jynxzi playing basketball with his friends at a local court, but this hasn't been confirmed.
He loves to listen to music while he's playing video games, and one of his favorite bands is Linkin Park.
Jynxzi likes animals; his favorites are dogs and parrots, and he had a pet dog while growing up.
Robert Downey Jr. is one of his favorite actors, and some of Jynxzi's favorite movies are "Tropic Thunder", "Iron Man" and "Oppenheimer".
Height, age and wealth
Jynxzi's age is 22. He has green eyes and brown hair, is 5ft 10ins (1.78m) tall and weighs around 190lbs (85kgs).
Jynxzi's net worth's been estimated at over $700,000, as of October 2023.