Howard Stern's daughter Emily Beth Stern Wedding, Net Worth, Wiki Bio
• Emily Beth Stern is a singer, actress and artist born in 1983 in Long Island, New York, USA.
• Her wealth is believed to have been elevated significantly thanks to the success of her father, Howard Stern, who has an estimated net worth of $650 million.
• Emily Beth grew up in a neighborhood called Old Westbury and is of Jewish descent.
• She completed a degree in theatre from New York University's Tisch School of the Arts and is a Torah Scholar.
• Her father is a radio personality, actor, producer, author, and television personality and has won numerous awards for his work.
Who is Emily Beth Stern?
Emily Beth Stern was born on 7 May 1983, in Long Island, New York, USA, and is a singer, actress and artist, but perhaps better known for being the eldest daughter of radio personality Howard Stern, from his marriage to actress Alison Berns. She's appeared in several stage productions throughout her career, including "Kabbalah".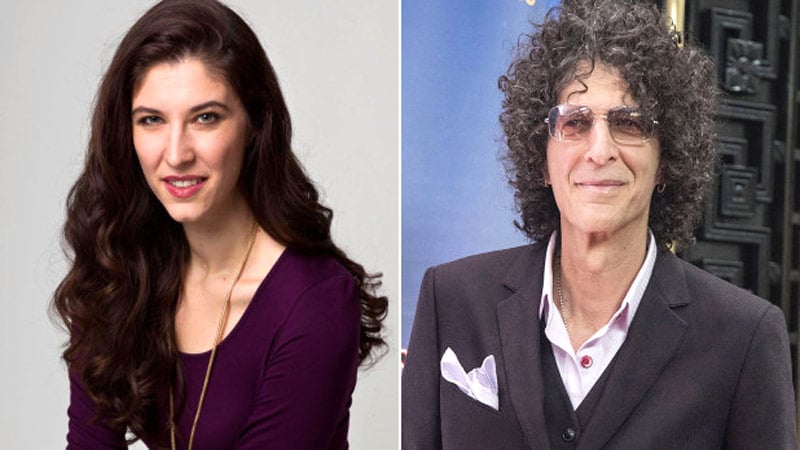 The Net Worth of Emily Beth Stern
How rich is Emily Beth Stern? As of early-2019, sources haven't estimated a personal net worthfor her, although she's earned a certain amount through success in her various endeavors. However, her wealth is believed to have been elevated significantly thanks to the success of her father, who has an estimated net worth of $650 million, to whom she is still very close. According to various sources, he still takes in an annual salary of $90 million. As she continues her career, it is expected that her wealth will also continue to increase.
Early Life
Emily Beth grew up in a neighborhood called Old Westbury, joined by two younger sisters who were born a few years after her. She is of Jewish descent though neither of her parents followed Judaism strictly. Despite that, she felt that she was always connected to her Jewish roots, and participated in annual Jewish events, and fasted during periods such as Yom Kippur. Her father on the other hand, disliked the old Jewish traditions, and didn't always agree with his daughter's decisions. Despite these differences, Emily Beth learned Transcendental Meditation from her father, and continues to practice it today. She had a life akin to most celebrity children with people always watching them, but her parents were strict about maintaining their privacy separate from their public image, but she felt that her father was more self-interested than in anyone else.
Education and Career
After matriculating from high school, Stern enrolled at New York University's Tisch School of the Arts, where she completed a degree in theatre. However, her foray into the industry was a difficult one as a lack of communication between her and her parents finally came to fruition, as she was never guided on how to navigate and transition into her professional career.
However, in 2005 she landed a role in the production of "Kabbalah" in which she would play the character Madonna; she agreed to dye her hair black and also go completely nude for the production. The play received mediocre reviews, so the director – Tuvia Tenenbom – decided to take advantage of Stern's family name and allegedly released an unauthorized video of her almost nude in a promotion of the production. Just six weeks into the production, she left with the help of her father's lawyers, accusing the director of manipulating her for his personal gain. Afterwards, she became more focused on her interests in Orthodox Judaism, and started to hold more Shabbat dinner events. She also enrolled at the Drisha Institute, and became a Torah Scholar, studying scriptures of the Old Testament.
Father – Howard Stern
Howard Allan Stern is an actor, producer, author, and radio and television personality, best known for his work on his radio show called "The Howard Stern Show", which gained a huge amount of popularity from the 1980s up to the mid-2000s. After syndication, his show attracted 20 million listeners during its peak across 60 markets. He's won numerous awards thanks to his achievements, including the Billboard Nationally Syndicated Air Personality Award eight times consecutively. He was also the first person to have a number one morning show in Los Angeles and New York simultaneously.
His show is currently broadcast on Sirius XM Radio, as the company gave him a deal worth $500 million, making him one of the highest paid radio figures of all time. He's also an avid photographer, and has featured in publications such as "WHIRL" and "Hamptons". He also appeared as a judge in the show "America's Got Talent".
Outside of radio, he has produced numerous videos, events and television shows. He has also written two books, entitled "Private Parts" and "Miss America" which entered at the top of The New York Times Best Seller list. "Private Parts" was made into a film in 1997, and topped the US box office during its opening week.
Recent Projects and Personal Life
In 2012, Emily Beth released the album entitled "Birth Day" through the record label Tree of Light, and which contained 11 songs including "Remembering Love", "Love the Child who Cries", "Hear in the Heart", "Love Song to Demeter", and "Zoo Za Zoo". Three years later, she decided to hold a photo exhibition in Brooklyn at the Hadas Gallery called the "Wells of Miriam", focused on the water retention landscape in Portugal. She had found it interesting due to its similarities to the mikveh, an immersive bath in Judaism to attain purity. However, she cancelled the event and mentioned in an interview that she had to do so as it was causing turmoil within her family. Despite the cancellation, the event was later continued at The Jewish Museum of New Jersey. Emily and her father continue to have disagreements – she's said that she rarely went on dates due to her father's stance on sexuality.
For her personal life, nothing is known about any relationships; she has never married, and has never publicly spoken out about any relationships she's had. Many sources believe that she is currently single, but that has never been confirmed either.