Josina Anderson (ESPN) Wiki Bio, age, dating, husband, salary, net worth
• Josina Anderson is an American sports journalist currently working for ESPN.
• She was born in Washington D.C. USA in 1978, and has a bachelor's degree in Exercise and Sports Science.
• She has had a successful career, with a Heartland Emmy award and a Salute to Excellence Award.
• She is very active on social media, with over 150,000 followers on Twitter and nearly 50,000 on Instagram.
• She once bet to shave her head and lost, which she proceeded to do.
Who is Josina Anderson?
Josina was born in Washington D.C. USA on 15 August 1978, under the zodiac sign of Leo, and so holds American nationality. She is famous as a sports journalist, and is currently working for ESPN (Entertainment and Sports Programming Network).
Early life and education
Josina is the daughter of Lloyd and Yasmin Anderson, and has one brother who works as a film producer. She has been in love with sports ever since she was a kid, and used to be an announcer during basketball matches in her Montgomery Blair High School in Silver Spring, Maryland, while she was also competing in track and field– she was in the AAU Junior Olympics in the 200 and 400 meter races and managed to win a golden medal. She eventually enrolled and graduated from the University of North Carolina with a bachelor's degree in Exercise and Sports Science.
While people mostly know Josina for her career of a sports reporter, not many know that she is an accomplished ballet dancer as she worked with Dance Theater of Harlem and Pennsylvania Ballet – she was also a solo ballet dancer for the American Youth Ballet.
Career
Josina began her career as an intern on WTEM (Washington radio station), and worked on two of their shows – "The Tony Kornheiser Show" and "The Donnie Simpson Morning Show". Right after her internship was completed, she switched to CBS and started working as a sports news anchor and reporter in Oregon. Josina wanted to stay in Oregon, she was sending her resume and tapes of her work all around the country, but couldn't find a job and wasn't making any progress with CBS, so she decided to quit and returned to Washington. where things got a little hard for her as she couldn't find work for a couple of months, so had to live on her own and go back to working as a personal trainer to earn enough for a living. After those hard couple of months passed, she began working with Fox 31 in 2005, but had to move to Denver, Colorado as that's where the show was set. It was her second attempt to win that job as she was refused when she applied the first time in 2003. She produced many great stories in the six years that she worked with them, including when two big NFL stars were tested positive for marijuana in July 2008 and some tests were positive for steroid in October 2008. In 2010, which turned out to be her last year with Fox 31, she worked as a reporter for "Inside the NFL".
It took Josina some time to fulfill her dream, but she managed to do it in 2011 when she started working as a national sports reporter for ESPN. She didn't have to audition for the job as they offered it to her, which she accepted and moved to Chicago, where she is living and working today.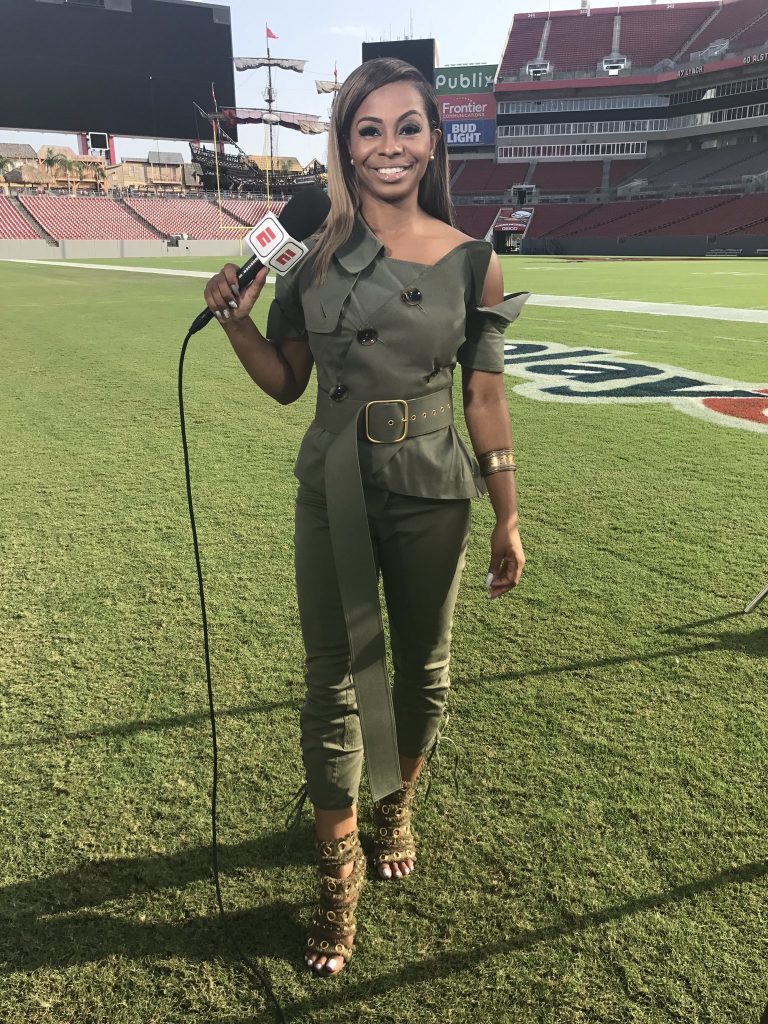 Incident with Michael Sam (St. Louis Rams' football player)
In all the years during which Josina worked as a sports reporter for ESPN, there was only one incident, which occurred in August 2014 – Josina was reporting from St. Louis and she said how Michael Sam would only take a shower after his teammates had already taken them. This was a sensitive topic because Sam was the first and only player in the NFL training camp who openly admitted to being gay. This was not good for Josina or ESP,N as they were criticized by other football players as well as LGBT activists and although ESPN defended Josina at first, they later decided to issue a public apology.
Personal life
Unfortunately for her fans, Josina has revealed nothing about her personal life, never talking about it during her interviews. There was just one rumor of her having a year-long relationship back in 2011, and there was also a recent rumor about her being married to a colleague, but she never comments on rumors – she doesn't approve nor deny them. Other than that, Josina seems to be single, apparently has never married, and doesn't have any kids.
Appearance and net worth
Josina is currently 40 years old, has long black hair, brown eyes, is 5ft 8ins (1.72m) tall and weighs around 150lbs (68kg). Her vital statistics are 34-26-35, and she wears shoes size seven.
According to authoritative sources, Josina's net worth is estimated to be around $2.2 million, all of which she has earned from her career as a sports reporter, while her annual salary is said to be a minimum of $65,000.
Social media presence
Josina is very active on social media platforms, which is kind of expected of her in the job – her Instagram account is followed by nearly 50,000 people while she's posted 500 times. She is more popular on her Twitter account which she opened in May 2009, and has so far gathered over 150,000 followers and tweeted around 46,000 times. She also has a Facebook page with 44,000 followers, but isn't as active as on other platforms, last posting in the summer of 2018.
Almost done on NFL Live. Will Cain at 3:30pm. pic.twitter.com/8qp7G235ql

— ig: josinaanderson (@JosinaAnderson) March 21, 2019
Awards
Josina won a Heartland Emmy award in 2009 for her coverage of quarterback John Dutton and his wife Terina's trip to Ethiopia, when they went to adopt their 11 year-old son Miki, and she also won a Salute to Excellence award for radio reports in 2014 called "Outside the Lines and The Sporting Life", featuring Brandon Lowe and Dwayne Bray.
Josina bald because of a bet
Josina also has a good sense of humor – she once bet to cut off her hair if Trevor Sieman became the starting quarterback in 2016. Josina lost the bet and her part of the bargain – she completely shaved her head, and hosted her show without a wig on.