Kurt Russell's partner Goldie Hawn Wiki Bio, daughter, husband, net worth
• Goldie Hawn is an American singer, producer, and actress with a net worth of $60 million.
• She grew up with a Jewish background and was involved in dance from a young age.
• She rose to prominence through her role in the comedy sketch show "Rowan & Martin's Laugh-In".
• Her career was revived in the late 1970s, and she took a break in the 1990s to care for her mother who had cancer.
• She is in a longterm relationship with actor Kurt Russell, and is a known practitioner of meditation and supporter of the LGBT community.
Who is Goldie Hawn?
Goldie Jeanne Hawn was born on 21 November 1945, in Washington, D.C., USA. She is a singer, producer, and actress, probably best known for her award winning performance in the film "Cactus Flower". She's also known for her roles in projects such as "Private Benjamin", "Rowan & Martin's Laugh-In", "Overboard", and "The First Wives Club". She is the mother of actors Kate Hudson, Oliver Hudson, and Wyatt Russell. She is also known for her long term relationship with actor Kurt Russell.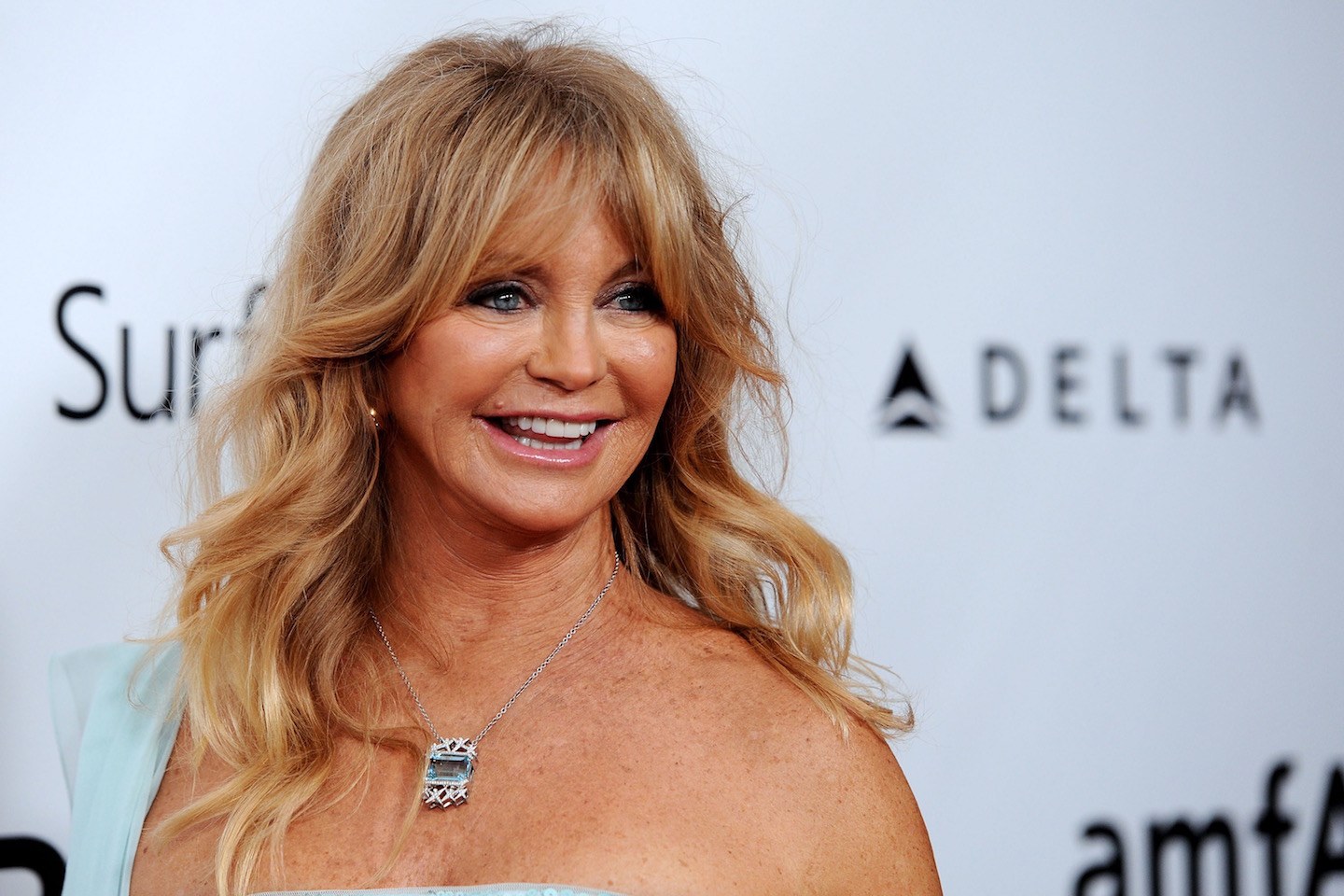 The Net Worth of Goldie Hawn
How rich is Goldie Hawn? As of early-2019, sources inform us of a net worth that is at $60 million, earned through a successful career in acting. She's remained as one of the most high profile actresses for most of her career and recently returned to acting after a long hiatus. As she continues her career, it is expected that her wealth will also continue to increase.
Early Life, Education, and Career Beginnings
Goldie is the daughter of a dance school owner and a band musician who played in major events in Washington. She grew up with a sister, and also had a brother who passed away as an infant. She is of English, German, and Jewish descent, and was raised with Jewish traditions.
From her childhood up to her teens, she had already been taking dance lessons, including ballet and tap dance. She danced during a production of "The Nutcracker" in 1955, and made her professional acting debut in a production of "Romeo and Juliet" which she played the titular female character. After matriculating from Montgomery Blair High School, she enrolled at American University where she studied drama, but eventually dropped out to teach and run a ballet school.
Acting Beginnings
In 1964, Hawn made her debut as a professional dancer in a production of "Can-Can" leading her to various other dancing projects, including appearing as a go-go dancer in New York City. Afterwards she moved to California to try her hand at dancing projects there, and to her first acting project as a cast member of the short lived sitcom entitled "Good Morning, World".
Goldie then became one of the cast members of the comedy sketch show "Rowan & Martin's Laugh-In", through which she rose to prominence. Her persona in the show helped her to her film debut in "The One and Only, Genuine, Original Family Band" as a giggly dancer. She then got her first major film role in "Cactus Flower", in which she played a suicidal fiancée, and for which won an Academy Award for Best Supporting Actress, solidifying her as a star in the acting industry. Her film career really took off, as she appeared in "$", "Butterflies Are Free", and "There's a Girl in My Soup". She continued to prove herself in dramas, and also had two television specials. After the release of "The Duchess and the Dirtwater Fox" in 1976, she took some time off to focus on raising children.
Return to Film to the 1990s
Goldie's career was revived with the box office smash "Foul Play" in 1978, and her popularity continued through the 1980s. She was given the lead role in the comedy "Private Benjamin" which earned her a second Academy Award nomination, but this time for Best Actress. She continued to have box office hits in "Seems Like Old Times", "Best Friends", and "Swing Shift", and…she also posed for the cover of the 1985 January "Playboy" issue.
In the 1990s, she starred in the commercially successful "Bird on a Wire" alongside Mel Gibson, then took another break, for four years, as she had to take care of her mother who was diagnosed with cancer. She returned after her mother's passing, and was a part of the critically successful "The First Wives Club" alongside Bette Midler and Diane Keaton, for which they all received a Women in Film Crystal Award, and was also awarded a Hasty Pudding Woman of the Year. Goldie then continued with more projects such as "Everyone Says I Love You", and "The Out-of-Towners".
The 2000s, Hiatus, and Return to Acting
In 2001, Hawn appeared alongside Warren Beatty and Diane Keaton for the comedy "Town & Country", which got little attention and bombed at the box office. She then starred in "The Banger Sisters" which would be her last film for the next 15 years. During her break from acting, she published the autobiography entitled "A Lotus Grows in the Mud". She eventually returned to acting in 2013, as a guest in an episode of "Phineas and Ferb" alongside Gordon Ramsay, providing the voice of one of the characters. Her next live action project wouldn't come until four years later in the film "Snatched", in which she co-starred with Amy Schumer.
Personal Life
For her personal life, it is known that Goldie was in a relationship with actor Mark Goddard prior to her rise in fame. Her first marriage was to dancer Gus Trikonis, who would later become a director. They married in 1969, and though they separated in 1973, only divorced in 1976, after a relationship with actor Franco Nero, but finally when she became engaged to musician Bill Hudson. The two married in 1976 and they had two children together.
Their marriage ended in divorce in 1980 and she then had relationships with Yves Renier, Tom Selleck, and Victor Drai. In 1983, she began a relationship with Kurt Russell after re-connecting on the set of "Swing Shift". They have a son together, and though there have been numerous rumours that the two were breaking up, they have stayed together, and have now celebrated over 35 years of co-habitation, without marrying. Goldie is a known practitioner of meditation, and says that she does not consider Judaism her religion. She is also a supporter of the LGBT community, and has spoken against countries that have criminalized gay people.