Marty Meierotto (Mountain Men) Wiki: Net Worth, Age, Airplane, Biography, Brother
• Marty Meierotto is a trapper and reality TV star featured on the History Channel series called "Mountain Men"
• He has an estimated net worth of $250,000 due to his success on TV and his trapping endeavors
• At a young age he discovered his passion for trapping through his father
• After high school he moved to Alaska to pursue his career as a trapper, and eventually caught the attention of TV producers
• He is married to Dominique and they have a daughter together; he also works as a smokejumper during the summer.
Who is Marty Meierotto?
Marty Meierotto was born in North Wisconsin, USA, and is a trapper as well as a reality television star, best known for being one of the personalities featured in the History Channel documentary series entitled "Mountain Men". He has been with the show throughout its entire run, but continues to work on his passion of trapping too.
The Net Worth of Marty Meierotto
How rich is Marty Meierotto? As of early-2019, sources estimate a net worth that is at $250,000, earned largely through a successful career on television through "Mountain Men", but which is based on  his trapping endeavors As he continues his dual career, it is expected that his wealth will also continue to increase.
Early Life and Trapping Beginnings
Marty grew up in North Wisconsin, and at a young age discovered his passion for trapping thanks to his father, who was also a trapper. At the age of seven, he along with his dad went to the far northern side of Wisconsin so that they could check on the traps his father had set. According to him, this experience was when he decided to pursue a similar path to that of his father.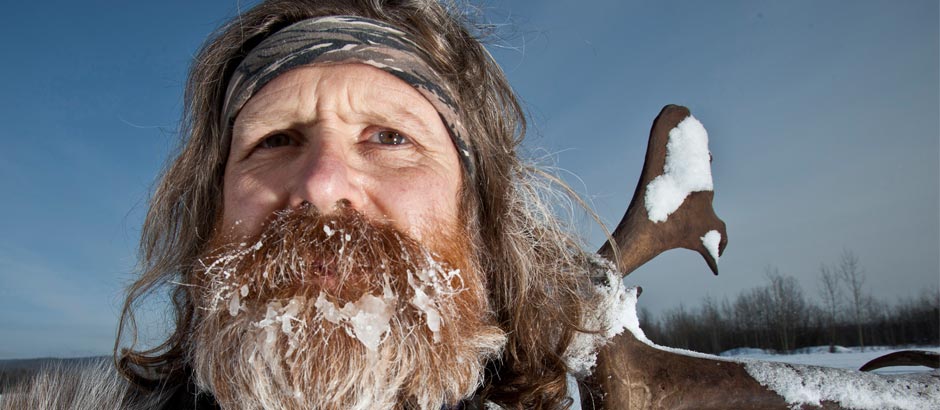 After matriculating from high school, he decided to start a career as a trapper and focused his efforts in Wisconsin. However, it was a very difficult thing to do in this state as he had a lot of competition, with only a few animals to catch. Deciding that he would be better off in a place with an abundance of animals, he along with his brother Jeff decided to gather all of their personal savings and move to Alaska, so in 1985 the two drove away and settled in the cold state.
Life in Alaska
Meierotto first went to Alaska with the prospect of only trying trapping for a short period of time, but the more time he spent there, the more he fell in love with the land. To gain enough money to start as a trapper, he initially worked in Fairbanks as a janitor, and also took construction and logging jobs to earn enough money for food and to buy his first traps and tent, so that he could go trapping during his free time. Later on, he built himself a small cabin, which according to him, is better since it is easier to warm up in a small space.
After a few years working, he quit his jobs so that he could focus solely on trapping; his way of life was now about setting trap lines and catching animals for fur, based in an area 200 miles north of Fairbanks, with temperatures reaching 30-40 degrees below zero. He has to make the most of his time due to short daytimes and long winters in the state. He has also built three more cabins along his trap line, so that he had shelter wherever his work took him.
Mountain Men
Marty's endeavors eventually caught the attention of television producers who then approached him with the proposal of a documentary style series which showcased his trapping endeavors. With the payment given by the show and the opportunity to put his passion on display, he was cast in the series "Mountain Men", which started airing in 2012. The show follows several people and their means of survival, as they live in remote areas around the US. Marty resides in the small Alaskan town called Two Rivers alongside his family. Once a month, he uses a personal plane, a Piper PA-19A-150 Super Club equipped with tundra tires, to fly to his cabin in the Alaska North Slope located on the Draanjik River, where he has a snowmobile ready so that he can quickly tend to his animal traps. Other cast members include wilderness survivalist Eustace Conway, former rodeo cowboy Tom Oar, and mountain lion hunter Rich Lewis. The show has proven highly successful, and has now been produced for seven seasons with good ratings, with Marty being in its entire run, and is not looking to stop any time soon.
#MCM goes out to Marty Meierotto of #MountainMen! Watch your favorite Marty moments here! http://t.co/zyAUEOyJTw pic.twitter.com/pJXKqP5WtY

— Mountain Men (@MountainMen) November 24, 2014
Other Endeavors and Personal Life
During the summer when the trapping season isn't in full swing, Meierotto works with the Alaska Fire Service as a smokejumper, entailing going to various locations in the state to fight fires. The reason the title is called smokejumper, is because they often use parachutes so that they can access areas of fire. According to him, he enjoys the job, and it isn't really difficult since he is familiar with most of Alaska. It also provides extra income to support his family.
He found love while in Alaska, and married Dominique. The two would have a daughter together and the whole family has been featured in episodes of "Mountain Men".  According to Meierotto, it usually takes him a fortnight or two weeks to fulfill a run of his trap line, sell the fur, and gain everything he needs. He has customized his aircraft to be lighter, faster and use less gasoline. He also holds a .358 caliber rifle, just in case dangerous animals cross his path. His success has led him to be featured in several publications, including on the cover of the magazine "Field & Stream", for which he was photographed with his usual trapping attire.