Mia Khalifa Wiki Bio, dating boyfriend Robert Sandberg, wedding, religion
• Mia Khalifa is a former pornographic actress, model and social media personality
• Her parents disassociated themselves from her due to her career choice
• She became popular due to her videos, and received death threats from people around the world
• She has a net worth of $4 million and is in a relationship with Swedish celebrity chef, Robert Sandberg
• Mia is 5ft 2ins tall and weighs approximately 120lbs or 55kg
Who is Mia Khalifa?
One of the most controversial social media personalities of the present day. Mia reached stardom as a pornographic actress, and having grown up in a religious household, her parents stopped talking to her because of her career choice. Mia's career in the adult film industry was active for only two years, but in due time she became quite popular which enabled her pursuit of other endeavors.
So, do you want to find out more about Mia Khalifa, from her childhood years to most recent career endeavors, including her personal life as well? If yes, then stay with us for a while as we bring you closer to this prominent but controversial, ex-pornographic actress, and now a model and social media personality.
Mia Khalifa Wiki: Early Life, Parents, and Education
Mia Khalifa was born on the 10th February 1993, in Beirut, Lebanon, but she and her family moved to the US in early 2001, because of the South Lebanese conflict. Her parents are Catholics and she was raised as one. The family settled in Montgomery County, Maryland where she went to high school, and experienced bullying, but also played lacrosse, and then entered the Massanutten Military Academy, before studying at the University of Texas at El Paso, from which she acquired a Bachelor of Arts degree in History.
Career Beginnings
During her college years, Mia was a bartender, but was also offered modeling work; she did a couple of gigs, and after graduation moved to Miami, where she continued her career and made a step forward by doing nude modeling. Gradually, she was becoming famous, and was approached by a scout with an offer for an adult film. Mia had no doubts about accepting the offer.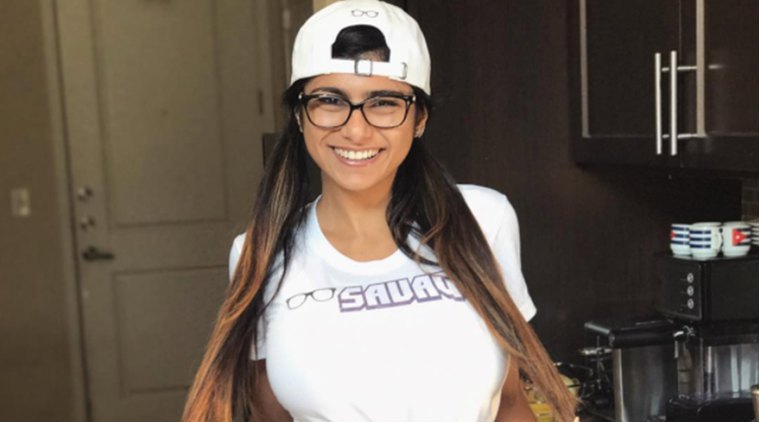 Rise to Prominence
Mia soon became a part of the big BangBros production company, with which she signed a contract, and upon the release of one of her many videos achieved world popularity. She was wearing a hijab in one of the videos, which came under fierce criticism from people all around the globe, not only Muslims but even Catholics, with her parents disassociating themselves from Mia and her career choice. She remained active in the porn industry, despite receiving death threats from people around the world, including a manipulated Islamic State of Iraq image,  and her execution by beheading supposedly being prepared by the Levant executioner, and a message warning her that she would go to Hell. Subsequently, despite signing a new deal with BangBros, Mia decided not to continue through with the contract and left the pornographic industry, since when she has been focused on modeling work, and has her own page on Patreon through which she sells nude pictures of herself. Furthermore, she has also worked for a short period of time as a bookkeeper and paralegal.
YouTube Career and Television Host
Mia has started a YouTube channel, on which she posts videos that showcase her daily life, and has also run a show "Out of Bounds", next to Gilbert Arenas, as a part of the Complex News YouTube channel, from late 2017 to early 2018. She is now the co-host of the show "SportsBall" with Tyler Coe, on RoosterTeeth.
Mia Khalifa Net Worth
Since launching her career, Mia has come under scrutiny for her actions, but her popularity only increased her wealth to a large degree. So, have you ever wondered how rich Mia Khalifa is, as of early 2019? According to authoritative sources, it has been estimated that Khalifa's net worth is as high as $4 million, which is rather impressive. Undoubtedly, her wealth will become even higher in the upcoming years, assuming that she successfully continues her career.
Mia Khalifa Personal Life, Husband, Dating, Boyfriend
What do you know about Mia Khalifa and her life behind the scene? Well, it has been quite intriguing just like her professional career. She was married to her high school sweetheart from 2011 to 2014 when they separated, and the divorce was official in 2016. Nowadays, according to reports, Mia is in a relationship with Swedish celebrity chef, Robert Sandberg.
Mia is a fan of several sports franchises in Washington D.C., including the Washington Redskins, Wizards and Capitals, among others, using her social media popularity to promote the teams. Furthermore, she is a huge fan of the Florida Seminoles football team, and tried to interact with quarterback Braxton Miller of Ohio State University to come to play for the Seminoles.
Mia is also known for her tattoos – she has the opening line of the Lebanon National Anthem and the Lebanon Forces Cross among other tattoos, that have only sparked criticism of her already somewhat controversial personality.
Mia Khalifa Internet Popularity
Over the years, Mia has become quite popular on social media platforms, especially Instagram and Twitter, while she can also be found on Facebook. Her official Instagram page has over 13.5 million followers, with whom she has shared events from her personal life, both pictures and videos and has also used her popularity to promote her career. On Twitter, Mia has close to 2.5 million followers, while on Facebook, Mia is followed by more than 1.4 million people.
Mia Khalifa Body Measurements, Height, and Weight
Mia, regarded as a natural beauty, has attracted millions of fans mostly because of her stunning looks. So, do you know how tall Mia is, and how much she weighs? Well, Mia stands at 5ft 2ins, which is equal to 1.57m, while she weighs approximately 120lbs or 55kg. Her vital statistics are 40-26-36 inches, and she has brown hair and brown eyes.