Model Sophie Mudd's Bio: Age, Bra Size, Measurements, Height, Boyfriend, Ethnicity
• Sophie Mudd was born in 1998 in Los Angeles and became a well-known internet star for her witty and seductive pictures on Instagram and Snapchat.
• She grew up with business-minded parents and brother, and attended a prestigious academy, Campbell Hall School.
• She has worked with companies such as Nike, Body Glove Girl, Frankies, Revolve, and more.
• Her estimated net worth is over $200,000.
• She is currently in a relationship with model Austin Dash and they have a pet poodle named Alfie.
Who is Sophie Mudd?
Sophie Mudd was born on July 27th, 1998 (under the zodiac sign Leo) in Los Angeles, California, with Latin and American ancestry. She is a well-known internet star who emerge to fame after posting witty and seductive pictures on Instagram and Snapchat. FHM labeled Sophie as the next Emily Ratajkowski.
Sophie Mudd's Bio: Early Life, Family, and Education
There is little information about the family but Sophie grew up in the bustling city of Los Angeles with
business-minded parents and brother
, Nicolas Mudd, she was accustomed to luxury and fame. Nicolas and Sophie enrolled in a private and prestigious academy, Campbell Hall School, where they excelled in academics and sports. In March 2012, Sophie competed in "Delphic League Meet at Notre Dame High School" track & field event and obtained the 12th spot on the long jump division.  After a year, the family decided to move to Beverly Hills, California. Sophie's friends and family describe her as a shy soft-spoken woman, entirely different from her wild and bubbly online persona.
Career Beginnings
Sophie Mudd utilizes social media to showcase her sultry body and love for modeling. Within a few months, she acquired half a million followers on Instagram and caught the attention of brands and companies. Later on, Sophie Mudd signed a contract with MP Management, a multinational firm originated in Milan with networks from modeling agencies to fashion designers, which gave way to remarkable projects and opportunities. Currently, she's the brand ambassador of Nike, Body Glove Girl, Frankies, Revolve, DIFF Eyewear, Bananhot, Beverly Hills Bikini Shop, Romeo Power Technology, Prix Workshop, Shadow Hill, Le Jolie, Cloudten, and more. Through her online platform and brand endorsements, Sophie's estimated net worth is more than $200,000.
Body Measurements
Sophie Mudd has a body shape of an hourglass – curvy slim waist, broad torso, and ample breasts. The model's deep brown eyes and brunette hair consummate her 5 ft 7 in (170.18 cm) height and 128 pounds (58 kg) weight. At 20 years old, the young star is gifted in the bust department with a Cup D bra size (32 in, 81.28 cm), 24 in (60.96 cm) waist, 34 in (86.36 cm) hips, and US 8.5 (9.75 in, 24.6 cm) feet size.
Blondie 2 @HotSophieMudd pic.twitter.com/clAVkGGyY2

— Sophie Mudd (@HotSophieMudd) January 31, 2018
Sophie Mudd's Past Relationship
Conrad Hughes Hilton Jr. allegedly Sophie's ex-boyfriend, is the youngest son of hotel multimillionaire Barron Hilton and sibling of Paris Hilton. The Hilton family has over 550 business establishments across 6 continents. Conrad and Sophie were Facebook friends and followed each other on Instagram in 2014. The two was seen hanging out a few times and decided to hide their relationship due to certain factors like family and issues. In 2016, news circulated that the couple broke up furthermore unfollowed each other in their social networking sites.
Is Sophie Mudd Single?
Sophie Mudd and Austin Dash began their relationship on 2017, fans call the couple "Ausop" – a fusion of their first names. In Austin's album called Malibu, it mentions his first meeting with Sophie Mudd and the attraction spiked immediately. The song album was dedicated to Sophie, their adventures in Malibu and what the journey evolved into.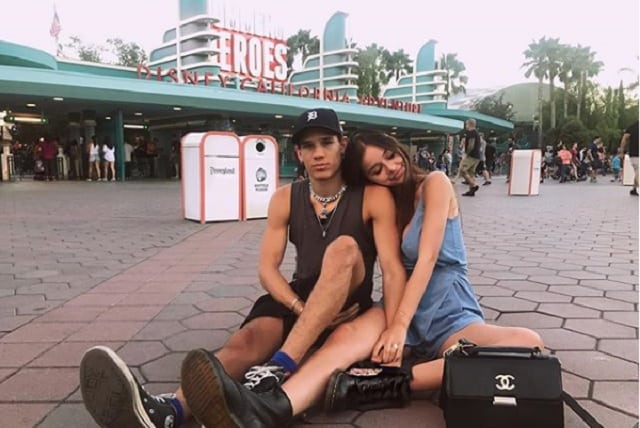 Regarding their internet presence, the couple posts pictures and videos on Instagram, showing genuine love and respect for one another. Austin and Sophie take pleasure watching Netflix and anime show like Bleach and Spirited Away. The couple would decide impromptu trips to different countries. Recently, Sophie wrote "FBD" (Future Baby Daddy) in one of her Instagram post with Austin, a hint to the fans about their sexually active relationship and plans for the future. Austin Dash is 8 years older than Sophie, his parents are actress Stacey Dash and singer Christopher Williams, a model at 20 years old for brands Kid Dangerous and F&C. For 2017 Christmas Eve, Austin brought home a pet dog for Sophie and named him Alfie, a black and brown poodle.
Social Media Presence
Sophie Mudd has 1,068,403 followers on her Instagram account, with only 300+ following and 454 posts. She shares her adventures in Paris, New York and in Asian Countries like Indonesia, China, and more.Sophie is popularly known for her brand deals with swimwear designers due to her eye-catching physique. There was a controversy concerning about a live video of Sophie who wore a U.S.A flag bikini top and denim shorts, she was seen jumping until her top had a wardrobe malfunction and slipped off.
June 1st, 2018 was the day that Sophie Mudd took the internet by storm when she uploaded a picture of her and model Anya Nicolodi wearing a skimpy bikini from Bananhot. It became the talk in the "internet world" for months and garnered more than 100,000 likes. Sophie, along with Cambrie Schroder, uploaded a YouTube video on the "how to's" in creating healthy smoothies while flaunting off their curves. Sophie's official twitter account has over 2,500 followers. She recently shared her thoughts on creating a YouTube channel in the coming months.