MSNBC reporter Stephanie Ruhle husband, Andy Hubbard's Wiki, Net Worth and Facts
• Andy Hubbard is a financial analyst and manager
• He is best known as the husband of journalist Stephanie Ruhle
• He attended Princeton University and obtained a Bachelor of Science degree in Mechanical and Aerospace Engineering in 1995
• He is the Managing Director of UBS O'Connor LLC Company in New York City
• His net worth is estimated at over $1 million
Who is Andy Hubbard?
Andy Hubbard is a financial analyst and manager, but perhaps best known to the world as the husband of the critically-acclaimed journalist Stephanie Ruhle. Unfortunately, details about his birthday and birthplace remain unknown in the media, though according to some reports, he was born in the mid- '70s. Do you want to learn more about Stephanie's husband? If yes, then stay with us, we will try to introduce you to this successful financial manager and trader.
Andy Hubbard Early Life, and Education
There aren't many details about Andy's early life in the media, as so far he has managed to hide all the important details in regards to his childhood. This includes where and when he was born, who his parents are, and whether he has any siblings. However, what is made available is his education. After successfully completing high school, Andy enrolled at Princeton University, from which he obtained a Bachelor of Science degree in Mechanical and Aerospace Engineering in 1995.
Career Start
Following his graduation, Andy started looking a job in the big corporate world, but instead of aerospace and engineering, he found a place for himself at Suisse Financial Products Company. Five years later, he became a part of Kiodex, focused on providing a range of web-based energy risk management solutions; he was one of the first employees of the company, as it was founded in 2000. However, after three years there Andy moved on again, joining Deutsche Bank, and it was here that his career started improving at a rapid pace, and he ultimately achieved the rank of Vice President. Despite the promotion, Andy left Deutsche Bank to join Credit Suisse, and become the chief of US Structured Credit Derivates Trading.
#redspecsruhle made an appearance at the @erictrump foundation charity golf today @SRuhle pic.twitter.com/ZbTjL9gk

— Andy Hubbard (@TigerDog20) September 10, 2012
Further Success and Rise to Prominence
With his experience in trading ever-improving, he was put in a position where he could choose his next job, and Andy apparently chose wisely, becoming a part of the highly-successful UBS O'Connor LLC Company, and is now its Managing Director in the New York City area, which has made him extremely popular and rich as well.
Andy Hubbard Net Worth
Do you know how rich Andy Hubbard is? Since launching his career, Andy has held a number of notable positions in such companies as Deutsche Bank and Credit Suisse, before he ultimately joined UBS O'Connor, where he still works. So, do you know how rich this successful financial manager and trader is? Well, according to authoritative sources, as of mid- 2018, Andy's net worth is estimated at over $1 million, which is pretty decent, don't you think, and likely to become even higher assuming that he successfully continues his career.
Andy Hubbard Personal Life, Wife, Children
What to do you know about Andy's personal life? He has been quite secretive about his early years, but in his adult years, he is married to Stephanie Ruhle, with whom he has three children, but further details about his marriage haven't been made available to the public; this includes when the couple married and where the wedding ceremony was held. Hopefully, he comes forward with this information and more in the near future, as his fans and fans of his wife are eager to hear more about their marriage. To speak further of his secretive nature, Andy isn't active on an y of the popular social media platforms, unlike his wife.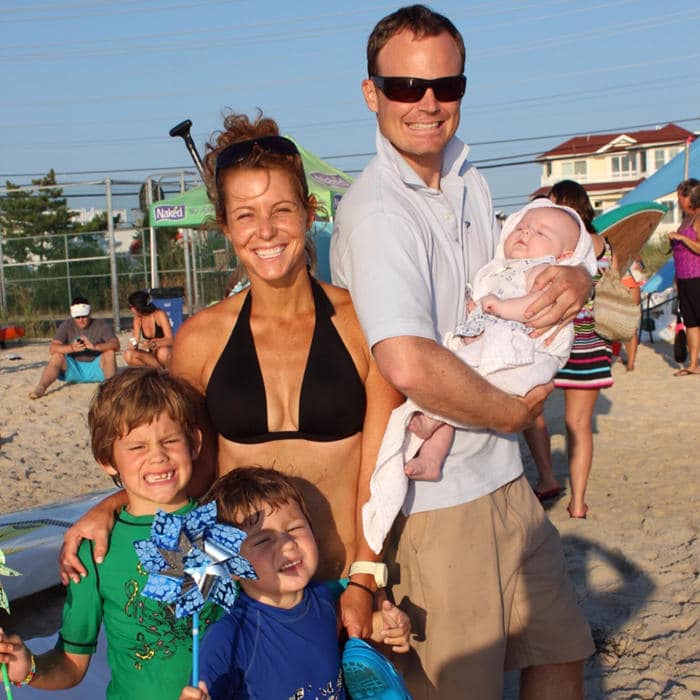 Andy Hubbard Wife, Stephanie Ruhle
Now that we have covered all there is available about Andy, let's share some information about his wife, Stephanie Ruhle. Born Stephanie Leigh Ruhle on the 24th December 1975, in Park Ridge, New Jersey USA, she is a journalist and news broadcast anchor, best known to the world for her work on MSNBC and its platform MSNBC Live. She previously worked for Bloomberg TV as a news anchor and managing editor, among other engagements. She became a national sensation in 2012, when she identified the trader behind the 2012 JPMorgan Chase trading loss.
She finished her studies in international business at Lehigh University in 1997, and during her studies also traveled the world, living and studying in Guatemala, Kenya and Italy for a while. Like her husband Andy, Stephanie was a part of Credit Suisse and Deutsche Bank, and since 2011 has been focused more on her career on television, starting with Bloomberg Television, while since 2016, she has been a national correspondent for NBC, and an anchor of MSNBC Live. Stephanie's net worth is estimated at $4 million, as of late 2018.
Stephanie Ruhle Instagram and Twitter Popularity
Stephanie has become quite popular on social media platforms, especially Twitter and Instagram which she has used to promote her career. Her official Twitter account has more than 335,000 followers, while on Instagram, Stephanie has more than 35,000 people. Her Instagram feed is full of pictures of her and her children, while we can also see Andy on some of the pictures, especially from Halloween celebrations.