Nafessa Williams Bio-Wiki, Parents, Husband, Net Worth, Family, Married, Measurements
Who is Nafessa Williams?
Nafessa Williams is an aspiring actress, and with such roles as Nicole Gordon in the film "Streets" (2011), then as Samantha Kim in the film "The Dirty 30" (2014), and as Anissa Pierce/Thunder in the TV series "Black Lightning", has already reached stardom. But who is she really, when is her birthday, where did she grow-up, etc? Find this information and more in this article as we are about to uncover the life story of this popular actress.
Nafessa Williams Bio: Age, Parents, Siblings, Education
Nafessa Williams was born on the 4th December 1989, in Philadelphia, Pennsylvania USA, of African-American ancestry. For now, Nafessa hasn't revealed the names and vocations of her parents, and whether she has any siblings or not. Nafessa went to  Robert E. Lamberton High School, and upon matriculation enrolled at West Chester University where she studied criminal justice, and later interned in the homicide unit of the District Attorney's Office.
Career Beginnings
Although originally not displaying an interest in acting, Nafessa made her acting debut in the soap opera "One Life to Live" in 2011, and the same year her film debut with the lead role in Meek Mill's film "Streets". She continued with minor roles, such as in another soap opera "The Bold and the Beautiful" in 2012, while in 2015 she had a notable role in the drama film "Brotherly Love". Nafessa continued to improve her skills which resulted in new roles, and it was in 2016 that she portrayed Dr. Charlotte Piel in the TV drama series "Code Black".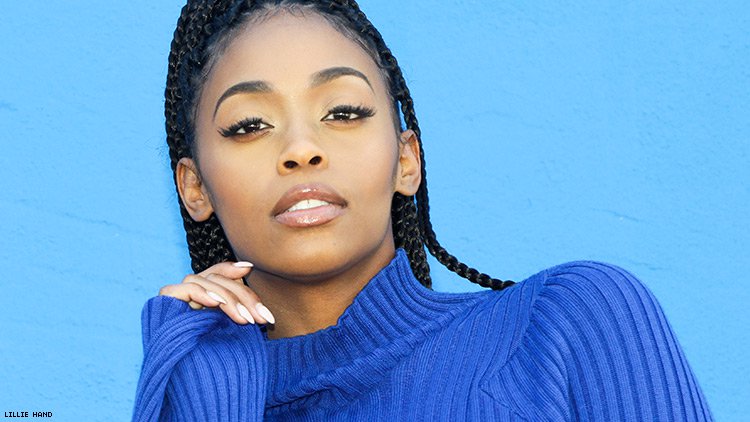 Rise to Prominence
Hard work and dedication started paying off for Nafessa, when she first portrayed Toya in the drama film "Burning Sands" in 2017, starring Trevor Jackson, Tosin Cole and DeRon Horton, and then joined the cast of the legendary series "Twin Peaks" as Jade, in which she appeared for three episodes. Her next project was as Sahirah in the drama film "True to the Game", starring Erica Peeples, Misan Akuya and George Arvantidis, however, it was only recently that Nafessa achieved fame, when she was chosen for the double role of Anissa Pierce/Thunder in the new DC Entertainment series "Black Lightning", starring Cress Williams and China Anne McClain. So far, she has featured in 26 episodes, and has already become a star of the series, alongside Cress Williams. Thanks to her newfound fame, Nafessa has conducted interviews about her character with a number of magazines, including Elle.
Nafessa Williams Net Worth
Nafessa is still early in her career, but has already reached a status of a celebrity. Roles in several successful projects have contributed to her popularity and wealth, so have you ever wondered how rich Nafessa Williams is, as of early 2019? According to authoritative sources, it has been estimated that Williams' net worth is as high as $800,000, which is pretty decent don't you think? Undoubtedly, her wealth will become even higher in the upcoming years, assuming that she successfully continues her career.
Nafessa Williams Personal life, Marriage, Children, Husband
What do you know about Nafessa when she is not on the screen? Well, she hasn't been very talkative when it comes to sharing details from her personal life, though we have managed to discover some interesting facts about this rising star. Since playing a lesbian character in "Black Lightning", Nafessa has since faced rumors about her sexuality, but has expressed no concern in regards to the rumors, and is yet to make any comment. Nevertheless, she really enjoys portraying the lesbian character, and is focused on empowering young black lesbians. For now, Nafessa is single and concentrating on her rising career.
Nafessa Williams Internet Fame
Over the years, Nafessa has become quite popular on social media platforms, especially Instagram and Twitter. Her official Instagram page has almost 300,000 followers, with whom she has shared her most recent career endeavors, such as announcing the newest episode of "Black Lightning", and has also posted pictures from various photo sessions, among many others, all of which you can see on her official page. You can find Nafessa on Twitter, on which she has 30,000 followers, with whom she has shared what happens to her on a daily basis, while also details from her career. She has summed up her 2018 in one picture, while also recently her insights on Meek Mill's new album "Championships", among other posts.
Who's coming to see me and kick it at @clexacon? We're gonna have fun. #Thunder #BlackLightning pic.twitter.com/o72uzz4Ici

— Nafessa Williams (@NafessaWilliams) January 3, 2019
So, if you aren't already a fan of this prominent actress, then this is a perfect opportunity for you to become one, just skip over to her official pages and see what she is up to next, both professionally and personally.
Nafessa Williams Body Measurements
Do you know how tall Nafessa is, and how much she weighs? Well, Nafessa stands at 5ft 4ins, which is equal to 1.64m, while she weighs approximately 123lbs or 56kg. Her vital statistics are 34-25-36 inches, while she has black hair and brown hair. Regarded as a natural beauty, Nafessa hasn't had  any plastic surgery, though some rumors appeared in the past about Nafessa having had some work on her body.