Nicholle Tom (Beethoven) Wiki Bio, age, height, net worth, husband, kids
• Nichole Tom was born in Hinsdale, Illinois USA, is an American actress, and is best known for her roles in the "Beethoven" movie, and "The Nanny" sitcom.
• She has a twin brother David and an older sister Heather, both of whom are also actors.
• Nichole has appeared in numerous films and TV series, and is currently not working on anything.
• Nichole is an animal lover and has a pet poodle named Chester, and desires to play in a sexy film and a suspense thriller.
• Her sister Heather has also had a successful acting career, and has been nominated for 16 Emmy Awards.
Who is Nicholle Tom?
Nichole was born in Hinsdale, Illinois USA on 23 March 1978, so under the zodiac sign of Aries and holding American nationality. She is best known for her acting career, especially for her roles in the "Beethoven" movie, and "The Nanny" sitcom.
Early life and education
Nicholle spent her childhood in Illinois, living with her parents Charles and Marie Tom (who later divorced), her twin brother David Tom, and her older sister Heather Tom. Her mother was in love with the theater, and passed that love onto her children. Both of Nicholle's siblings are actors as well – David best known for his role of Billy Abbott in "The Young and the Restless" as he played in a total of 300 episodes from 1999 to 2002 and in 2014, while Heather is best known for having a regular role in "The Bold and the Beautiful", she joined the cast in 2007 and is still shooting for the show – she's won five Emmy Awards during her career, and has been nominated for 16 more.
Nicholle was interested in acting from her early years, and took classes with the Young Actors Space when she was 10 years old, and slowly fell in love with it. Two years later she landed her first role, presumably continued her education at the same time.
Nichole's acting career
Nicholle landed her first role in 1990 when she was only 12, a small appearance in the "Jim Henson Presents Mother Goose Stories" TV series. In 1991, she played Zoey in a single episode in "The Fresh Prince of Bel-Air", and in 1992 had the guest-role of Sue Scanlon in "Beverly Hills, 90210", and appeared in four episodes.
In 1992, Nicholle won the role for which she is famous today, of Ryce Newton in the family movie "Beethoven" – it was a major success, and so Nicholle played the same role in its sequel – "Beethoven's 2nd" – in 1993. In the same year, she won her most significant role in TV series "The Nanny" as she played Margaret "Maggie" Sheffield in a total of 141 episodes. In 1999 she played Alexis in "The Sterling Chase" drama film, and was cast in the role of Tracy in the "Panic" crime movie in 2000.
During 2004, Nichole appeared in the title role in "The Story of Ruth" historical romantic film, and landed the recurring role of the Supergirl in "Justice League Unlimited", before in 2006 landing her next important role, of Tara Wentzel in "The Minor Accomplishments of Jackie Woodman", appearing in 16 episodes. She also played in the movie called "The Strange Case of Dr. Jekyll and Mr. Hyde" in the same year, and went on to appear in numerous TV series but only in an episode in each, including "Criminal Minds" in 2008, "Masters of Sex" in 2013, "About a Boy" in 2014 and her last roles in 2018 in the "Hollywood Darlings" TV series, and "F the Prom" teen comedy movie.
Nicholle doesn't seem to be working on anything at the moment.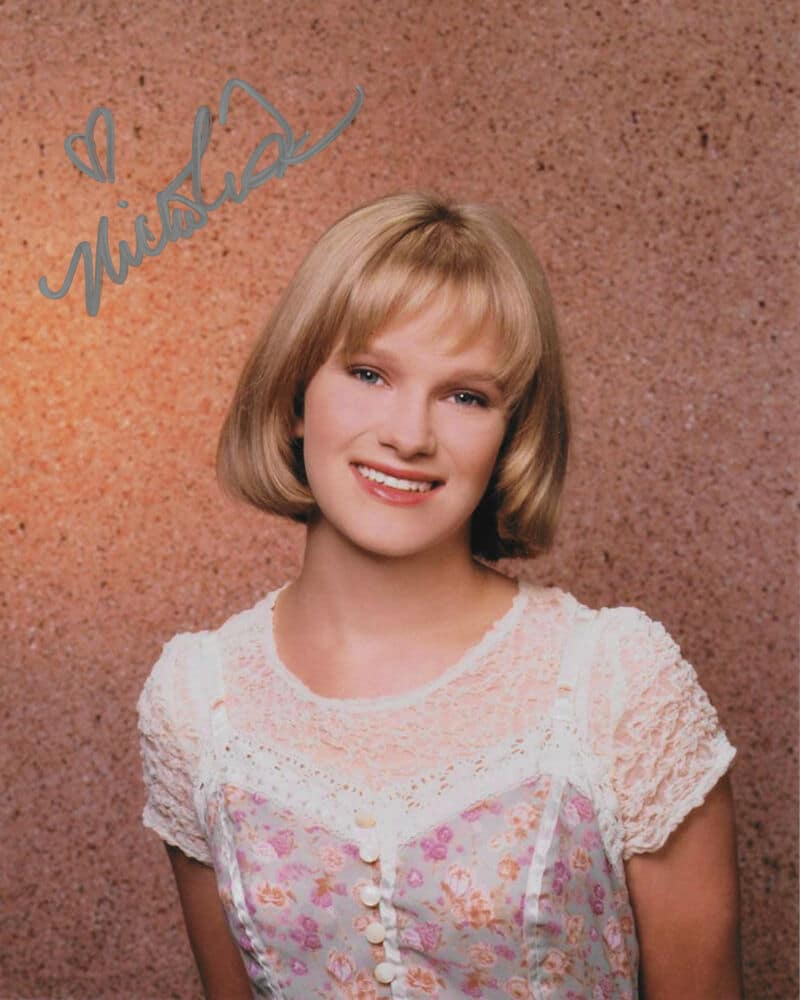 Personal life and likes
Nicholle is trying to keep her personal life to herself, so there is not much known about her love life – she dated musician Chris Jaymes from 1997 to 2000, and though this is the last man in her life who the public know about, it is very unlikely that she stayed single for the next 18 years.
Nicholle is a big animal lover, and she has a poodle pet dog named Chester – she frequently posts pictures with him on her Instagram account.
What kept her in the film industry
There were times when Nicholle thought about quitting acting, but claims that this happens to a lot of actors, and that it is important to just stay in the acting class and take things very seriously. She kept on working on many different things in order to constantly be out there, but there is one thing she still wants to do – she wants to play in a sexy film in the role of a sexy character. She would love to do a suspense thriller as well – she loves challenging herself, and believes that this desire for challenge is what made her stay in the film industry. She is now happy with her work, and claims that she wouldn't want to do anything else with her life.
Appearance and net worth
Nicholle is currently 41 years old, has long blonde hair, blue eyes, is 5ft 7ins (1.71m) tall and weighs around 136lbs (62kg).
According to authoritative sources, as of early 2019 Nicholle's net worth is estimated to be around $400,000 – one of the biggest grossing movies which she appeared in is "Beethoven" as it earned $147.2 million in the box office while it had a budget of $18 million.
Awards
Nicholle has been nominated for around 10 awards but didn't manage to win any – some of these include the Best Young Actress Starring in a Motion Picture for her performance in "Beethoven", Best Performance by a Young Actress – TV Comedy Series for "The Nanny", and "Best Performance by a Young Actress in a Made For TV Movie" for her performance in "My Daughter's Horror".
❤️ #Gotham #Batman @GothamAddicts WC Get Ready! @Gotham #MiriamLoeb #EveryOneHasACobblePot ReRuns tonight!:) #FOX pic.twitter.com/sfCRjn7dGp

— Nicholle Tom (@NicholleTom) April 7, 2015
Social media presence
Nichole is very active on her social media accounts – she launched her Twitter account in April 2009, and has gathered almost 5,000 followers and tweeted nearly 1,300 times. Her Instagram account is followed by more than 16,000 people while she's posted around 450 times. There is also a Facebook page of Nicholle, which is followed by nearly 5,000 fans.
Heather Tom
Nicholle's sister Heather was born on 4 November 1975 in Hindale, Illinois as well, and is three years older than Nichole. She got her first role when she was 14 in the "Who's The Boss" American sitcom, and won the role of Victoria Newman in "The Young and the Restless" TV series when she was only 15, and remained with the show until she turned 28, winning her first Daytime Emmy Award for Outstanding Younger Actress in a Drama Series at the age of 18. She is also famous for playing Kelly Cramer in "One Life to Live" between 2003 and 2006, and for playing Katie Logan in "The Bold and the Beautiful". She's also appeared in other famous TV shows such as "Monk" and "Ugly Betty", while she also worked a lot in theatre in New York and on the West Coast.
In 2000, Heather and her brother David made history as they were both nominated for Daytime Emmy Awards in the same year. She married the love of her life – James Achor, the composer of movie music – on 17 September 2011 and they have a son together named Zane Alexander who was born on 28 October 2012. The couple also has their own design business called "Tight Rope Designs", and their work has been featured in magazines such as "InStyle" and "Elle Décor".
Heather starred in the TV miniseries about her entitled "Renovation Unscripted"; she ran the 30th Annual Nautica Malibu Triathlon which took her just over two hours to finish – the event managed to raise over $1.2 million for the Children's Hospital Los Angeles Pediatric Cancer Research Program.