Raquel Welch' Hairstyles and Wigs, Young and Now. Her Age, Net Worth, Spouse, Daughters, Measurements Today
Raquel Welch:
• Born in 1940 in Chicago, IL, with a net worth of $30 million
• Gained fame through roles in "Fantastic Voyage" and "One Million Years B.C."
• Won a Golden Globe Award for her performance in "The Three Musketeers"
• Developed strong female characters in her roles and posed for "Playboy" without full nudity
• Married four times, ending her last marriage in 2008
Who is Raquel Welch?
Jo Raquel Tejada was born on 5 September 1940, in Chicago, Illinois USA, and as Raquel Welsh is best known for her roles in "Fantastic Voyage" and "One Million Years B.C." which established her as a celebrity sex symbol. She later appeared in films throughout the late 1960s including "Bedazzled", and "Myra Breckinridge", her roles helping her to establish strong female characters as opposed to the submissive sex symbol. She won a Golden Globe Award for her performance in "The Three Musketeers", and is ranked as one of the hottest women actors of all time by numerous publications.
https://www.youtube.com/watch?v=fJYikiaXciM
The Net Worth of Raquel Welch
How rich is Raquel Welch? As of late-2018, sources estimate a net worth that is at $30 million, earned through a successful career as an actress. She's gained a lot of positive reviews for her performances, and should she continues her endeavors, her wealth may also continue to increase.
Early Life and Education
Raquel is of Bolivian and English ancestry, with her father originally from Bolivia, working in the US as an aeronautical engineer during her youth. She grew up with a younger brother and a younger sister. After a few years, the family moved to San Diego, California and she discovered her interest in performing there. At the age of seven she started to study ballet, and continued for a decade, but gave it up when her teacher told her that she didn't have the right figure.
At 14 years of age she began competing in beauty pageants, winning a few. She attended La Jolla High School, winning the school pageant and also a pageant at the San Diego County Fair – her wins would lead her to gain the state title of Maid of California. She matriculated with honors in 1958, and gained a theatre arts scholarship at San Diego State College. Meantime, during the end of her high school years, her parents divorced.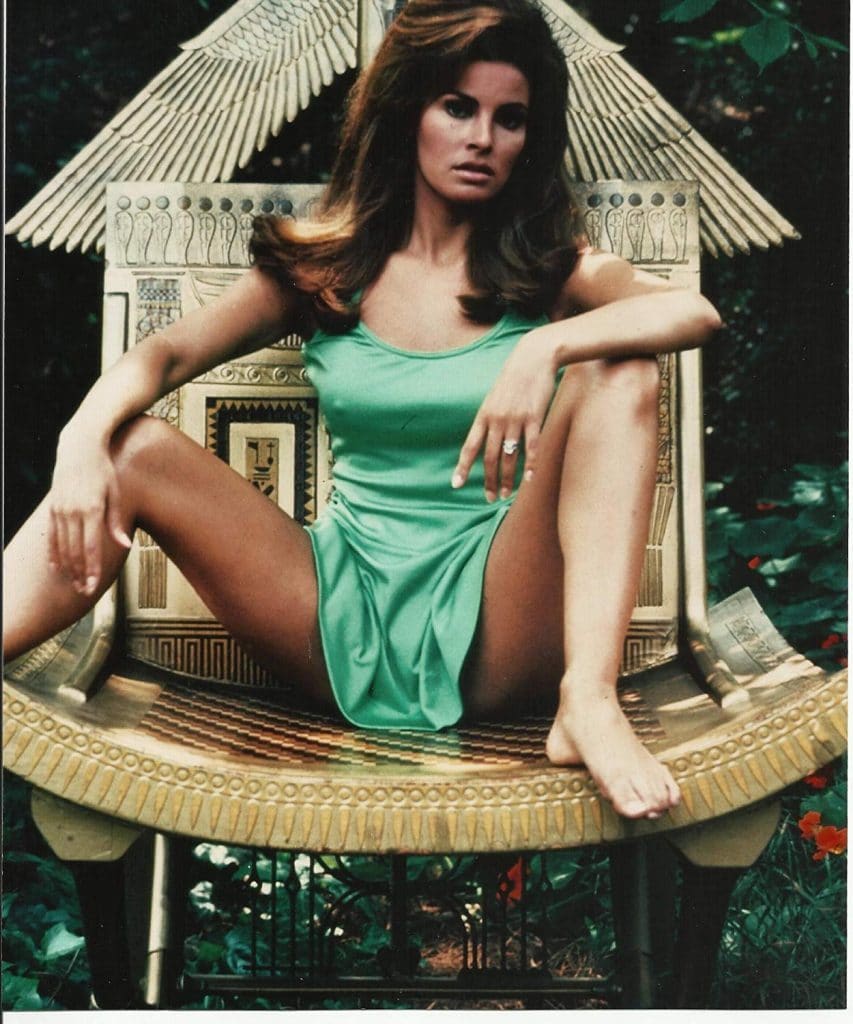 Career Beginnings
During college, Welch was cast in several roles in local theatre productions, including the title role in "The Ramona Pageant", based on the novel "Ramona" by Helen Hunt Jackson. After graduating, she then got a job at a local televisions station as a weather forecaster, but due to family duties she decided to give up drama classes. She later moved to Dallas, Texas and worked there as a model, as well as a cocktail waitress.
She then moved to New York City before settling in Los Angeles in 1963, applying for roles with various movie studios. During this time, she met Hollywood agent Patrick Curtis who would become her manager, and the two developed a plan for her to become a sex symbol, being cast in support roles in a few films. She also landed similar roles on television, and auditioned for "Gilligan's Island". In 1965, she got her first feature role in "A Swingin' Summer", attracted the attention of producer Saul David's wife, who recommended her to 20th Century Fox, who signed her to a seven year non-exclusive contract, with five films over the next five years.
Rise in Fame
Raquel's first role with 20th Century Fox was the sci-fi film "Fantastic Voyage", which made her a star as the film was a hit. This led her to appear in "One Million years B.C.", with her only costume a two-piece deer skin bikini, gaining a lot of positive reviews for her performance, and making her a leading sex symbol of the era. She appeared in other films over the next few years, such as 'Sex Quartet", "The Oldest Profession", and "The Biggest Bundle of Them All".
With more starring roles coming her way, critics started to gain notice of her acting inexperience, which was usually overshadowed by her attractive figure. However, it was also noted that she was very adamant in improving her acting abilities, based on the directors she worked with. She had a few roles in England as well, appearing in "Bedazzled" and "Bandolero!", and then returned to the US to appear in "Lady in Cement", alongside Frank Sinatra in 1968, and she also starred in "100 Rifles" in 1969.
The 1970s
Welch gained her most controversial role in "Myra Breckenridge", in which she played a trans-sexual heroine, in an attempt to be taken seriously as an actress. However, the film was a failure and her popularity as a sex icon continued to persist over her acting. She then worked on the television special "Raquel!" which was filmed around the world, and then starred and produced films such as "Kansas City Bomber", "The Three Musketeers", and "The Wild Party". She started take more roles which started to blur the line of what was viewed as stereotypical roles for actors with her looks.
She appeared in action comedies in the late 1970s, such as "Mother, Jugs & Speed", and "Animal", starred in the adventure "The Prince and the Pauper" and was considered for the role of Alexis Carrington for the television series "Dynasty", but was not selected. She had an issue with MGM for breach of contract, as the studio blamed her for budget problems and delays in the filming of "Cannery Row"; due to ths issue and subsequent lawsuit, she wouldn't appear in another film until the 1990s.
Later Career
In 1994, she appeared in "Naked Gun 33 1/3: The Final Insult", and then made frequent appearances on television. She also had supporting roles in "Tortilla Soup" and "Legally Blonde", and worked on series such as "American Family" by PBS, and the CBS show entitled "Welcome to the Captain". A few of her latest projects include the sitcom "Date My Dad", and the film "How to Be a Latin Lover". According to numerous sources, Raquel is the reason that the feminine ideal of the US was transformed to what it is today. Her looks and eroticism established her as a sex icon, which would become the norm for sex icons in modern times.
On the cusp of the New Year, I look back on 2017-18 and the movie, "How To Be A Latin Lover," where I ended up sandwiched between TWO hunky leading men! Actor, writer & producer, @EugenioDerbez and actor, heart-throb @RobLowe!! Makes a girl think twice! ? pic.twitter.com/BBLZlKMwVc

— Raquel Welch (@Raquel_Welch) December 28, 2018
Personal Life
For her personal life, it is known that Welch married James Welch, her high school sweetheart in 1959, but they separated three years later before finalizing a divorce in 1964. Three years later, she married producer Patrick Curtis, but that also led to divorce in 1972. In 1980 she married Andre Weinfeld and their marriage lasted for 10 years until their divorce. Her next marriage would be to Richard Palmer in 1999 and they stayed together until their divorce in 2008. Afterwards, she stated that she no longer intended to marry.
She has posed for "Playboy" magazine but never did a full nudity photo shoot as she was considered a sex icon who didn't need to take her clothes off. She also declined to do a complete nude shoot but the magazine still accepted her.