ScrapMan (youtuber) Wiki Bio, real name, age, girlfriend, net worth, family
• ScrapMan is an American YouTuber who started posting videos in 2016 and is gaining popularity
• His real name is Billy and he graduated from Hawaii Pacific University in 2012 with a degree in psychology
• He is a circus performer, musician and teacher and his hobbies also include juggling, hand balancing and card magic
• He has a wife called Teresa A. Cantero and two dogs called Cass and Tai
• His net worth is estimated to be over $500,000
ScrapMan is an American YouTuber, who is gaining more popularity posting his thoughtful videos of himself playing one of his favorite games, "Scrap Mechanics". Though ScrapMan started posting videos in 2016, there's still little information about any details that can tell something about him as a person. Let's find out as much as we can about ScrapMan's real name, his age, his girlfriend and his net worth.
Early years and education
ScrapMan was born on 22 January 1990 in Massachusetts USA. His real name is Billy, but nothing more has been revealed besides that. Nothing is known about his family, parents or siblings, as ScrapMan keeps his private life low-key. He moved to and lived on Oahu, Hawaii for around nine years, graduating from Hawaii Pacific University in 2012 with a degree in psychology and then moved to California.
YouTube success
Starting the channel
ScrapMan shared his story of starting a YouTube channel in one of his Q&A videos, saying that he was inspired to play "Scrap Mechanics" four months before he ever thought of dealing with YouTube. While creating his machines in the game, he was very often asked a lot of questions on how he did certain things while engineering his creations, also whether he had a YouTube channel or not. ScrapMan didn't want to become a big YouTube star, he just wanted to archive his builds and creations to link them when other people asked, but was suddenly given a massive shout out by another popular YouTuber, MrMEOLA, who highly recommended ScrapMan's videos and encouraged his followers to subscribe to his channel. ScrapMan started his channel on 20 April 2016, and even though he only had one video at that time, MrMEOLA saw enough in it and congratulated ScrapMan on his success. So the next very day ScrapMan bought a good mic and started treating the videos as his job.
His nickname ScrapMan, as he says, will always remain the same as it is a homage to what got him started on YouTube, and for him it's not just a reference to the game but also a mindset that the game encourages. Scrapman admits that the game makes your mindset work in such a way that you start to create and put things together with the tools at one's disposal. So that's basically how ScrapMan treats his YouTube channel in general: no matter what game he plays, that will always be the same mindset of putting things together with the tools at hand, whether it be builds, video scripts, short films, etc.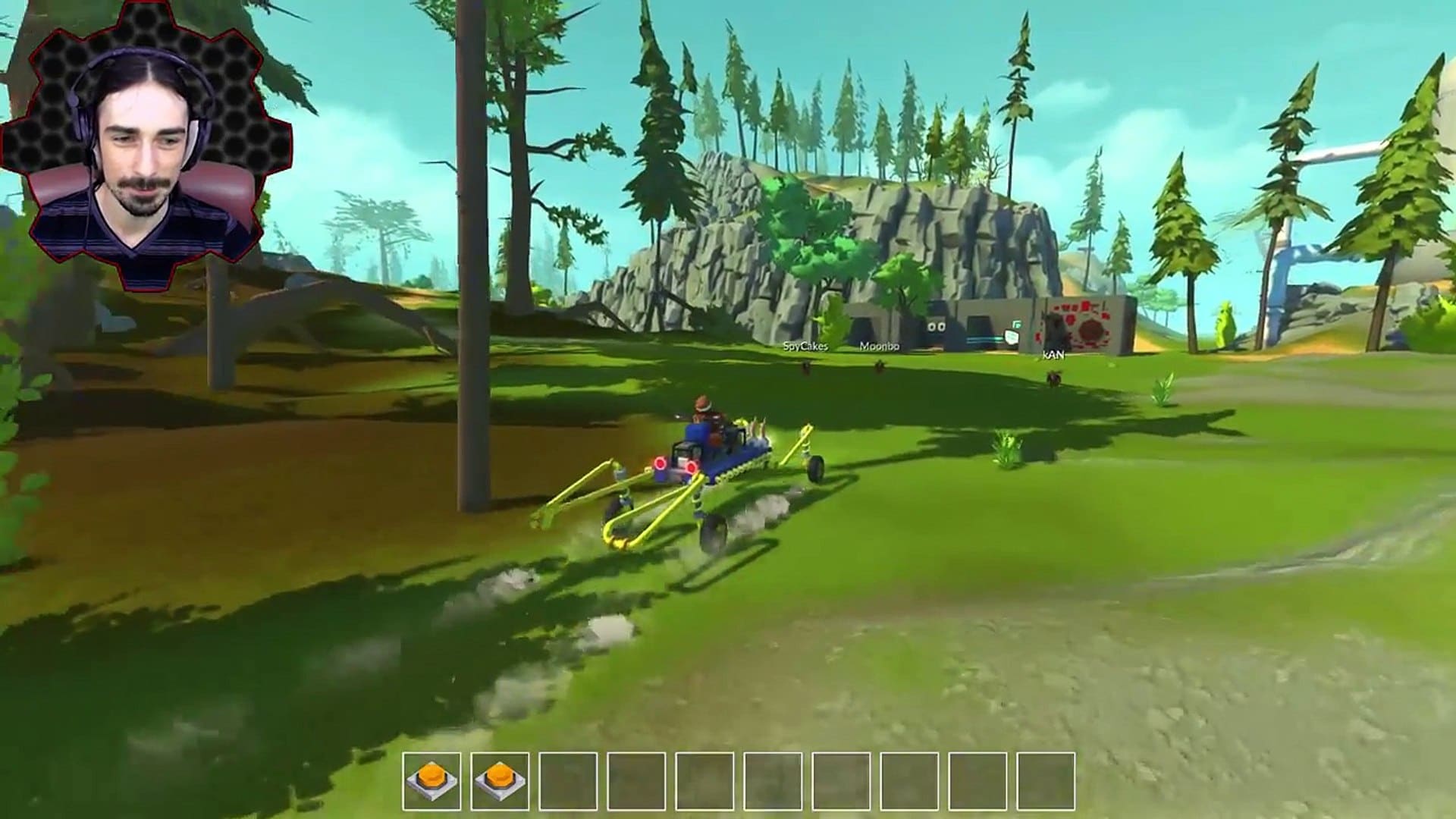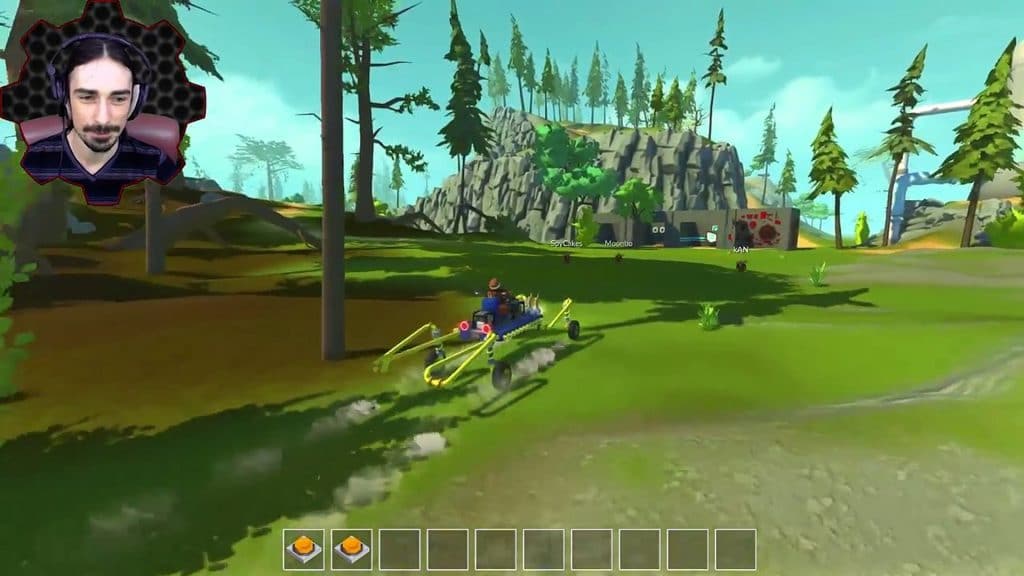 Growing the audience
Even when ScrapMan had just started streaming and posting YouTube videos, and celebrated his first 5000 subscribers, people wanted more from him. They asked him to play other games and explain mechanics and tactics, they asked him to do more videos on various gaming situations, how he deals with certain things, etc. 85% of watchers who took part in Scrapman's poll answered that they want  him to play other games on his YouTube channel, although ScrapMan only played Minecraft at that time. When he looked through the list of suggested games his followers sent him in the comments, he found that they wanted to see him playing "Terra Tech" (by Payload Studios, released in 2015), a sandbox game, which is open-world and gives players a chance to build and design their own creations, discovering and crafting the machines and then testing them in real battles with other players' creations. There's also an opportunity to buy extra blocks for a machine which makes "Terra Tech" a "pay-to-win" game, which most gamers don't like since what matters is the amount of money you have, and not one's skills, while some gamers prefer to pay and to have comfortable conveniences for playing. Scrapman was happy that his watchers asked him to play "Terra Tech", as he already had some impressions he wanted to share with them, though he promised that other games wouldn't impact on the amount of Scrap Mechanics content on his channel, and he that he would upload Scrap Mechanics videos every Friday.
Among other games Scrapman was going to invest in was "No Man's Sky" (by Hello Games, released in 2016), an action-adventure space survival game which was also an open-world sandbox game, as "Terra Tech".
As for now, ScrapMan admits that since YouTube became his main and only income source, it takes all his time, and he doesn't have an opportunity to play other games just for fun. While he's doing it, he can't get rid of the thought he's wasting his time and productivity so he switches to something he can post on YouTube.
These Tractors Might Be Smarter Than You Think! #satisfactory https://t.co/TVG0vFd9RB

— ScrapMan (@ScrapManYT) April 4, 2019
Highly requested webcam videos
YouTube watchers can't stand secrets and any conspiracy. If a YouTuber doesn't show his face on his channel for a long time, they start flooding him with the questions about his face. ScrapMan rarely shows his face, though in 2016 he claimed he would do some face cam videos, but wanted to get a better gear to make the quality of the videos as high as possible. As he said, he wanted to get a green screen set up, or at least a better background for a nice picture to appear in the shot, since he thought that nobody wanted to see his "crappy little room" that he usually plays in. He asked his fans to help him on his Patreon page and donate some tips so he could buy a good webcam. It's also worth saying that he posted his videos from a laptop when he started his channel in 2016, since he couldn't afford a desktop. In 2017 he finally bought a good webcam and built a green screen behind him, and made a video with his face, also saying that in a year of his hard work on YouTube he's been able to upgrade his full gear, and obtain new monitors, a desktop and other useful tools which considerably improved the quality of his videos.
Jobs, hobbies and real life interests
Among ScrapMan's hobbies are music composition and producing, which were a big part of his life from when he started playing the guitar at 12 years of age. He's also a circus performer, with various juggling skills, hand balancing and some acrobatics, slacklining, card magic, etc. He's been in a few circus productions, but mostly worked as an independent performer or as part of a duo. As for his job, ScrapMan once said that he also teaches kids circus skills in a private Iolani School.
ScrapMan's favorite YouTuber is Kurzgesagt. ScrapMan said he rarely watched gaming videos on YouTube and his subscriptions are mostly channels which are able to teach science topics in a clear and concise ways, with creative visual aids and good editing. Kurzgesagt does all these things, and the channels' description says the team 'creates videos explaining things with optimistic nihilism'. Among the most viewed videos by Kurzgesagt are "Is Organic Really Better? Healthy Food or Trendy Scam?", "What If You Detonated a Nuclear Bomb In The Marianas Trench? (Science not Fantasy)" and "The Deadliest Being on Planet Earth – The Bacteriophage". The channel produces one video per month, but apparently it's worth waiting.
His favorite color is red, so that's probably why his channel and all his merchandise goods are designed in red shades. He likes both cow's milk and goat's milk, and as far as he knows isn't allergic to anything. He prefers burgers to tacos. ScrapMan has two dogs called Cass and Tai; both ScrapMan and his wife enjoy walking and playing with their dogs.
Personal life, wife
ScrapMan once admitted that he had a wife, and that they had been married for more than three years. According to details ScrapMan shared in one of his videos, they probably married in August 2015. There's no precise information about his wife's name, but she has an Instagram profile on which she calls herself Tora Lights. In the profile description, there's a link to a Facebook page of Teresa A. Cantero, so probably that's her real name, though the page is unavailable now so one can't check it for sure. One can't find a word about them having kids or not, though according to the photos she posts, they don't have any kids, they travel a lot and enjoy their time together. We still hope that someday ScrapMan will lift the veil of secrecy over his personal life, and shares more information his fans want to know.
Social Media activity
ScrapMan has a Twitter account on which he has over 3500 readers, and on which he announces new video posts, but there's not much activity from the followers' side – they all come to his YouTube channel. He also has an Instagram profile created for his dogs and managed by his wife – they post photos several times a week, but have less than 1000 subscribers. It seems like ScrapMan's fans prefer his YouTube videos to the pictures of his dogs, sleeping, posing and playing.
Appearance
ScrapMan has dark-brown almost black hair which he puts into a ponytail (and likes to make fun wearing them loose), wears moustaches; his eyes are grey. As he worked as a circus performer and does acrobatics, he constantly keeps fit, and his body is slender. His weight, height or vital statistics are unavailable.
Net worth
ScrapMan is consistent in his YouTube activity, which allows him to have a stable monthly income. He usually earns around $4000-5000 per month while his overall net worth is said to be over $500,000 according to authoritative sources. ScrapMan does everything he can to support the popularity of his channel and to attract new watchers and followers, so his net worth is likely to grow.